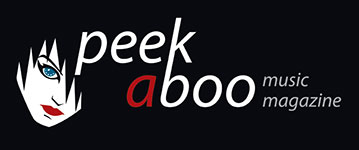 like this cd / vinyl / digital review
---
MONO INC.
The Book Of Fire
Music
•
CD / Vinyl / Digital
Gothic Rock
[90/100]

SPV
01/02/2020, Jurgen BRAECKEVELT
---
The Book Of Fire is the brand new album by Goth-rockers Mono Inc., founded in 2000, and it's the successor of their previous LP Welcome To Hell, released in 2018. Driven rock, nice riffs and the angelic passages of vocalist/drummer Katha Mia are again the main ingredients. And they taste excellent! The whole thing is spiced up with contributions by Tilo Wolff (Lacrimosa) and Teufel (Tanzwut).
One of the amusing things about Mono Inc. is that their very solid rock, with a Metal edge, is so enthralling. Their compositions are very sturdy, lived through and somehow sound so sweet. When a gem like 'Warriors', a great ballad, unfolds, in an epic doomy atmosphere, one can become silent. Also 'Nemesis' is a thrilling slow song, that presents itself with ringing church bells in the early dayrise of a drizzly winter day. A folky, acoustic song that only uses guitars and piano. 'Shining Light' is a full-on metal song, with Tilo Wolff throwing his vocals into the fight. This song starts great with the vocal class of Katha. The guitar riffs cutting sharp, while the piano-like synths seem to provide a blissful soft shiny skin. In the chorus, Tilo's voice merges perfectly with Martin Engler's voice. But also in the strophes, the somewhat sharper vocal is a blissful counterweight to Mono's frontman.
Mono Inc. can twist and turn a song in so many ways one can have trouble keeping track. 'When The Raven Flies' is one of those, almost 8 minutes long, full of tempo changes, modest, epically drawn-out fragments and roaring and screaming guitars connected to each other in a very intimate way. Goosebumps, for minutes….
Some might remember their 'Voices Of Doom' with was a modest hit-song back in the days. Well, there are more of such songs on this The Book Of Fire. This foursome knows perfectly how to write excellent rock songs. Feelings, emotions, love and pain are sung with such immense power. The regularly frayed guitar solos are an element that gives everything even more weight. Wonder on which song Teufel will give full vocal power? 'Right For The Devil'. Could the title itself be a more obvious hint?
Then 'Run For Your Life' shifts a few gears up. It's like the song itself runs for its life, up-tempo, tight, keep the pace and get out of here!. Despite the tempo, this song still feels blissfully dragging.
The last of these 12 songs, 'What Have We Done?'. It sounds great and it is great! It tells us once again what Mono Inc. has delivered: Another great and intense album, stuffed with goth rocking guitars. An album that can certainly be added to many, already well-stocked, record collections in thousands of living rooms.
Jurgen BRAECKEVELT
01/02/2020
---
The Book of Fire. Het nieuwe album van de goth-rockers Mono Inc. De band heeft zijn wortels in 2000 en dit is de opvolger van de in 2018 verschenen LP Welcome To Hell. Hun gedreven rock, lekkere riffs en de engelachtige passages van drummer/vocaliste Katha Mia zijn ook dit keer weer de ingrediënten. En die smaken voortreffelijk. Ze scherpen het geheel nog aan met de bijdragen van Tilo Wolff (Lacrimosa) en Teufel (Tanzwut).
Het amusante aan Mono Inc. is dat hun heel stevige rock met een randje metal zo lekker meeslepend is. Hun composities zijn heel stevig, doorleefd en klinken op één of andere manier toch zo lieflijk. Als een juweeltje als Warriors, een geweldige ballade, zich ontvouwt, in een epische doom-sfeer, dan wordt een mens al eens stil. Zo ook Nemesis, een meeslepende trage, die zich aandient met klokkengelui in de vroegte van een druilerige winterdag. Een folky, akoestische song die zich enkel bedient van gitaar en piano. Shining Light is dan weer een volle metal song, waar Tilo Wolff zijn vocalen mee in de strijd gooit. De song start geweldig met de vocale klasse van Katha. De gitaarriff is snedig en scherp, en de synths, die in de huid van een piano zorgen voor een zachte glans, zijn zalig. In het refrein versmelt Tilo's stem met die van Martin Engler. Ook in de strofes is het scherpere van de één een zalig tegengewicht van Mono's frontman.
Mono Inc. kan een song in bochten wringen waar geen mens nog kop of staart aan krijgt. When The Raven Flies is er zo ééntje. Een kleine 8 minuten lang tempowisselingen, ingetogenheid, episch uitgesponnen fragmenten, ronkende en schreeuwende gitaren op een innige manier verbonden. Kippenvel, minuten lang….
En zoals hun Voices Of Doom van weleer een ongelooflijke voltreffer was, zo staan er op deze The Book Of Fire nog een paar van hetzelfde allooi. Het viertal weet perfect hoe je uitmuntende rocksongs schrijft. Gevoel, emotie, liefde en pijn worden bezongen met een immense kracht. De regelmatig uitgerafelde gitaarsolo's zijn in deze een element die alles nog wat meer gewicht geeft. En op welke song zou Teufel vocaal gas geven? Right For The Devil. Een titel kan moeilijk minder verhullen, niet?
Run For Your Life schakelt een paar versnellingen hoger. De song zelf loopt voor zijn leven. Uptempo, strak, tempo houden en wegwezen. En ondanks het tempo blijft deze song zalig slepend.
De laatste van deze 12 songs tellende LP is het nummer What Have We Done? Het klinkt groots, het is groots, het vertelt wat Mono Inc. gedaan heeft: een alweer geweldig, stijf van de gitaren staand, intens album afgeleverd. Eéntje die er zeker nog bij kan in de al goed gevulde CD- en platenkasten in duizenden huiskamers.
Jurgen BRAECKEVELT
01/02/2020
---
---