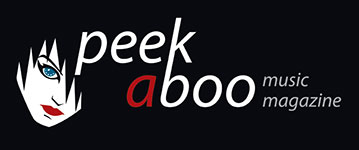 like this cd / digital review
---
MISERIA ULTIMA
Graygarden
Music
•
CD / Digital
Dark Electro
•
EBM
[79/100]

Advoxya Records
03/02/2020, Jurgen BRAECKEVELT
---
Aleksi Martikainen and Kimmo Huhtala decided to join forces in 2016, and so Miseria Ultima was born. A project that combines EBM with dark electro and trips to the harsh-electro. Phosphor, their first album, was released in 2017 and with this successor Graygarden, they hit the electro-world hard again.
Their building blocks are deep dark beats, synths that sound both mesmerizing and profound, bass lines that form a backbone and shriek so hard the pain can almost be felt. And they do this with an extremely high dose of competence and skill.
The tone is set without delay with opening track 'Stone In The Sky', a dark electro gem to be. It shines on all sides and glimmers in its purity. Sometimes it doesn't take much to make good solid songs. 'Insolence' is one of those, unbelievably hard and angular without remorse.
'Bayonet Of Her Arms' is again somewhat more modest EBM-like, while 'Circuit In The Scars' brings some peace. Next is 'Inhale The Fire', which bears some Future-Pop characteristics for those of you who want to hear them. In this way, these gentlemen demonstrate very well that they are not bound to electro-borders.
Everything goes back up with 'Future Imperfect', without being extremely hard, this song still has a lot of potential. Meandering, the synths swing through the aggressive drum parts. With 'Let Down', we ease down a little, biting gently through the previous aggression, almost caressing the eardrums. Still, do not take 'caressing' too literal...
'Allegiance' is a very charged and dark electro song. The vocal escapades of Aleksi push the thorns a little deeper into the already tormented flesh.
Miseria Ultima presents us with what we could have expected: solid (dark) electro which lashes out in every way possible. A real treat for fans of the harder dark electro. For those who are a bit reluctant: listen to it! There is still enough variety to give it a try... and maybe even more!
Jurgen BRAECKEVELT
03/02/2020
---
Aleksi Martikainen en Kimmo Huhtala besloten in 2016 de handen in elkaar te slaan en zo was Miseria Ultima geboren. Een muzikaal project dat EBM combineert met dark electro en uitstapjes naar de harsh. In 2017 verscheen Phosphor, hun eerste album. Nu slaan ze met Graygarden weer snoeihard toe in electro-land.
De bouwstenen zijn diepe darkbeats, synths die zowel bezwerend als diepzinnig klinken, baslijnen die de zaak ruggengraat geven en voorts krijsen opdat de pijn bij wijlen voelbaar zou zijn. Alleen doen ze dat met een uitermate hoge dosis bekwaamheid en kunde.

De toon wordt zonder uitstellen gezet met opener Stone In The Sky. Een dark electro-zirkoontje om 'u' tegen te zeggen. Het ding blinkt langs alle zijden en schittert in zijn puurheid. Soms is niet veel nodig om goede stevige songs te maken. Zo is ook Insolence er ééntje pur sang. Onnoemelijk hard en hoekig zonder omzien.
Bayonet Of Her Arms is ietwat bescheidener EBM van inborst. Circuit in The Scars bouwt ook ietwat rust in. En Inhale The Fire laat middels enige inspanning ook nog wat synth/futurepop ontwaren met enige goede wil. Zo tonen de heren aan dat hun electro-marge vrij ruim is.
Alle registers gaan terug open met Future Imperfect. Zonder extreem hard te zijn scheert de song toch wel heel scherpe toppen. Meanderend slingeren de synths door de agressieve drums. Even gas tergnemen bij Let Down, dat even door het agressieve heen bijt en ietwat lieflijker de trommelvliezen streelt. Neem 'streelt' niet al te letterlijk op….
Allegiance is een heel beladen dark electro-song. De vocale escapades van Aleksi duwen de doornen nog wat dieper in het al gepijnigde vlees.
Miseria Ultima brengt wat we mochten verwachten: stevige (dark) electro met uithalen naar links en rechts. Voor de liefhebbers van de hardere electro zal dit gesneden koek zijn, voor diegenen die het genre minder omarmen: er zit genoeg afwisseling in om het toch een luisterbeurt te gunnen.. of méér !
Jurgen BRAECKEVELT
03/02/2020
---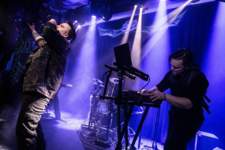 ---