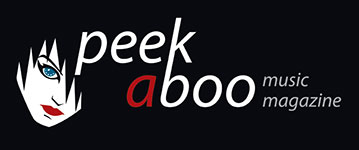 like this digital review
---
VICTORIENT
The Old Curiosity Shop
Music
•
Digital
Doom
•
Gothic Rock
•
Post Punk
[75/100]

Self-released
08/12/2016, Wim GUILLEMYN
---
Two men, one with a doom metal background and one with an ethereal background, find each other and decide to make music together. The result is music that includes goth, doom and post-punk influences. At times you hear music reminiscent of Faith & The Muse or Voodoo Bible.
An Ode to Halloween is exactly what the title says. A dark ode to the festival of darkness, topped with synths. The whispering voice of Tansy Dunham Carter completes the picture. In Camden, the music takes on an Sisters of Mercy/Cure attitude (especially during the intro). The mixing of the vocals could be better, but it remains an enjoyable song. Croydon Beckenham Zombies and Vampires is their favorite theme, should you still have doubts, with an attractive goth/post-punk guitar sound. The alternation between the voices of Sam and Tamsy works well. Flower of Pain is an uptempo track with fun elements: guitar, drums... Siren is a nice poppy song that starts slowly and sounds familiar. The guitar at the end sounds pretty doomy. Storm Within and Boleyn were singles. Both are delicious goth rock tracks. Voodoo Girl is slow and toe-curling and could be omitted. I feel that I know that song, but I can not remember where from.
The Old Curiosity Shop contains some beautiful tracks (Storm Within, Boleyn, a celebration of Halloween, Camden...), but could be better with a decent production and mix. Lovers of dark, occult music will find their liking here. Available from March through Bandcamp (you decide at what price). The single can be downloaded free of charge.
Wim GUILLEMYN
08/12/2016
---
Twee mensen, eentje met een doommetalachtergrond en eentje met een etherische achtergrond, vinden elkaar en besluiten om samen muziek te maken. Het resultaat is muziek die gothic, doom- en postpunkinvloeden bevat. Bij momenten hoor je muziek die doet denken aan Faith & The Muse of Voodoo Bible.
An Ode to Halloween is precies wat de titel zegt. Een donkere ode aan het feest van de duisternis,overgoten met synths. De fluisterende stem van Tansy Dunham-Carter maakt het plaatje compleet. Op Camden meet de muziek zich een Sisters of Mercy/Cure-attitude aan (vooral tijdens de intro). De zang kon beslist beter worden gemixt, maar het blijft wel een genietbare song. Croydon Zombies and Beckenham Vampires is hun lievelingsthema, mocht je nog twijfelen, met een aantrekkelijke goth/postpunkgitaarsound. De afwisseling tussen de stemmen van Sam en Tamsy werkt hier goed. Flower of Pain is een uptempotrack die leuke elementen bevat: gitaar, drumpartijtjes… Siren is een leuke poppy song die langzaam op gang komt en herkenbaar klinkt. De gitaar op het einde klinkt vrij doomy. Storm Within was net als Boleyn een single. Beide zijn heerlijke gothrocktracks. Voodoo Girl is traag en tenenkrommend en was beter weggegooid. Ik heb het idee dat ik die song van ergens ken, maar ik kan me niet meteen herinneren van waar.
The Old Curiosity Shop bevat enkele mooie tracks ( Storm Within, Boleyn, An Ode to Halloween, Camden…), maar kon met een fatsoenlijke productie en mix nog beter uit verf komen. Liefhebbers van donkere, occulte muziek zullen hier wel hun gading vinden. Vanaf maart via Bandcamp tegen een zelfgekozen bedrag. De single kan je al gratis downloaden.
Wim GUILLEMYN
08/12/2016
---