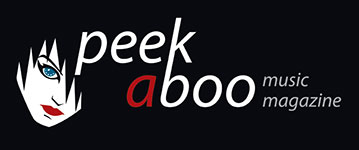 like this concert review
---
RITUAL SERVICE, MOTHER WITCH AND & DEAD WATER GHOSTS AND GOOSLA
Live at The Volume Club, Kiev, 7th December 2018
Concert
Doom
•
Doom Metal
•
Spacerock
•
Stoner Rock
•
Stonerock
[70/100]

06/01/2019, Claudia BLACK
---
An unexpected trip to the Volume Club in Kiev on Friday night to see some stoner doom bands that turned out to be ok. The venue is in the West of the city near to Orly Park and located in a Cultural Centre. I like this club, it has great sound, table service and a good selection of beer that is cheap in comparision to club prices in London. I paid around £1.50 for a pint of non alcoholic beer, the boozy equivalent costs about the same. My first impression was of Slimelight in London without the sticky floors!! The club was cold though, not cold like the bracing temperature outside but cold enough for me to keep my coat on until a good crowd came in for the 2nd band.Not as cold as The Chameleon Arts Centre in Nottingham where I had to concentrate on keeping warm and on the music I was listening to!!
First up a band called Ritual Service from Odessa, my first impressions were of slow sludgy doom metal that at times was repetitive and hypnotic but not always. They grabbed my attention and then lost it again but on the whole they were ok for a first exposure.
Mother Witch and The Dead Water Ghosts were really good, again a band that I've not heard of before, Eastern/ethereal stoner rock which reminds me of the English band Cold In Berlin in style and execution. The singer has a warbly voice that also reminds me of Siouxie Sioux. She's expressive in movement and bends and contorts her body, totally absorbing herself into every song whilst the band concocts some satisfying doom that made me headbang in my seat. The guitar parts are not stuck in a sludgy loop, they go off on journeys that meander off whilst the vocals keep you centred before taking you somewhere else!
Finally we have Polish/Ukranian band Goosla. First impressions: a bit long winded at times and my attention wandered quite a lot especially when they played the track Venus at the end of the set but now that I listen to it again on Bandcamp I like the trippy gyrating guitar that winds its way around the solid bass line anchored in the centre of things like a stoic oak encloaked in dense foliage!' The girl with red hair and beanie seemed to like what she was hearing along with track suit man who jived, jerked and contorted as if the floor was electrified. I suspect a fair few of the crowd had travelled over the border from Poland, support I notice was more dense than a similar bill in London on a Friday night......
Here are some examples of what I experienced:-
https://youtu.be/9VQ9UikmGNI
https://youtu.be/PgIq5iqCyQU
https://youtu.be/vVAci6XTdPE
LINKS:-
https://www.facebook.com/ritualservice420/
https://www.facebook.com/pg/mwadwg/about/
https://www.facebook.com/pg/goosla1/about
Claudia BLACK
06/01/2019
---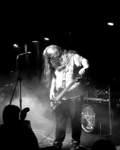 ---