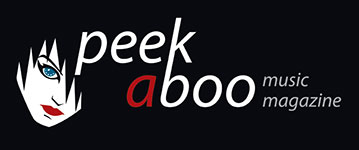 like this cd / vinyl / digital review
---
SELOFAN
Vitrioli
Music
•
CD / Vinyl / Digital
Cold Wave
•
Darkwave
•
Minimal
•
Synth Wave
[85/100]

Dead Scarlet Records
18/12/2018, Jurgen BRAECKEVELT
---
In the cold wave and minimal genre, which has recently got a bit more attention, Selofan has become a well-known act. With their fifth albumVitrioli they stroke hard again. The Greek duo released it on their own label Dead Scarlet and Fabrika Records.
It is already clear from the first second that the duo is experienced with the genre. Their analogue machinery grabs you by the throat. Give Me A Reason ​comes directly from a top shelf. A striking song in spite of its simplicity. Even if they are in the depths of waveland, they can also at times sound lighter. Billie was a vampire… Something we didn't know about Billie. Then back to some bitter gravity with the bombs that Black Box delivers. A cross fire of analogue beats with a heavy bass line that impressively comes in.
I'm Addicted. It could have come from my mouth. The incantation of the monotonous drums drags you into a trance you don't want to escape from. It is as addictive as the title suggest. To get rid of this life force you'll get a very dancy disco-80's song with Ist Die Liebe Tot. I can't find an answer to that question. Find it out... Or is it Un amor etterno? By listening to the rythm section beating like a heart attack it still seems passionate. Whispering in your ear you will get the message. They share it with you secretly. In The language of love you'll get lessons of love in dark satin robes. Beauty in notes, octaves and melody. Living scandal will be your companion. Monotonously intoxicating all along the line.
The selt-titled song Vitrioli is a song where everyone will think of a certain Turkish band (there aren't that many, right?). It sounds more defined, and anyone who knows Greek will surely understand something. I don't, but the music speaks from itself. Fouchsia kameleon is also sung in Greek. A nice pure minimal song which is conspicuous by pushy vocals on a tight repetitive rythm. Endless. After speaking about the widely covered topic of love, it is now time for fashion and loneliness: Loneliness is fashion. Hysteria invites you to dance... read: pogo. Uptempo, hard, inspiring.
Vitrioli is a very strong album that goes even deeper into the minimal and cold wave genre than before. There's a lot in it, you'll see sparks and smoke, but you won't get burnt so it is worth listening to it several times. Because there's not even one second you'll get bored.
Jurgen BRAECKEVELT
18/12/2018
---
In het cold wave en minimal genre, dat de laatste tijd toch wat meer aanhang lijkt te krijgen, is Selofan een oude bekende. Met hun vijfde album Vitrioli zetten ze een reeks sterke albums verder. Het Griekse duo brengt dit uit op hun eigen Dead Scarlet Label en Fabrika Records.
Dat ze doorwinterd zijn in het genre is al duidelijk vanaf de eerste seconde. De analoge machinerie grijpt je meteen bij de strot. Give Me A Reason is meteen van de bovenste plank. Een vol klinkend nummer dat ondanks de eenvoud heel strak klinkt. En het mag, ondanks het feit dat ze zich in de dieptes van waveland bevinden, ook soms iets luchtiger. Billie was a vampire… iets wat we niet wisten over Billie. Terug naar bittere ernst met de mokerslagen die Black Box uitdeelt. Een spervuur van analoge beats met een stevige baslijn die indrukwekkend binnenkomt.
I'm Addicted. Ware het geen songtitel, het zou uit mijn mond kunnen komen. Het bezwerende van de monotone drums brengt je in een trance waar je niet uit wil. Het is zo verslavend als de titel doet uitschijnen. Kwestie van de levensenergie kwijt te kunnen krijgen we een heel dansbaar disco-achtig nummer met Ist Die Liebe Tot. Het antwoord op de vraag moet ik schuldig blijven. Find it out… Of is het Un amor etterno? Aan de als een hartslag klinkende ritmesectie te horen is die nog vurig. Fluisterend in je oor krijg je de boodschap. In het grootste geheim word je deelgenoot. In The language of love vinden we liefdeslessen in donkere satijnen gewaden en kristalhelder. Schoonheid in noten, octaven en melodie. Het wriemelt zich een weg tot diep in je ziel. En als je toch in een heupwiegende dans bent verzonken, laat de blinkende tipschoenen maar hun gang gaan en met een jazzy gearrangeerde drive rustig verder over de in wit licht gehulde dansvloer schreiden. Living scandal zal je gezel zijn. Monotoon bedwelmend over de ganse lijn.
Titelsong Vitrioli is een song waar iedereen een bepaalde Turkse band (ja, zo veel zijn er niet, toch?) zal in ontwaren. Het klinkt wat afgelijnder, en wie de Griekse taal machtig is zal er ook iets van begrijpen. Ik niet dus, maar de muziek spreekt voor zich. Fouchsia kameleon is ook in het Grieks. Een lekkere pure minimal song die schittert door eenvoud: drammerige vocalen op een strak zichzelf herhalend ritme. Eindeloos. Na het al zo vaak over de liefde gehad te hebben, tijd voor een combinatie van mode en eenzaamheid: Loneliness is fashion. Hysteria nodigt uit tot een dansje.. lees: pogo. Uptempo, hard, drijvend, inspirerend.
Vitrioli is een heel sterk vol en volwaardig album waar nog dieper in de minimal en cold wave wordt gedoken dan voorheen. Er zit lading op, we krijgen vonken, en er smeult heel wat. Verbranden doe je je niet, dus het is uitermate veilig om dit keer na keer opnieuw te beluisteren. Want vervelen doet het geen seconde.
Jurgen BRAECKEVELT
18/12/2018
---