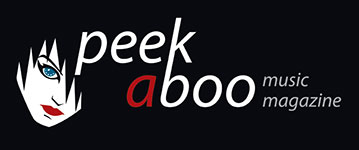 like this digital review
---
ORGAN
Tetro
Music
•
Digital
Doom
•
Horror
•
Stoner Rock
[85/100]

Self-released
09/02/2016, Wim GUILLEMYN
---
The Italian horror doom band Organ is a new band with members of Discomfort and Amia Venera Landscape. The debut Tetro was released last year.
Just like many great doom bands, Organ makes dark, heavy music. Everything is constructed in different layers which results in a homogeneous sound with a progressive touch. The songs are full of unexpected (almost inconspicuous) twists. The structure is reminiscent to the progressive metal band Naïve, although Organ tends more towards doom.
Opener Slave Ship begins with traditional Black Sabbath-like riffs and slowly develops in a spherical song. Occasionally you hear some keys that are the oxygen of the track, while the vocals are almost hidden in the music. Nine minutes long, but it is fascinating. Witch House has a bizarre and psychedelic 70's sound, this time it is a four-minute song.
Kholat Syaki has an experimental intro that is created by synths, later complemented with a bass. It is a rather interesting song, weak in the middle, but saved by a guitar at the end.
Hal and Enuma Anu Enlil are two instrumental songs that show the experimental side of the band. Hal is almost ambient doom. Enuma Anu Enlil is an epic track with a beautiful intro. The heavier guitars reach a climax that give the rest of the track a wider atmosphere. A superb ending.

Organ proves that original doom is not dead yet!
Wim GUILLEMYN
09/02/2016
---
De Italiaanse horrordoomband Organ is vrij nieuw in het muzikale landschap en is ontstaan uit leden van Discomfort en Amia Venera Landscape. Hun debuut Tetro is eind vorig jaar uitgebracht.
Net zoals vele goede doombands, maakt ook Organ donkere, logge en loodzware muziek. Alles wordt in lagen op elkaar gelegd en dat resulteert in een homogene geluidsbrij die wat progressief klinkt. De songs zitten vol bijna onopvallende wendingen. De structuur ervan doet mij wat denken aan de progressieve metalband Naïve, hoewel Organ meer naar doom neigt.
Opener Slave Ship begint vrij traditioneel (Black Sabbath-achtige riffs) en ontwikkelt zich langzaam als een sferische track. Af en toe geven de keys wat zuurstof aan de song. De zang zit verborgen tussen de muziek. Negen minuten lang, toch blijft het lied boeien. Witch House is wat bizar en heeft een psychedelisch 70s-geluid, deze keer is het een bondige song van vier minuten.
Kholat Syaki heeft een experimentele intro die uit synths bestaat waarna de bas komt binnengelopen met een dominante loop. Een vrij interessante song die in het midden wel zwak wordt, maar met een gitaarlijn die op de aandacht trekt.
Hal en Enuma Anu Enlil zijn twee instrumentale songs die iets meer de experimentele kant van de band tonen. Hal is bijna doomambient. Enuma Anu Enlil is een epische track met een schitterende opbouw en mooi intro. De zwaardere gitaren bereiken een climax om daarna de rest van de track van een bredere atmosfeer te voorzien. Een machtige afsluiter.
Organ bewijst met degelijke en vrij originele doom dat het genre nog verre van dood is.
Wim GUILLEMYN
09/02/2016
---
---