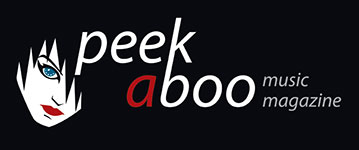 like this digital review
---
MY OWN SORROW
Entity
Music
•
Digital
EBM
•
Gothic
•
Horror
•
Industrial
[80/100]

Self-released
10/12/2016, Wim GUILLEMYN
---
This Swedish act was formed in 2014 and The Entity is the third release. The man behind this project is Patrik Sandermo, founder and DJ (including WGT and Amphi) and the goth club Bat Night. The lyrics on this third album are inspired by the work of Edgar Allan Poe and HP Lovecraft. The classics of the genre.
You can describe the music as EBM, darkwave/electro. The whole has a cinematic feel. Some songs would do well as the soundtrack for a horror movie. Opener No Escape includes vampire-like vocals and has a cinematic monologue: an ambient and EBM sounding song. In Succubus, the emphasis is on industrial dark tinted electro: a strong track for the club circuit. The vocals sound like a sinister whisper that evokes spirits.
The Entity is a soundtrack-like song with a rather sinister intro: the female background chants reinforce the oppressive atmosphere. The recurring melody also adds to the suspense. Posses The Machine seems to be the victim of chaos, partly because of the added noise. Brooding is less strong, but Rats in the Wall, with dark EBM influences, is simply splendid.
Apart from two lesser moments, the songs are strong enough to convince. Those who love dark darkwave and industrial sounding electro, will certainly like this!
Wim GUILLEMYN
10/12/2016
---
Deze Zweedse act is ontstaan in 2014 en The Entity is al de derde release. De man achter dit project is Patrik Sandermo, oprichter en DJ (ook o.a. op WGT en Amphi) van de gothclub Bat Night. De teksten op dit derde album zijn geïnspireerd op het werk van Edgar Allan Poe en HP Lovecraft. De klassiekers van het genre dus.
Je kan de muziek omschrijven als EBM, darkwave-elektro… Het geheel heeft een filmisch karakter. Een aantal songs doen het beslist goed als soundtrack van een horrorfilm. Opener No Escape bevat bijv. vampierachtige zang en een filmische monoloog: een ambient en EBM-aandoende song. In Succubus ligt de nadruk eerder op donkere industrial getinte elektro: een sterke track voor het clubcircuit. De vocals klinken als sinister gefluister alsof ze geesten oproepen.
Ook titeltrack The Entity is een soundtrackachtige song met een vrij duistere intro: de vrouwelijke achtergrondgezangen versterken het beklemmende sfeertje. Het terugkerende melodietje draagt ook bij aan de suspense. Posses The Machine lijkt dan wat in chaos ten onder te gaan, mede door het toegevoegde geruis. Brooding is eerder begeleidingsmuziek en als song daarom minder sterk. Rats in the Wall is sterk en donker en voorzien van EBM-invloeden.
Behalve twee mindere momentjes, is de rest van de songs sterk genoeg om te overtuigen. Wie van donkere darkwave en industrial klinkende elektro houdt, zal hier zeker zijn gading vinden, vooral omdat Sandermo een niche opzoekt die zich wat verder van de platgetreden paden bevindt.
Wim GUILLEMYN
10/12/2016
---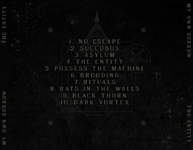 ---