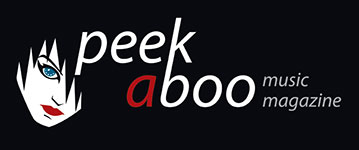 like this concert review
---
WAVE-GOTIK-TREFFEN 2016
Leipzig (Germany)
Concert
10/12/2016, Jurgen BRAECKEVELT
---
The 25th edition of WGT: the town of 100 arcades and malls literally changes color. The city breathes wave and goth: where dresses with flowers are on many shelves during the summer, mannequins now wear black ensembles. At the Burger King you can get a Black Wopper: a burger on a black bun, while in pizzerias you can eat a pizza with black puff which gives many tourists a dumbfounded look, but it is eaten with pleasure. Through the speakers at the tramstops, you frequently hear that the black family is welcome. The city that 25 years ago wasn't keen on the heels, embraces them in the year 2016 with a broad smile. It is amazing to see how a city gets blacker each time a train arrives. Every hour the city becomes more colorful, because black in all its forms indeed creates 'color'.

Because this was the 25th edition, there were extra activities: a exhibition of 25 years WGT in the Stadtgeschichtliches Museum: from the first party ever and the first small gigs, to the huge organization with over 200 music acts today. There is an overview of what gothic and wave is now, the growth of the festival, unique costumes that were worn by the gods of the genre. Striking: both the in-crowd, tourists and many local people visited the exhibition.
WGT launched a special activity: on Thursday, visitors could visit the amusement park of Belantis. In the local papers we read that 10,000 visitors took this offer. Because of the rainy weather, I chose to visit the EBM warm-up party at the Felsenkeller. The bands (outside the 'official' program) immediately created a dance party. 2nd Face kicked off with a good show. The combination of electro with clear EBM made the audience move.

The old school EBM from Jäger 90 boomed through the great hall as hard sledgehammers. There was a mosh pit, without any sympathy for people like me who could use some rest after a drive of 8 hours. Subsequently, there was a nice set of Serpents vs. Gaytron. The two members of Plastic Noise Experience were alternately behind the electronic equipment and the microphone: Gaytron (vocals by Claus Kruse) and Serpents (vocals by Kazim Sarikaya). Gaytron did the softer ones, but it soon became clear that the upbeat EBM of Serpents were more popular. A nice concept, especially as we knew that the familiar Plastic Noise Experience would invite us again for a dance later on WGT. As a bonus we saw The Invinsible The Spirit on stage: the band that scored a dancefloor killer with Push. Although it was a good show, the vocals sometimes were too monotonous. In any case, we were warmed up and if this was the benchmark for the upcoming performances, then it was all okay! In the same Felsenkeller, two parties were going on and there was even an EBM radio (next to the toilets!).

Choosing is always losing at WGT. With a program of more than 200 acts, spread over 25 locations (some of them are quite unique!) all over town, you have to choose. And we even haven't mentioned the many parties every night. On Friday, we tried to catch a few gigs on three locations. Many warned us that it is almost impossible, given the displacements. And let that be the challenge! Again we went to the Felsenkeller where Golden Apes played. The German band brings darkwave/goth rock since 1998 and has a catchy sound. It was obvious that the band was having fun. This could not be said of The Angina Pectoris. It was 15 years since the band released material or performed live. A new album and a tour have to put the band back on the map. I was hoping that the show would bring the sound of the old days back to life. I thought I saw a sound check:a guitarist who performed some distortion and chords on a guitar and was accompanied by a second guitarist. It was the 'intro' of the show! Then an emaciated Joelen Mingi walked on stage and sang the first song for a half-full Felsenkeller. I could not shake off the feeling that I watched a rehearsal of a band in its early days. The guitarists were uninterested, they exchanged some glances as if they did not know what they were doing. I did my best, but I left very disappointed after three songs. And it turned out that I was not the only one.
A streetcar full of black clothed people went towards Stadbadt. The old city pool has been converted into a concert hall. The structure of the room is maintained, the sound is not optimal, but no quibble, because we got an afternoon of minimal music. I saw a glimpse of the Berlin act XTR Human, which sounded a bit post-punk. The Swedish Hearts of Black Science sounded good as well: a combination of shoegaze, post-punk, with a dose of electronics. And then time for Hante. The French woman Hélène De Touri, half of the former Minuit Machine, performed her impressive minimal/synth wave. She made a fine selection of her two albums. Her soaring voice, full of sadness, supported by ditto material and her appearance (she would be perfect in a movie about hippies) provided the right atmosphere and vibes. The voice in the mix could be better, but we were sold anyway. Fan or not, Hante haunts you. This was an hour of class music. A very modest, but great lady. Without discussion. And then into the dark night? No way, up to Volkspalast to see and hear the British In The Nursery: neo-classical music in a packed hall, I was forced to seek a place in a side aisle so I could catch a glimpse of the band. The sound was zero over there, so it did not really appeal to me. The real indicator??? Well, approximately 1500 attendees going totally crazy!
We skipped the parties so we could start the next day with a fresh mind. The love of my life pushed me in the direction of Non Tox. The reason? Harsh electro and the fact that the first band already played at 13.30 hr. Non Tox is a location far from the real center and on arrival, we saw that we stood on coarse gravel in the open air. Not really the perfect place for cyber friends to do their dance, but so what !?

System Noire opened the afternoon with some enjoyable dark electro. There was some movement on the stage and we also noticed the first dance steps. The hell was immense. Subsequently, the German act Body Harvest went on stage. Harsh electro has a limited following, but what this couple offers, is pure class: aggressive dark beats, voice distortion and a stage presence with attitude. The pace of the songs was incredibly high. Julia on keys and partner René on vocals. Relentlessly hard and in my opinion too early on the bill. Put this duo in a dark cave, unleash the strobes on a stage full of smoke and dance your legs off. It turned out that they are very nice people too. The band emerged from the metal band Body Harvest. The aggression is retained, but the guitars sound like icy cold dark beats. A strong performance. Electronic Noise was next. The band plays what the name says: electronic noise and can be compared with Centhron, but the sound was less aggressive. Afterwards, Rabbit At War was on stage. The guitars took over: a quite heavy sound with a huge guy who was pounding hard on a drum. Nice to see, musically okay, but nothing more than that. Then Dark Empire, with a mix of synthpop and EBM. Musically it was okay, but the vocals of the front man couldn't convince. When even earplugs do not help, then it's time to leave.
Minimal and synth wave are back, that is a fact. Again, in Stadbadt some fine bands were on the bill. We heard We Are Temporary. The American Mark Roberts makes dark electro. The public surely could appreciate it. And then Selofan. Just like Hante the night before, again a great name in the genre. The Greek duo plays spherical electro/minimal. Dimitris and frontwoman Joanna did what we expected them to do: to conquer the audience. Their songs have something imploring, just like the front woman. With a death rock look and some sadness they held the audience completely captivated, supported by, but with the same remark: the vocals could be a bit louder. And then the French Position Parallèle went on stage. The sunglassed front man has an 'I-am-the-man' attitude, with an equally flamboyant guy behind the keys. But above all a very hard sound. This duo was very convincing and made a great impression on me. It was my first time I saw these guys and I hope to see them more often in the future.

On Sunday, another huge dilemma came up, but because we feared that the Agra-hall, where Diary Of Dreams, Lacrimosa and P.I.L. played, would be complete, we decided to seek our fortune elsewhere. Amnistia for example. The German band, formed in 2003, plays EBM and electro. The supporting videos definitely added value to the show. And with real opinions. At the end of Faceless, we saw world leaders whose faces were stripped, a clear message. In huge letters the slogan appeared: 'EBM is political'. Good music, an extremely charismatic front man with a good voice. We had seen worse things...

Then Signal Aout 42 played and defended the Belgian colors. The danceable electro got the room easily moving. Musically, the sound stands as a house, but the vocal performances were slightly less. Anyway, Stadtbad was heated for a gig by Plastic Noise Experience. Claus and Kazim unleashed their electro beats. The set was built with older material and, at least in my opinion, the better EBM-songs. Claus is an impressive frontman!. His grimaces and angular movements are worth seeing. To complete the top evening, the old school EBM of Orange Sector follewd: a massive EBM division of different German cities caused a veritable hell of a pogo. No need for a Tanzbefehl.

On Monday, we drank an absinthe cocktail at the Absintherie Sixtina and saw the colorful hard electro band Arise -X. The bar was well filled and on the stage there was a great atmosphere, not in the least because of the jocular humor. We were awake... At the Moritzbastei, the Swedish band Machinista kicked off at 19.30. The venue really liked Machinista's catchy music that is somewhere between electro and syntpop. The switch to the metal of Cinema One I was less impressive. Although the band did its utmost to impress, many people left. Wrong decision, but the switch apparently was too heavy.

Much better was Black Moon Secret, unknown to me, until I saw three faces of Lacrimosa on stage, because Lacrimosa-guitarist JP Genkel is the driving force behind this band, along with Manne Uhlig and Julien Schmidt. The vocals were done by Olaf Senkbeil. The man had a tremendous vocal power which was perfect for the Moritzbastei. The music balances between goth rock and goth metal. The day before they entertained 7,000 people at the Agra with Lacrimosa, and now they did the same for 150 people. The passion for music must be big. Fans of Lacrimosa or similar sounds: check this out!
I was dead tired, but I absolutely wanted to see the Swedish band Biomekkanik. The trio plays synthpop with heavy guitars. The Moritzbastei was filled with a very diverse dark audience. The first song was not exactly the best because front man Christer Hermodsson apparently had not warmed up his vocal chords. False singing, especially in the higher tones. Halfway through the show, he asked to have less smoke on stage because it irritated his voice.. an excuse? I do not know, but the vocals improved.
It is impossible to see everything, the beautiful venues, the peripheral activities (Pagan Village, shopping in Agra, lectures, film, etc.). In any case, I enjoyed every second of it, just like the other 23,000 goths who took over 'their' city during 5 days without any problem. A real family reunion, and rehabilitation is difficult To see Rome and die? NO! From now on: see Leipzig and then die...
On our site you find several photo shoots of Xavier and Benny.
Jurgen BRAECKEVELT
10/12/2016
---
De 25ste editie van WGT: de stad van 100 galerijen en winkelcentra verandert letterlijk van kleur. De stad ademt wave en gothic: waar in kledingwinkels doorgaans zomerse kleding op vele rekken wappert, dragen de etalagepoppen plotseling zwarte ensembles. In de Burgerkings kan je de Black Wopper krijgen, een hamburger op een zwart broodje; in pizzeria's serveert men pizza's met zwart bladerdeeg die door de toeristen met een wat verstomde blik, maar met evenveel smaak naarbinnen wordt gewerkt. Aan de tramhaltes schalt regelmatig de mededeling door de speakers dat de zwarte familie welkom is. De stad die 25 jaar geleden liever de hielen van de goths zag, omarmt anno 2016 de meute met een brede glimlach. Het is een geweldig om te zien hoe een stad schoorvoetend, maar gestaag zwarter wordt met elke trein die toekomt. Elk uur wordt ze kleurrijker, want zwart in al zijn vormen en stijlen zorgt wel degelijk voor 'kleur'.
Omdat het de 25ste editie is, zijn er extra activiteiten: een heuse tentoonstelling over 25 jaar WGT in het Stadtgeschichtliches Museum: vanaf de eerste fuiven waarmee het ooit begon, over de eerste kleinere optredens tot de reusachtige editie van nu met meer dan 200 muziekacts. Er is een overzicht van wat gothic en wave nu zijn, van hoe het festival groeide, er is de kleding, unieke kostuums die ooit door de goden uit het genre zijn gedragen. Opvallend: zowel de incrowd als de toeristen en heel veel lokale mensen bezochten deze tentoonstelling.
WGT startte met een speciale activiteit: op donderdagavond konden de bezoekers in het pretpark Belantis terecht. In de lokale kranten lezen we dat 10.000 bezoekers vanaf 20 uur op dit aanbod ingingen. Gezien het natte weer, koos ik ervoor om de EBM-warm-up-party in de Felsenkeller te bezoeken. De bands (buiten het 'officiële' programma) zorgden meteen voor een kolkende en dansende massa. 2nd Face gaf de aftrap en die mocht er zijn. De combinatie van elektro met duidelijke EBM-inslag kreeg het toen al talrijke aanwezige publiek in beweging.
De oldschool-EBM van Jäger 90 die daarop volgde, dreunde als snoeiharde mokerslagen door de geweldige zaal. Meteen onstond er een moshpit: geen medelijden voor mensen die zoals ik na een autorit van ongeveer 8 uur wel enige 'rust' konden gebruiken. Daaropvolgend was er een leuke set van Serpents vs. Gaytron. De twee mannen van Plastic Noise Experience met hun nevenprojecten stonden afwisselend achter de elektronische machines en de microfoon. Gaytron (vocals Claus Kruse) en Serpents (vocals Kazim Sarikaya) speelden elk om beurt 2 songs. Gaytron de wat zachtere, maar al snel werd duidelijk dat de meer uptempo EBM van Serpents de massa nét iets meer bekoorde. Een leuk concept van de grootheden die op de laatste dag met het vertrouwde Plastic Noise Experience ons nog eens voor een dans uitnodigden. Als toemaatje besteeg nadien The Invinsible Spirit de bühne, de band die vooral met de dancefloorkiller Push velen in beweging kreeg. Hoewel het een goede show was, haperde hij soms als gevolg van het monotone zanggeluid. Het blijven grootheden, maar het dessert mocht iets zoeter. In elk geval waren we opgewarmd en als dat de maatstaf zou worden voor alle komende optredens, dan zat het goed! Naast de optredens waren er in dezelfde Felsenkeller ook twee fuiven en werd er vanuit een onooglijk kamertje (naast de toiletten!) een EBM-radio de ether in gestuurd... Kiezen is verliezen op WGT. In een programma met meer dan 200 acts op een 25-tal locaties (waarvan een aantal toch vrij uniek zijn!) in de stad, kan je onmogelijk kiezen. En dan hebben we het nog niet over de talrijke fuiven die elke avond georganiseerd worden. Op vrijdag deden we een poging om op drie locaties een paar optredens mee te pikken. Velen hadden ons gewaarschuwd dat dat bijna onmogelijk was gezien de afstanden tussen de locaties. En laat die uitdaging net een trigger zijn....
Weer richting Felsenkeller voor Golden Apes. De in 1998 opgerichte Duitse band brengt darkwave/gothrock en heeft een aanstekelijke sound die live goed tot zijn recht komt. Het was merkbaar dat de band met plezier stond te spelen. Dat kon dan weer niét worden gezegd van The Angina Pectoris. Het was 15 jaar geleden dat de band iets uitbracht en op een podia stond. Een nieuw album annex tour moest de band weer op de kaart zetten. Ik keek dan ook meer dan hoopvol uit naar een show die het geluid van de oude dagen tot leven zou wekken. Na een vrij snelle podiumopbouw dacht ik dat ik een soundcheck zag. Een gitarist stond wat te rommelen en haalde wat distortie en akkoorden uit een gitaar. Plots werd die vergezeld van een tweede gitarist die erop stond te kijken. Het bleek om de 'intro' van de show te gaan. Toen strompelde een uitgemergelde Joelen Mingi het podium op en de eerste song werd losgelaten op een halfvolle Felsenkeller. Ik kon me niet van het gevoel ontdoen naar een repetitie te kijken van een band in zijn begindagen. De gitaristen stonden vrij ongeïnteresseerd hun ding te doen, blikken uit te wisselen alsof ze van elkaar niet wisten wat ze speelden. Ik heb mijn best gedaan, maar verliet zwaar ontgoocheld na drie songs de zaal. En ik bleek niét de enige te zijn die dat deed.
Een tram vol zwarte medemensen spoorde richting Stadbadt. Het oude stedelijke zwembad is omgebouwd tot een concertzaal. De structuur van de zaal is behouden, de klank is niet de meest optimale, maar geen gezeur, wel een namiddagje minimal. Nog een glimp opgevangen van het Berlijnse XTR Human dat wat postpunkachtig klonk. Het Zweedse Hearts of Black Science op voorhand gecheckt en dat klonk wel lekker. Een combinatie van shoegaze, postpunk, maar met een dosis elektronica die kon bekoren. Het ondersteunende beeldmateriaal en de amusementswaarde van de heren op het podium bleek sterk. En dan tijd voor Hante. De Française Hélène De Toury, de helft van het voormalige Minuit Machine, bracht haar indrukwekkende minimal/synthwave. Uit haar twee albums maakte ze een fijne selectie. Haar zweverige stem vol treurnis, ondersteund door dito beeldmateriaal en haar verschijning (je zou ze zo in een film over hippies kunnen steken) zorgden voor de juiste sfeer en vibes. De stem mocht iets meer doorklinken in de mix, maar je was sowieso verkocht. Fan of niet, Hante maakt iets in je los. Dit was een dik uur topmuziek. Een heel bescheiden, maar grootse dame. Zonder discussie. En dan nog eens de donkere nacht in? Neen hoor, richting Volkspalast om het Britse In The Nursery te bewonderen: de neo-klassieke muziek in een geweldige zaal die nokvol zat, dwong me om in een zijbeuk van het halfrond een plaatsje te zoeken om toch maar een glimp van de band op te vangen. De klank was op die plaats nul, zodat het mij niet echt kon bekoren. De graadmeter??? Wel, de bij benadering 1500 aanwezigen die totaal uit hun dak gingen!
De fuiven werden geskipt zodat we de volgende dag frisser konden aanvatten. Mijn grote liefde troonde me mee in de richting van Non Tox. De reden? Harsh elektro en het feit dat daar de eerste band al om 13.30 uur speelde. Non Tox is een locatie ver buiten het echte stadscentrum en bij aankomst bleek het zich op een ondergrond van grof grind in open lucht af te spelen. Niet echt de geschikte plaats om cybervrienden en -vriendinnen vlot hun dans te laten doen, maar so what!? System Noire opende de namiddag met genietbare dark elektro. Er was stevig wat beweging op het podium, alsook de eerste danspassen. De kop was eraf en de hel die daarna losbarstte was immens. Het Duitse Body Harvest betrad nadien het podium. Harsh elektro heeft wel een beperkte aanhang, maar wat dit koppel brengt is klasse: agressieve donkere beats, een stem met distortie en een podiumuitstraling met attitude. Het tempo waarmee de songs op het publiek werden losgelaten was ontzettend hoog. Julia aan de toetsen en partner Rene op de vocals. Meedogenloos hard, en wat mij betreft te vroeg op de affiche gezet. Stop dit duo in een donker hol, laat de stroboscopen knallen, spuw een podium vol rook en dans je benen lam. Achteraf bleek dat het duo ook uitermate sympathieke mensen zijn. De band ontstond uit de metalband Body Harvest. De agressie is behouden, de gitaren produceren ijzigkoude dark beats. Een sterk optreden. Electronic Noise nam op zijn beurt het podium in. De band speelt wat de naam zegt: elektronische noise. Qua verschijning deden ze denken aan Centhron, maar de sound was braver. Daarna was Rabbit At War aan zet. Gitaarwerk nam het over van het elektrogeweld. Een vrij harde sound, met een boom van een vent die snoeihard op een trommel beukte. Leuk om te zien, muzikaal wel ok, maar ook niet méér dan dat. Daarna naar Dark Empire, dat een mix van synthpop en EBM bracht. De muzikale kant was in orde, maar vocaal ging de frontman compleet de mist in. Als zelfs oordopjes geen soelaas meer bieden, is dat het teken om te vertrekken.
Dat minimal en synthwave weer aan populariteit winnen is een feit. Alweer stonden er in Stadbadt een paar fijne bands op de affiche. We hebben We Are Temporary nog even een paar tracks zien spelen. Solo brengt de Amerikaan Mark Roberts donkere elektro. Het publiek kon het appreciëren. Dan tijd voor Selofan. Na Hante de avond voordien, weer grootheden in het genre. Het Griekse duo brengt sferische elektro/minimal. Dimitris en frontvrouw Joanna deden wat van ze werd verwacht: het publiek inpakken. Hun songs hebben iets bezwerends, evenals de uitstraling van de frontvrouw. Met een deathrock-look en met een zekere tristesse hielden ze de zaal compleet in de ban. Ook hier ondersteund door videomateriaal en opnieuw de opmerking dat de zang wat luider mocht. Maar dan nog. En alsof dat nog niet genoeg was, deden de Franse vrienden van Position Parallèle er nog een schep bovenop. De frontman met zonnebril en een attitude van 'ik-ben-de-man', en een even flamboyante man achter de toetsen. Maar vooral: een heel harde sound. Dit duo was héél overtuigend en maakte een geweldige indruk. Het was voor mij de eerste echte kennismaking met deze twee en er zullen er nog volgen. Topoptreden van de eerste tot de laatste nanoseconde.
Zondag was er alweer een immens dilemma, maar wegens de vrees om niet in de Agra-zaal binnen te geraken waar Diary Of Dreams, Lacrimosa en P.I.L. speelden, werd besloten om elders soelaas te zoeken. Amnistia bijvoorbeeld. Het Zweedse gezelschap dat eind 2012 ontstond, brengt EBM en elektropop. Het ondersteunende videomateriaal biedt zeker ,meerwaarde aan de show. En enige standpunten wat kracht bijzetten is de band zeker niet vreemd. Op het einde van Faceless werden staatshoofden op het scherm ontdaan van hun gezicht, een niét mis te verstane boodschap. In koeien van letters verscheen de slogan: "EBM is political". Goede muziek, een uitermate beweeglijke frontman met het nodige charisma en een goede stem. We hadden al minder gezien...
Daarna kwam Signal Aout 42, dat de Belgische kleuren op het podium kwam verdedigen. De dansbare elektro kreeg de zaal gemakkelijk in beweging. Muzikaal stond alles als een huis, de vocale prestaties waren iets minder. In ieder geval was Stadtbad opgewarmd voor het optreden van Plastic Noise Experience. Claus en Kazim lieten massaal hun elektrobeats los. De set was opgebouwd met relatief ouder materiaal en de, naar mijn mening, betere EBM-songs. Nogmaals werd duidelijk wat een frontman Claus Kruse wel is. Zijn grimassen en hoekige bewegingen maken het optreden op zich al het bekijken waard. Om af te ronden alweer een topact: de oldschool EBM'ers van Orange Sector. Een massale brigade van de EBM-divisies uit verschillende steden van Duitsland vatte vooraan post om een ware hel van een pogo te laten losbarsten. Er was géén Tanzbefehl nodig om de meute massaal te doen bewegen. Bovendien was het de verdienste van de twee mannen op het podium. Ze speelden tegen een hels tempo snoeiharde EBM.
Op maandag slurpten we in de Absintherie Sixtina een absynth-cocktail, om daarna het bonte hardelectro-genootschap Arise-X te bekijken. De bar was goed gevuld en op het podium was er een lol van jewelste, niet het minst door de schertsende humor die tussen de songs met het publiek werd gewisseld. We zijn alweer wakker....
Om WGT af te ronden, gingen we maandagavond naar de Moritzbastei. Het Zweedse Machinista gaf de aftrap om 19.30 uur. Hun elektropop had de Moritz nokvol gekregen. En niet onterecht, aangezien hun aanstekelijke muziek, die het midden houdt tussen elektro en syntpop, echt kon bekoren. De switch naar de metal van One I Cinema was minder. Hoewel het ensemble zijn uiterste best deed om indruk te maken, hield een groot deel van het publiek het voor bekeken. Onterecht naar mijn mening, maar de switch was blijkbaar iets te moeilijk.
Veel beter was Black Moon Secret, mij onbekend, tot plots drie gezichten van Lacrimosa op de bühne verschenen: Lacrimosa-gitarist JP Genkel is de drijvende kracht achter deze band. Hij zocht versterking met Manne Uhlig en Julien Schmidt. De vocalen nam Olaf Senkbeil voor zijn rekening. De man heeft een enorme vocale kracht, die in de Moritzbastei tot zijn recht kwam. De muziek, die balanceert op het koord tussen gothrock en gothmetal, was af. Als je weet dat de heren daags voordien 7000 mensen in de Agra onderhielden met Lacrimosa, en met hetzelfde plezier 150 mensen een geweldig optreden bezorgden, dan moet er gewoon passie voor muziek zijn. Diegenen die fan zijn van Lacrimosa of soortgelijke sounds: checken die handel!
De vermoeidheid was nu compleet, maar toch nog even doorbijten om het Zweedse Biomekkanik uit te zitten. Het drietal brengt synthpop diewordt ondersteund met vrij stevig gitaarwerk. De Moritzbastei was intussen weer nokvol gelopen, met een héél divers zwart publiek. De eerste song was gelukkig niet de voorbode van wat kwam, want frontman Christer Hermodsson had blijkbaar zijn stembanden niet opgewarmd. Vals gezang, zeker in de hogere tonen. Halfweg de show kwam de vraag om de rookmachine wat minder te zetten, want die werkte op de stembanden.. een excuus? Ik weet het niet, maar de vocale prestaties verbeterden en als afsluiter was het rustig genieten.
Gekozen? Ja. Verloren? Ja. Het is onmogelijk om alles te zien, de schitterende zalen, de randactiviteiten (Heidens Dorp, shoppen in Agra, lezingen, film, etc.). In elk geval was het genieten van elke seconde. 23.000 goths namen 'hun' stad weer voor 5 dagen in. Probleemloos. Een echte familiehereniging, en daarvan afkicken is lastig. Rome zien en sterven? NEE ! Vanaf nu: Leipzig zien en sterven...
Op onze site kun je diverse fotoreportages zien van Xavier en Benny.
Jurgen BRAECKEVELT
10/12/2016
---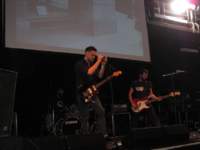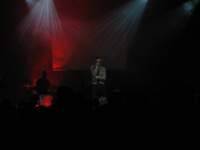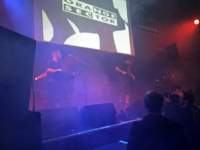 ---