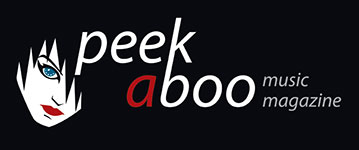 like this cinema review
---
LEIGH WHANNELL
Insidious: Chapter 3
Movie
•
Cinema
Horror
[59/100]

E1
17/07/2015, Didier BECU
---
Successful horror hits are cursed with the urge of producers to squeeze as many sequels out of the original until the moment that even the most loyal fan gives up. After six (unnecessary) sequels of Saw, it seems like the same thing is happening to Insidious. They could persuade James Wan to direct a first sequel, but because the director wanted to have some fun with speed cars in the seventh Fast & Furious, he thanked for directing a third one. The task was given to Leigh Whannell, who is familiar with the original Insidious, as he wrote the script of the first one.
The makers knew very well that the plucky old lady Elise Rainier (Lyn Shaye), who is able to communicate with the dead, was one of the strongest power factors of the first Insidious. To let her return in a new story could only be done in a prequel, because she died in the first film. That was an ideal opportunity for the creators to come up with something that actually has little to do with the first Insidious-movies. No Patrick Wilson or Rose Byrne in this third part, but Stefanie Scott, who plays Quinn Brenner. It remains strange to see a Disney-star hopping around with a T-shirt of the Pixies, but Quinn is not your ordinary teenager. Her whole life she asks questions about her young deceased mother. She gets no support from her father (Dermot Mulroney) as life goes on, you know? The rest, you can guess. The girl visits Elise. The clairvoyant advises Quinn that this is not a very smart decision, from the moment you wake up one dead, they are all awake!
Many horror fans will consider Insidious 3 as a slight affair. The first part is in fact (fortunately a fairly decent) teen movie, and the frightening moments are scarce. Just like Wan, Leigh Whannell avoids bloody scenes and opts for minimal shock effects. The problem however is that it is all too predictable to instill fear. It will be a downer for horror fans to read this, but the best part of the film is in fact the teen movie part. Once the clairvoyant wakes up the dead, Insidious 3 seems like a Poltergeist for beginners. You realize that there is a lot worse around, but whether the world needed this third part, is a whole other story!
Didier BECU
17/07/2015
---
De vloek die op succesvolle horrorhits rust is zonder twijfel de drang om er zo veel mogelijk sequels uit te persen tot op het moment dat zelfs de trouwste fan het opgeeft. Na zes (zeg maar overbodige) sequels van Saw, lijkt hetzelfde met Insidious te zullen gebeuren. James Wan liet zich nog wel overhalen om een vervolg te regisseren, maar omdat hij zich liever amuseerde met autootjes in de zevende Fast & Furious, bedankte hij voor de derde. De kelk werd doorgeschoven naar Leigh Whannell, die vertrouwd was met de originele Insidious, hij schreef immers het script van ervan.
Men wist zeer goed dat het kranige oude dametje Elise Rainier (Lyn Shaye,) die met doden kan communiceren, één van de krachtfactoren van de eerste Insidious was. Haar in een nieuw verhaal laten terugkeren kon enkel in een prequel omdat zij in de eerste film stierf. Ideaal dus voor de makers om met een verzinsel op de proppen te komen dat eigenlijk maar weinig met de eerste Insidious-films te maken heeft. Geen Patrick Wilson of Rose Byrne in dit derde deel, wel wordt de camera op Stefanie Scott gericht, die Quinn Brenner vertolkt. Het blijft een vreemd gezicht om een Disney-sterretje met een T-shirt van de Pixies te zien rondhuppelen, maar Quinn is dan ook geen doorsnee tiener. Haar hele leven lang stelt ze zich vragen over haar op jonge leeftijd overleden moeder. Bij haar vader (Dermot Mulroney) vindt ze maar weinig steun, het leven gaat namelijk door, niet waar? Het vervolg kan je raden en dus klopt het meisje aan bij Elise. De paragnost wijst Quinn erop dat dit geen al te slimme beslissing is, vanaf het moment dat je één dode wekt, worden ze allemaal wakker!
Heel wat horrorfans zullen Insidious 3 maar een flauwe bedoening vinden. Vooreerst lijkt het eerste deel net iets te veel op een routineuze (gelukkig vrij degelijke) tienerfilm, ook zijn de schrikmomenten bijzonder schaars. Net zoals Wan vermijdt Leigh Whannell bloed en opteert hij voor minimale schrikeffecten, alleen is het te voorspelbaar om je angst aan te jagen. Het zal een domper zijn voor de horrorfans om dit te lezen, maar het beste deel van de film is eigenlijk de voorbereidingsfase. Eens de helderziende vrouw de doden oproept verwatert Insidious 3 in een Poltergeist voor beginners. Na anderhalf uur besef je dat er slechter bestaat, maar of de filmwereld nu echt nood had aan dit derde deel, is een heel ander verhaal!
Didier BECU
17/07/2015
---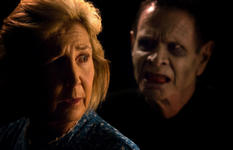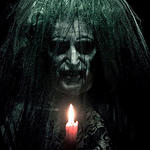 ---