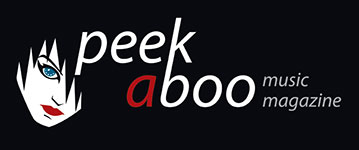 like this cd review
---
SWITCHBLADE
"2016"
Music
•
CD
Doom
•
Hard Rock
•
Metal
[70/100]

Denovali Records
10/12/2016, William LIÉNARD
---
"2016" is the seventh album of the Swedish band Switchblade (founded in 1997). The core duo - Tim Bertilsson (drums) and Johan Folkesson (guitars) - again collaborates with sound wizard Karl Daniel Lidén for an album with 40 minutes of minimalist doom. The pace is a lot higher than on the most recent album ("2012"), with more melodies and a more detailed texture. Of course it sounds dark and fatalistic again, but musically, the album is more accessible. It contains four songs.
The more than ten minutes long P.O.G. begins pretty quietly with drums and synths, followed by a long guitar intro that we associate with Vander Graaf Generator, but after 3 minutes, dark and menacing sounding guitars are added, a voice with a metal-like quality and organ-like sounds in the background (another typical attribute of VDG). Halfway through, the sound is temporarily dimmed, then the loud guitars return as rattling machine guns, topped with emphatic vocals that sound like hard rock.
Third Burden begins as a loud guitar track. After half a minute, the typical Switchblade voice that winds between metal and hard rock is added. The instrumental part of the track is an accumulation of tempo changes, loud and quieter guitar fragments and occasionally some electronics. The Cressent has a solo guitar in the intro, joined by dark guitars and good sounding drums after barely 40 seconds: a guitar track that definitely will be appreciated by fans of heavy guitar music, but which is also closely related to what we have heard before. Variety is not the strongest merit of this kind of music, but that's most probably not the intention, nor what the fans are waiting for.
Surprisingly, Death Walks Behind remains relatively quiet with intelligible vocals for almost four minutes, while the melodic character is maintained in the second part as well, despite the heavy guitar wall. It is the best track of the album, due to a broad accessibility and a less oppressive atmosphere.
Tracklist:
1 P.O.G.
2 Third Burden
3 The Cresset
4 Death Walks Behind You
William LIÉNARD
10/12/2016
---
Het Zweedse Switchblade (opgericht in 1997) is met "2016" aan z'n zevende album toe. Het kernduo Tim Bertilsson (drums) and Johan Folkesson (gitaren) werkt opnieuw samen met geluidstovenaar Karl Daniel Lidén voor een album met 40 minuten minimalistische doom waarvan het tempo flink wat hoger ligt dan op de meest recente release ("2012"), met meer melodieën en een uitgebreidere textuur. Uiteraard klinkt het opnieuw donker en fatalistisch, maar muzikaal is er sprake van meer toegankelijkheid, al is dat zeer relatief als het Switchblade betreft. Het album bevat vier composities.
Het meer dan tien minuten durende P.O.G. komt vrij rustig op gang met slagwerk en synths en vervolgens een lange gitaarintro die we met Vander Graaf Generator associëren, maar na 3 minuten stort de hemel in, klinken de gitaren donker en dreigend en wordt een stem toegevoegd met een metalachtige kwaliteit en orgelachtige klanken op de achtergrond (weer zo'n typisch VDG-attribuut). Halfweg wordt het geluid tijdelijk getemperd, nadien keren de gitaren terug als ratelende machinegeweren met bovenop de nadrukkelijke vocalen, die eerder klinken als van een hardrockband.
Third Burden begint als een luide gitaartrack en krijgt pas na anderhalve minuut de voor Switchblade typische stem die slingert tussen metal en hardrock. Het instrumentale gedeelte van de track is een opeenhoping van tempowisselingen, luide en stillere gitaarfragmenten en af en toe wat elektronica, waarna de stem terugkeert en de gitaren langzaam wegdeemsteren. The Cressent krijgt een sologitaar in de intro, na nauwelijks 40 seconden bijgetreden door donkere gitaren en goed klinkend slagwerk: een gitaartrack die beslist in de smaak valt bij liefhebbers van ruige gitaarmuziek, maar die ook nauw aansluit bij wat we eerder hebben gehoord. Variatie is niet het sterkste punt van dit soort muziek, maar dat is wellicht niet de bedoeling, noch waarop de fans zitten te wachten.
Death Walks Behind You laat niet veel goeds vermoeden, maar verrassend genoeg blijft de track bijna vier minuten lang vrij rustig met verstaanbare vocalen, terwijl het melodieuze karakter ook in het tweede deel overeind blijft, ondanks de loodzware gitaarmuur. De beste track van het album wegens een ruimere toegankelijkheid en een minder drukkende sfeer.
Tracklist:
1 P.O.G.
2 Third Burden
3 The Cresset
4 Death Walks Behind You
William LIÉNARD
10/12/2016
---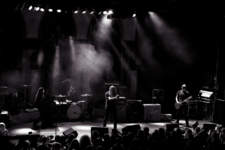 ---