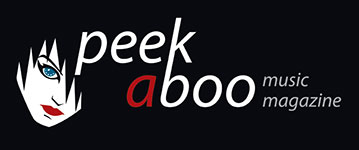 like this festival review
---
VARIOUS
ALCATRAZ METAL FESTIVAL 2018 10-12th August, Kortrijk, Belgium
Music
•
Festival
Industrial Metal
•
Metal
30/08/2018, Claudia BLACK
---
Bio:- Established in 2008 with 7 bands on the bill, as of 2018 there were 24 bands on the bill
On the third day that I was at the festival a stall holder came up to me and asked:- ''Why are you here and not at BloodStock??'' My reply was swift and succinct!! ''I am here because there is nothing at Bloodstock that I want to see this year!!'' It was true, there were no bands on at Bloodstock that I had any current desire to see. Apart from Dead Before Mourning who won the London Grand Final of Metal 2 The Masses. And I did not want to camp either!!!
At Alcatraz I had a very plush AirBnB for 3 days that was within walking distance of the festival site and I had Solstafir, Behemoth, Primordial, Dimmu Borgir, Satyricon, Alcest and Sepultura to look forward to along with Cannibal Corpse. I did want to have a quick listen of Limp Bizkit but I was fatigued when they came on so walked back to the apartment.
Ministry I've seen before so I gave them a miss too. I had a quick taster of Epica, not to my taste. Status Quo I heard from a distance, that was sufficient, but I did see In Flames, a good solid set from a band I'm not familiar with. All the bands from Solstafir to Sepultura played good strong solid sets in my view with plenty of crowd surfing that got slightly annoying when I saw Dimmu Borgir because I spent most of the time looking back into the crowd waiting for the next wave of bodies or crouching down to not get kicked in the head rather than looking at the band.
By the time Sepultura came on at 10pm on Sunday I'd got used to the surfing but I got kicked in the head, elbowed in the nose and had my sunglasses broken!!! Primark Originals they were as well!! What can I say about Primordial that I can also say about Solstafir?? Satisfyingly satisfying like a perfectly brewed pot of tea. Alcest were a shoe gaze metal filigree of wefts and weaves that reminded me of absinthe and Gabriel Dante Rossetti for some reason. I wasn't really sure about them at first but they grew on me!! Behemoth, satanic priests mesmerising you into line with pounding rhythms, blast beats and intense stares.
The others things I liked about this festival were the toilets!! They were cleaned pretty much straight after anyone used a cubicle and restocked with paper! The food was good especially the chips which were fluffy on the inside and fried to the perfect level of crisp!! AND there was a copious amount of non alcoholic beer!! Jupiler beer which was very palatable. But there was a token system for purchasing food and beer which I had to get my head around first of all. I found this out when I went to buy a beer and was told that the price was not 2 euros but 2 tokens. 27 euros bought 10 tokens which is 2 euros 70 cents per token. So after you had gone through security and entered the site you went straight to a booth and bought your tokens. This made sense for logistical and security purposes if you think about it, all the cash is in one safe in one place near to the security!! All non food/beverage stalls took euros though, the individual stalls responsible for their own cash handling procedures!! There were some good stalls selling some nice wares along with other stuff you could wait to buy online or outside the festival. I bought a silver rune pendant for 25 euros and some band patches which I am pleased with. All in all I found the crowd to be friendly too and there was a minimal police presence, I think I only saw 6 armed police in 3 days!!
This is a festival to take note of and I'll be definitely going again in the future depending on line up!
Links:-
Claudia BLACK
30/08/2018
---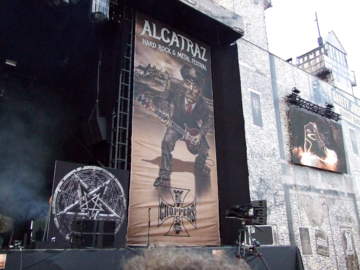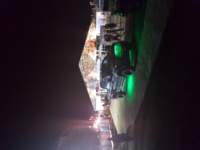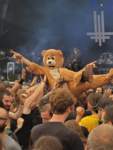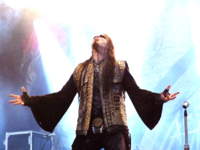 ---