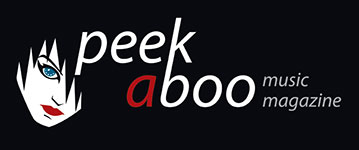 like this cd (ep) review
---
VIOLENCE
Le Flux de la Nature
Music
•
CD (EP)
Electro Wave
•
Minimal
•
Synth Wave
[84/100]

Electronic Emergencies
26/07/2018, Jurgen BRAECKEVELT
---
Some bands have something. Some have a lot. One extravagant, the other dark, another surprising, others still apocalyptic. Violence from Quebec (Canada)... has it all in 4 songs on the EP Le Flux De La Nature. Rooted in the ground of New Wave, with French vocals and nerve-racking electronics - with which they are able to musically explode the complex rhythms of nature and intense human relationships on this amazing EP. Manuel Bisson's cover art compliments the music perfectly.
It sounds overwhelming, majestic, sad and affectionate, all together. A rollercoaster of emotions engulfs you like a tsunami. You do not see it, you don't expect it in the least but it hits hard. Violence stops all this in this great EP.
Will Your Ghost Follow You? An existential question that many people, believers or not, may imagine. Who or what are we and what remains after this world? Or are we only a reflection, a deceptivly mechanical thing that someone has baptised? Who knows and above all: who cares!
Then back to primal Wave with L'Eclat du Jamais Vu. Immensely cold and beautiful in simplicity. A minimally dressed song, specks of dust around an electronic body. A body in decay that tries to keep up upright.
The titlesong unfolds in a similar musical style, 40 years back in time without any compassion. And yet it sounds somewhat contemporary, even though the synthwave is icy cold. We get a hipshaking melody on an ice cold bassline and drums that sound like the analog machine history is revived. Allé hop... Two tiny little words that say what they mean: let's just do it'
Far too soon this EP ends with They've Crossed The Skyline. Modern sounding songwriting, where newer electronics win the match against the analogue force the band likes to use. It sounds techno / trance / tribal but is danceable to the smallest fibre.

In short, to finish: gimme more! Top Material!
Jurgen BRAECKEVELT
26/07/2018
---
Sommige bands hébben iets. Sommige zelfs véél. De ene extravagant, de andere duister, weer een andere verrassend, andere weer apocalyptisch. Deze Violence uit Quebec (Canada)… heeft het allemaal en dat in 4 songs op de EP Le Flux De La Nature. Geworteld in de grond der new wave, met Franse vocalen, zenuwslopende electronica, waarmee ze op deze geweldige EP het complexe ritme van de natuur en de intense menselijke relaties muzikaal laten exploderen. De cover-art van Manuel Bisson vult de muziek perfect aan.
Het klinkt overweldigend, majestueus, treurig en aandoenlijk, allemaal tezamen. Een rollercoaster van emoties overspoelt je als een tsunami. Je ziet het niet komen, je verwacht het allerminst, maar het slaat keihard toe. Violence stopt dit allemaal in een geweldige EP.
Will your Ghost Follow You? Een existentiële vraag die menig mens, gelovig of niet, zich misschien wel stelt. Wie of wat zijn we en wat rest na het aardse? Of zijn we maar een reflectie, een bedrieglijk mechanisch iets wat men méns heeft gedoopt? Who knows en bovenal: who cares!
Dan terug naar de oer-wave met L'Eclat du Jamais Vu. Immens kil en mooi in zijn eenvoud. Een minimaal aangeklede song, flarden stof rond een elektronisch lichaam. Een lichaam in verval dat zich toch overeind poogt te houden.
De titelsong ontrolt zich in een soortgelijke muzikale stijl, 40 jaar terug de tijd in zonder enige mededogen. En toch klinkt het enigszins hedendaags, ook al is de synthwave ijzig koud. We krijgen een heupwiegende melodie op een ijskoude baslijn en drums die klinken alsof de analoge machinale geschiedenis herleeft. Allé hop… Twee nietig kleine woordjes die zeggen wat ze betekenen: laat ons 'maar' verder doen.
Véél te vroeg eindigt deze EP met They've Crossed The Skyline. Moderner klinkende songschrijverij, waar recentere electronica de wedstrijd wint tegen het analoge geweld waar de band zich graag van bedient. Het klinkt techno/trance/tribal-achtig, maar is dansbaar tot in de kleinste vezel.
Om kort te eindigen: gimme more! Topmateriaal!
Jurgen BRAECKEVELT
26/07/2018
---