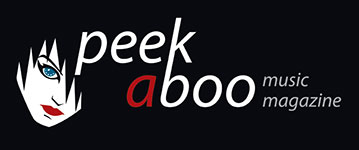 like this cd review
---
VOODOO BIBLE
Black Tarot
Music
•
CD
Dark Dystopic Industrial
[78/100]

Venus Aeon
10/12/2016, Wim GUILLEMYN
---
William Westwater has many projects these days: Exit Strategy (the post-punk band), Fear Incorporated (the album Cloak and Dagger will be released in 2016), Infrared and Voodoo Bible with music that can be described as dark industrial with avant-garde influences: a mix of Virgin Prunes, The Prodigy and Killing Joke.

For this project he works again with Berwyn Waddon on guitar. The rest (synth, vocals, programming) is Westwater's job. The result is a captivating mix of songs that evoke all sorts of feelings: alienation, despair, darkness or doom.
It all starts with the opener Garden of the Meek: an industrial sounding intro in which William recites his lyrics if in a ritual. The song gets some momentum in the chorus due to the added EBM-like synths.

Sacred Monkey has less rhythm breaks than DNA, which makes the track more listenable. The guitars are mixed in a surprising way. It perfectly fits the apocalyptic sound. I already knew Dystopia, because it was released as a single and video: a track with elements of The Prodigy.
Antipode of Heaven has an industrial base. The effect is certainly surprising. Tantalus is even better: a mix of melody and rhythm. Sweet Assassin lacks a bit of consistency, but In the Book of the Dead is better.

In Icarus, we hear Killing Joke, while Hoxorcism and Black Tarot are rather industrial/avant-garde tracks. The album closes with the Voodoo Bible Major Arcana Mix.

Westwater has a very special and dystopian voice (along with some effects) which you have to appreciate to enjoy this album. However, he has an original sound and ditto approach: a unique atmosphere with captivating songs. On some tracks I get the feeling that's it too much a matter of copy and paste. Anyway, the album sounds a lot better and more consistent than Seven Deadly Sins, the debut of 2014.
Wim GUILLEMYN
10/12/2016
---
William Westwater is met veel projecten bezig dezer dagen: Exit Strategy (post-punkband van Berwyn Waddon voor wie hij de vocals voor zijn rekening neemt), Fear Incorporated (waarvan dit jaar nog het album Cloak and Dagger verschijnt), Infrared en ten slotte deze Voodoo Bible, waarvan de muziek in de de richting van dark industrial gaat met wat avant-garde invloeden: een mix tussen The Virgin Prunes, The Prodigy en Killing Joke. Voor dit project werkt hij weer samen met Berwyn Waddon die instaat voor de gitaren. De rest (synth, vocals, programming…) doet Westwater zelf.
Het resultaat is een boeiende mix van liedjes die allerlei gevoelens oproepen: vervreemding, wanhoop, duisternis, noodlot… Verwacht je dus aan een in duisternis gehuld album. Het begint al met de opener Garden of the Meek: een industrial aandoende intro waarin William haast op rituele wijze zijn tekst declareert. In het refrein krijgt de track wat meer vaart en hij swing vanwege de EBM-achtige synths die toegevoegd worden. Sacred Monkey heeft wat minder breakritmes dan DNA waardoor de track iets vlotter beluisterbaar is. De gitaren zijn op een verrassende manier gemixt: het lijkt alsof ze van onder een deken komen. Het past prima bij het apocalyptisch geluid dat geproduceerd wordt.
Dystopia kende ik al, want het werd eerder als video en single uitgebracht: een geschikte track (met wat Prodigy-elementen in de bridge) in zoverre dit voor singlemuziek door kan gaan, natuurlijk. Antipode of Heaven heeft een industriële basis waaraan rest is gehangen. De uitwerking kon beslist verrassender. Tantalus doet beter: een mengeling van melodie en ritme. Sweet Assassin gaat zo een beetje alle kanten uit maar mist een beetje samenhang. In Book of The Dead is die samenhang beter geslaagd. In Icarus horen we een geluid dat zowaar in de richting van Killing Joke gaat, terwijl Hoxorcism en Black Tarot eerder industrial/avant-garde tracks zijn. Het album sluit geslaagd af met Voodoo Bible Major Arcana Mix.
Westwater heeft een heel speciaal en dystopisch stemgeluid (samen met wat effecten vermoed ik). Eerste voorwaarde is dat je die weet te appreciëren vooraleer je aan de rest begint. In elk geval kan je hier spreken van een origineel totaalgeluid en een dito aanpak. er wordt een unieke sfeer neergezet in over het algemeen boeiende songs. Bij enkele tracks krijg ik een beetje teveel het gevoel van knip- en plakwerk. Maar de songsdie wel werken, zijn wel heel geslaagd. Het album klinkt ook een stuk beter en consistenter dan het debuut Seven Deadly Sins uit 2014.
Wim GUILLEMYN
10/12/2016
---