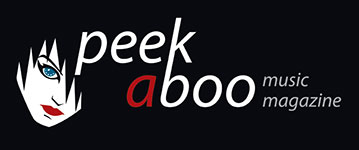 like this concert review
---
PARADE GROUND + HYPNOSKULL + IMMINENT
Concert
10/12/2016, Didier BECU
---
Last months were just splendid for Parade Ground. During years Pierre and Jean-Marc fought a hard battle, but this year they played quite some important shows (the top act on Waveteef in Belgium and Gothic Pogo in Leipzig, plus some successful shows in Italy to name a few).

Founded in 1981 and far from being respected by everyone, today it seems like music fans realize how big the band's impact is on the wave scene (from synthpop to minimal, and even experimental).

The Belgian duo didn't choose the easiest way. When it resurrected the band after a long silence, Rosary was released and only loved by a handful of people. Why? Simply because the boys refused to play the game they're supposed to play. That was also the case with the concerts. During Body Farm (the festival at Magasin 4, which was the come back of Belgian's finest prodigal sons), Pierre and Jean-Marc shocked the audience by being extreme. You really had to be a die hard fan to recognize the old tunes in the versions they played then.

However, Parade Ground knew very well it didn't please everyone. Some decided to never attend their concerts again, others felt in love, and Parade Ground became synonymous with irresistible addiction. After all these years, it finally seems as if Jean-Marc and Pierre have become what they deserve to be Since the early start.
Since some time, Parade Ground has changed (a bit) because the band returned to the basics of song writing. A concession? It depends on how you look at it, but it's definitely another new step in that wonderful adventure called Parade Ground.
Seeing Jean-Marc and Pierre is always a guarantee for a great show with a performance that goes to the bottom of the dark soul. The quality of the shows only differs because of technical issues, but you can be sure that the Pauly brothers always give the best of themselves.
That was not any different in Liège. Parade Ground was the first band on a festival of three names, that also included Hypnoskull and Imminent (formerly known as Imminent Starvation). Live Club is a cosy venue in the heart of Liège. Parade Ground was scheduled at eleven o'clock, but those hours of wait didn't last that long as the public was warmed up by a perfect DJ-set by Pascal Guisse that consisted of classics you always want to hear (from Skinny Puppy to Trisomie 21).
Some might think Parade Ground and two industrial acts is a weird line-up for a festival. Those who think so, surely missed the band's current sound, as the synth pop of the 80s, that was characterized by both EBM and Dadaism, has completely changed. Of course the tunes are still there, but this is a totally different (and much better) band.

Parade Ground sucks you into its own strange world (ha!). As always, Pierre wears a white T-shirt that is like a sign of innocence, while Jean-Marc dresses in a tuxedo and confronts you with the dark side. From the very first seconds, Pierre looks like a lunatic bird that is set free and guides you to a dangerous place where you meet creatures that will knock on your skull, ready to penetrate your useless mind. Pierre dances like a bird with broken wings, trying to reach heaven. Jean-Marc pulls out all the stops, the stage is his playground, his domain to puke the black vomit. The basic structures of the songs are like pop (how else would you describe Strange World, Action Replay or Gold Rush?), but it's in the way how it's done.

These guys show an unseen passion that floats between pure madness and genius. Some people will never understand the essence of this band, probably because facing the truth hurts too much, but those who dare to look in the mirror and meet their inner dark soul, will see a band that matters. Taste differ, but if Parade Ground is not the best band ever, then it surely is the most underrated band ever. After the concert, a friend embraced me by telling me Parade Ground never disappoints. True, never! Parade Ground shows what other bands often want to hide: the honest truth. Is it not fair to say Parade Ground is the best band ever? Probably not, but someone has to...

At the end of the day, I guess our readers will appreciate the honesty of our writings. So, I traveled to the other side of Belgium to see Parade Ground, and I took the rest as a bonus. But that's just an opinion, as the well filled venue literally exploded when Hypnoskull was playing. Recently, Patrick Stevens (who used to be in Sonar) released his ninth album in 16 years. Immer Wieder Nein is (as usual) released on Ant-Zen. The industrial harsh noises are based on the famous poems by Bertolt Brecht. The compositions, which are based on cold rhythms and bombastic industrial noises, created a dance bomb at the Live Club. Just like Parade Ground, Hypnoskull has its own fans and by seeing the dancing crowd, you could only conclude that those who came, embraced Hypnoskull with open arms.
Earlier this year, Imminent played at Porta Nigra. The fans of Olivier Moreau's power noise can't get enough of it. The gig started as calm IDM/industrial, but with each minute the beats became louder and louder, and evolved in industrial techno and power noise. Olivier ended his set with some Hymen classics to please his die hard fans.
Sometimes you hear people complain that nothing happens in Wallonia (the French part of Belgium). Being at the Live Club was the proof that that is pure nonsense as this was a top event that was professionally organized by friendly people who know what the dark scene demands. Up tot he next, we certainly will be there!
Pictures by Philip Lievens.
Didier BECU
10/12/2016
---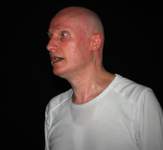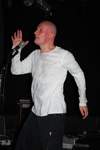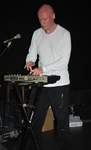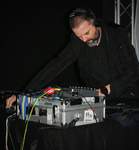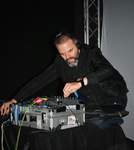 ---