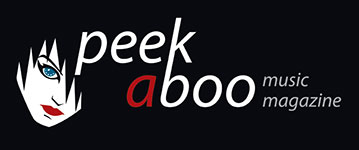 like this 7 inch review
---
MARCHE FUNèBRE
Lost
Music
•
7 inch
Doom Metal
[80/100]

18/01/2016, Mark VAN MULLEM
---
Last year, the doom metal sensation Marche Funèbre from Mechelen (Belgium) released the EP Lost, including two tracks. Let us hope that this means they'll soon release a new full album, the successor to Roots Of Grief (2013). At least if they find the time, because the band is busy conquering the world by playing gigs everywhere. There's a reason why they're considered as one of the hardest working bands in the doom scene!
The title track Lost (in the House of Doom) counts five minutes and 25 seconds. In this short time a lot of things are going on! The song starts quite simply with some slow striking heavy guitar riffs, then the drums and grunts kick in and it's full speed ahead.

It's known that Arne Vandenhoeck's voice has got a wide range. The vocalist swiftly switches from grunts to crystal clear vocals. Lost perfectly showcases how evil grunts and haunting vocals alternate, combined with speeding up and slowing down the tempo. Lost instantly crawls under your skin. Cool big guitars, tight drums... in only five minutes Marche Funèbre shows everything it can!
The B-side contains a re-recording of As in the Autumn, one of the absolute top songs of the album Roots of Grief. An irresistible melody, it's ominous and mesmerizing, seven minutes long! I almost would call it a sing-along: We are, as in autumn, from the tree we are the leaves.... They add an Italian sample at the intro of the track. The new recording sounds very tight and strong and the song now sounds even more menacing. Top!
Sometimes Marche Funèbre is reminiscent of The Gathering during the period of the first album Always (1992) with Bart Smits. Of course Marche Funèbre sounds not the same, but in a way I'd like to see this band as the inheritors of that sound. An they have taken it to a much higher level.
This EP is released on 100 copies only, so you better hurry if you want one! If not, be sure you check out the last album Roots of Grief that includes As In Autumn.
You can buy Lost via Bandcamp: http://marchefunebre.bandcamp.com/album/lost
Mark VAN MULLEM
18/01/2016
---
De Mechelse doom metal-sensatie Marche Funèbre pakte eind vorig jaar uit met de ep Lost. Twee veelbelovende tracks die een full album, de opvolger voor Roots Of Grief (2013), doen verhopen. Ten minste als ze de tijd vinden om het een en ander op te nemen, want de band heeft het redelijk druk met het veroveren van de wereld en met optredens her en der. Het vijftal staat dan ook niet voor niets bekend als één van de hardst werkende bands in de doomscène.

De titletrack Lost (in the House of Doom) klokt af op 5 minuten en 25 seconden. In die tijd gebeurt er erg veel. De song begint vrij eenvoudig met enkele logge gitaarriffs. Al snel vallen de drums in en wordt er volop gas gegeven, en daarna volgen ook de grunts. Dat Arne Vandenhoeck veel met zijn stem kan, is geen nieuws. Zo schakelt hij zonder veel moeite over van gemene grunts naar stijlvolle al dan niet spokende, glasheldere vocals. Ook in Lost. In deze song wisselen grunts en cleane vocalen dan ook regelmatig af. Lost zit meteen onder je huid met grauwe grunts en verfijnde cleane vocalen. Anderhalve minuut lang gaat het ongelofelijk vooruit. Dan wordt gas teruggenomen voor het refrein, waarin Arne op cleane vocalen overschakelt om vervolgens weer een versnelling hoger te schakelen. De schreiende en gure gave gitaren, de strakke drums…, in niet meer dan vijf minuten levert Marche Funèbre een fraai visitekaartje af.

De b-kant bevat een heropname van As in the Autumn, een van de absolute topsongs van het album Roots of Grief. Lekker slepend en gitzwart, met een onweerstaanbare melodie. Onheilspellend en bezwerend, 7 minuten lang! Ik zou bijna durven zeggen, een meezinger: We are, as in autumn, from the tree we are the leaves.... De heren voegden er een Italiaanse sample aan toe die de track inleid. De re-recording is strak en robuust, de song klinkt krachtiger en dreigender dan ooit. Top!

Marche Funèbre doet soms denken aan The Gathering in de periode van het eerste album Always (1992), toen nog met Bart Smits. Dat vind je ook terug bij Marche Funèbre, niet dat het hetzelfde is natuurlijk. Verre van, maar ik zie de Mechelaars graag als volwaardige erfgenamen van deze sound die ze verrijken.

Deze ep is slechts uitgebracht op 100 exemplaren, hopelijk kun je er nog eentje op de kop tikken. Maar check zeker ook hun vorige album Roots of Grief uit waarop ook As in Autumn staat.

Je kunt Lost kopen via Bandcamp: http://marchefunebre.bandcamp.com/album/lost
Mark VAN MULLEM
18/01/2016
---