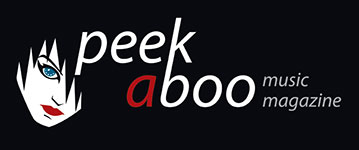 like this digital review
---
(((S)))
Welcome to the Heartland
Music
•
Digital
Post Punk
•
Psychedelic
•
Rock
[85/100]

Poisonic
18/01/2016, William LIÉNARD
---
In 2009, the Danish musician (((S))) was praised for his album Ghost, which received a place among the best albums of the British music journalist Mick Mercer. Now, six years later, the successor Welcome to the Heartland is ready. The album contains eight tracks and it is available as a digital download via the German label Poisonic.
Welcome to the Heartland is the personal story of (((S))) about his life in the Heartland. I have spent more than 43 years in the dream of Heartland, he says in the press release, and this is what I have to tell about it and what I have put down in these tracks. Each song is introduced with a short story against a background of violin-like synths and small sounds as fragmented human voices, so it sounds a bit like an auditory selection from a dark and at times magical novel.
The compositions are of a different kind, but they never sound dark. These are full-blooded rock songs, great sounding, melodic and never loud or bombastic. You think of an English indie band from the post-punk era, but (((S))) is of Danish origin and that makes this album a lot more intriguing. House starts with distorted guitars that insinuate a hellish sequel, but we hear a soft rock song with firm guitars, emphatic drums and beautiful vocals, backed by a choir in the chorus and a generous portion of synths during the instrumental interlude. A slick rock ballad that ends with a brief industrial-like passage. After a brief spoken introduction - in which the voice moves from left to right through the soundscape – House resounds, an earwig from the very beginning, a track with a similar musical accompaniment and doubled vocals that sound very nice. We hear bells, dark guitars, a magnificent choir in the background and gently meandering synths. Beautiful.
Perfectly Imperfect gets a slower pace. The track sounds more spacious by the use of reverb and the artist builds an attractive rock ballad in which the guitars produce erratic but harmonics sounds, while the gently added female vocals create a heavenly atmosphere. The intro of Caravaggio on My Mind resonates against the background of what sounds like a dark saxophone and a loud laughing woman. The pace is faster, but the track sounds at once calm and relaxed as a result of the equally quiet orchestration and gets its strength from the beautiful melody, while the emotions flare in Madhouse, making the song develop into a heavy rock composition with whistling guitars and popping percussion. Exactly what you expect from a madhouse! While listening to Over and Out, images of Bowie in his early experimental and theatrical period drift by, and Sons of the Defeated also gets a seventies atmosphere, again with magnificent doubled vocals, dark percussion and bell-like guitar sounds for contrast. What happens in the Heartland stays in the Heartland, (((S))) says in the intro to the last track of this collection, and so, all we hear may be no more than an echo or a reverberation. In Hey Echo, (((S))) goes full speed once more in a thumping rock song with dark guitars and a fiercely chorus as support. Again a song with a strong melody.
Very strong this Welcome to the Heartland and if you want to remove the spoken intros after a while, that problem is easily solved with this digital download.
Tracklist:
1 Welcome to the Heartland
2 Snakebite
3 Echo Descending
4 House
5 I've Got the Melody Deep in my Heart
6 Perfectly Imperfect
7 The Naked Nude
8 Caravaggio on my Mind
9 The Walker
10 Madhouse
11 The Lions Weep
12 Over and Out
13 A Romance with Your own Monologue
14 Sons of the Defeated
15 What Happens in the Heartland Stays in the Heartland
16 Hey Echo

www.poisonic.de
William LIÉNARD
18/01/2016
---
In 2009 oogstte de Deense muzikant (((S))) veel bijval met zijn album Ghost, dat een plaatsje kreeg tussen de best albums van de Britse muziekjournalist Mick Mercer. Nu, zes jaar later is de opvolger klaar en die heet Welcome to the Heartland. Het album bevat 8 tracks en is via digitale weg verkrijgbaar op het Duitse label Poisonic.
Welcome tot he Heartland is het persoonlijke relaas van (((S))) over zijn leven in Heartland. I have spent more than 43 years in the dream of Heartland, zegt hij in het persbericht, and that's what I have to tell you about it and have put down in these tracks. Elke song wordt geïntroduceerd met een kort verhaaltje tegen een achtergrond van vioolachtige synths en kleine geluidjes als versplinterde menselijke stemmen, waardoor het een beetje klinkt als een auditieve selectie uit een donkere en bij momenten sprookjesachtige roman.
De composities zijn van een heel andere soort, maar ze klinken nooit donker. Het zijn volbloed rocksongs, goed klinkend, melodisch en nooit hard of bombastisch. Je denkt aan een Engelse indieband uit het postpunktijdperk, maar (((S))) is van Deense afkomst en dat maakt dit album nog een stuk intrigerender. Snakebite begint met distorted gitaren die een hels vervolg insinueren, maar verrassend genoeg horen we een soepele rocksong met ferme rockgitaren, nadrukkelijk slagwerk en mooie vocalen, gesteund door een koortje tijdens het refrein en een flinke portie synths tijdens het instrumentaal intermezzo. Een gehaaide rockballade die eindigt met een korte industrialachtige passage. Na een korte gesproken introductie – waarbij de stem van links naar rechts door het soundscape beweegt – volgt House, een oorworm vanaf het prille begin, een track met een gelijksoortige muzikale begeleiding en verdubbelde vocalen die heel erg mooi klinken. We horen bellen, donkere gitaren, een prachtig koortje op de achtergrond en zachtjes meanderende synths. Heel mooi.
In Perfectly Imperfect kiest (((S))) voor een trager tempo. De track klinkt ruimtelijker door het gebruik van reverb en de artiest bouwt een aantrekkelijke rockballade waarin de gitaren grillige maar harmonische klanken laten galmen en het voorzichtig toegevoegde vrouwenkoortje voor een bij momenten hemelse sfeer zorgt. Het intro van Carravagio on My Mind resoneert tegen de achtergrond van wat klinkt als een donkere saxofoon en een luid lachende vrouwenstem. De compositie zelf krijgt een hoger tempo, maar klinkt tegelijk rustig en ontspannen als gevolg van de al even rustige orkestratie en ze haalt haar kracht uit de mooie melodie, terwijl de emoties in Madhouse flink oplaaien, waardoor de song uitgroeit tot een heftige rockcompositie met fluitende gitaren en ploffend slagwerk. Precies wat je van een gekkenhuis verwacht! Tijdens het beluisteren van Over and Out dreven beelden voorbij van Bowie in z'n vroege experimentele en theatrale periode en ook Sons of the Defeated baadt in die seventiessfeer, opnieuw met prachtige verdubbelde vocalen, donker slagwerk en belachtige gitaargeluid als contrast. What happens in the Heartland stays in the Heartland, zegt (((S))) in het intro van de laatste track in deze collectie en dus kan alles wat we horen niet meer zijn dan een galm of een weerkaatsing. In Hey Echo gaat (((S))) nog één keer voluit, een pompende rocksong met donkere gitaren en een heftig koortje ter ondersteuning, en opnieuw met een sterke melodie.
Heel sterk deze Welcome to the Heartland en mocht u de gesproken intro's na een tijdje liever niet meer horen, dan is dat probleem met deze digitale download makkelijk op te lossen.
William LIÉNARD
18/01/2016
---