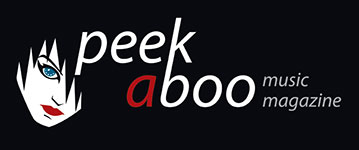 like this concert review
---
SAMARIS
Antwerp, Trix (15/06/2016)
Concert
10/12/2016, Didier BECU
---
An evening of fragile pop, that's probably the best way to describe the gig in Antwerp last Wednesday. The support act was an international collective from Brussels, the headliner one of the leading bands of the Icelandic electro scene.
Lomboy is the side project of the Austrian Tanja Frinta of Lonely Drifter Karen. This band is almost ten years on Crammed Discs and you can hear that in the music of Lomboy. Everything is wrong (but in the good sense of the word), as both hairstyles and outfits make you think of 1983. Tanja is dressed as an air hostess, while the rest of the band looks as a rock band of the 80s on the cover of some teen mag. The music is just what you make of it. One will hear influences from Les Disques du Crepuscule (think Mikado or Isabelle Antenna), others will see this sugar-sweet pop (they even use the back of irons as percussion instruments!) as a version of The Cardigans with surf guitars. Whatever you think of it, for half an hour the venue was transformed into an azure Hawaiian beach.
Samaris also sounds bitter sweet, but with a completely different concept. The promotional staff of the Antwerp venue hit the nail on the head by recommending this concert to Björk fans, but front woman Jófríður Ákadóttir (the names are not that simple!) is more than just a copy of the Icelandic star.
After a long bus trip, the trio was tired, but it started the set with great enthusiasm by playing a cover of Mum. An Icelandic band we must discover, said Jófríður. Not very surprising, as Gunnar Tynes helped Samaris during the very first recordings. The combination of a heavenly voice, a clarinet (Áslaug Rún Magnúsdóttir) and danceable electronics (Kári Steinþórsson) sounds utterly impossible, unless you're Samaris.
Perhaps it is typical for Icelanders, but the charming English of Jófríður sounded very funny. An ideal interlude (as well as the birthday song for the sound engineer, sung by the audience) for the fairytale electropop that is somewhere between Sigur Rós and Röyksopp. Quite easy to digest, but every note is an intelligent one!
Besides playing a few classics (one featured an Icelandic poem about a governor who is an alcoholic), the majority of the set was taken from the new record Black Lights, which they rehearsed while touring. Not that we noticed any difference. The gig had an intense beauty we actually do not see enough. Mission accomplished, although it could have lasted a little longer.
Didier BECU
10/12/2016
---
Een avondje fragiele pop, zo kon je het best het aardig gevulde onderonsje in de Trix omschrijven. Het voorprogramma was een internationaal collectief uit Brussel, de hoofdact één van de toonaangevende bands uit de IJslandse elektroscène.
Lomboy is het zijproject van de Oostenrijkse Tanja Frinta van Lonely Drifter Karen. Deze band zit al bijna tien jaar op Crammed Discs en dat hoor je aan Lomboy. Alles is fout (maar dan wel in de goede zin van het woord), zowel de kapsels als de outfits doen je aan 1983 denken. Tanja is gekleed als airhostess, de rest van de band als een popgroep die in de jaren 80 de cover van de Joepie sierde. De muziek is maar hoe je het bekijkt. De ene zal er invloeden van Les Disques Du Crépuscule in horen (denk aan Mikado of Isabelle Antenna), de andere zal deze zeemzoete pop (ze gebruiken zelfs strijkijzers als slaginstrument!) gewoon als een flauwe versie van The Cardigans met surfgitaren beschouwen. Wat je er ook van denkt, de Trix werd er toch voor een halfuurtje tot een azuurblauw Hawaiiaans strand door omgetoverd.
Minstens even suikerachtig, doch met een volledig ander concept, klinkt Samaris. De mensen van de Trix sloegen de nagel op de kop door dit concert aan te raden voor Björk-fans, toch is frontvrouw Jófríður Ákadóttir (eenvoudig zijn de namen niet!) meer dan zo maar een doorslagje van de IJslandse ster.
Het trio was na een lange busreis wel wat vermoeid, maar begon met veel enthousiasme het concert met een cover van Mum. Een band die we volgens Jófríður absoluut dienen te ontdekken. Zeer verwonderlijk is dat niet, Gunnar Tynes hielp mee aan de allereerste opnames van deze IJslandse muzikanten. De combinatie van een hemelse stem, klarinet (Áslaug Rún Magnúsdóttir) en dansbare elektronica (Kári Steinþórsson) klinkt wel volslagen onmogelijk, maar dat is wel buiten Samaris gerekend.
Misschien is het typisch voor IJslanders, maar het charmante Engels van Jófríður klonk zeer grappig. Een ideale afwisseling (alsook een door de zaal meegebruld verjaardaglied voor de geluidstechnieker) voor de sprookjesachtige elektropop die zich ergens tussen Sigur Rós en Röyksopp bevindt. Uiterst toegankelijk, maar over iedere noot is er zeer goed nagedacht!
Naast het spelen van een paar klassiekers (zo was er eentje met een IJslands gedicht over een gouverneur die aan de drank zit), kwam het overgrote deel van de set uit de nieuwe plaat Black Lights, die de drie tijdens het toeren hadden ingestudeerd. Niet dat we daar ook maar iets van merkten. Het optreden was braaf, maar bezat een intense schoonheid zoals we eigenlijk veel te weinig zien. Missie geslaagd, ook al had het best wat langer mogen duren.
Didier BECU
10/12/2016
---