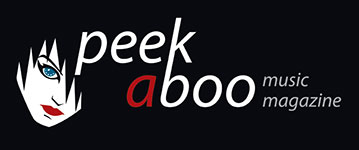 like this cd review
---
DERNIERE VOLONTE
Prie Pour Moi
Music
•
CD
Martial
•
Minimal
•
Synth Pop / Electro Pop
[92/100]

Hau Ruck!
09/12/2016, Didier BECU
---
At the end of the 90, Dernière Volonté caused a real bomb in the industrial martial genre. The debut of Geoffroy Delacroix (Obeir Et Mourir) is one of the classics in this genre, but on his third album Les Blessures de l'Ombre, he completely changed the style by making it more poppy. Soon names like Etienne Daho or Taxi Girl were used as a reference, and when Geoffroy started his side project Position Parallèle, this became even more apparent.

His seventh CD (Prié Pour Moi) is released on HauRuck, the label of Der Blutharsch And The Infinite Church Of The Leading Hand, and that's no surprise because Geoffroy already joined Albin Julius on stage.

Ténèbres immerse the listener in a strange atmosphere. It feels like a walk through the catacombs, but you are on your own. From comes from every angle. The nightmare only lasts 2 minutes, but you are prepared for what is to come as Geoffroy enters your soul with very black thoughts, and even then it's melancholic pop with dark ambient influences. For two minutes, because the heroic sounds of Les Rêves De Dorian follow. The combination of a dark atmosphere with the unique (almost poppy) voice of Geoffroy Delacroix makes Dernière Volonté one of the best bands in the neofolk genre.

A Bout Portant is melancholic synth pop: imagine Etienne Daho with a glockenspiel. Petit Soldat is black pop. Yes, it's a term you rarely read, but we do not have other words to describe it.

Prie Pour Moi almost is minimal wave, and it's difficult to keep your eyes dry when hearing this intense beauty of the melancholic sounds. And it doesn't stop as the synths on Je Serai Toujours sound like a church organ on a funeral ceremony. Après Nous directs us (again) to Etienne Daho territory, but we probably say this because French genius pop always leads to him anyway...

Prie Pour Moi is a CD for lost and melancholic souls. Every track is a gem. One of the CDs of this month, or even this year…
Didier BECU
09/12/2016
---
Op het einde van de jaren 90 zorgde Dernière Volonté voor een ware bom in de industrial martialwereld. Het debuut van Geoffroy Delacroix (Obeir Et Mourir) is één van de klassiekers uit het genre, maar met zijn derde plaat Les Blessures de l'Ombre zorgde hij voor een complete stijlbreuk door opeens onweerstaanbaar poppy te klinken. Al gauw vielen namen als Etienne Daho of Taxi Girl, en toen Geoffroy met zijn zijproject Position Parallèle begon, werd dat nog duidelijker.
Zijn zevende cd (Prié Pour Moi) is uitgebracht op HauRuck, het label van Der Blutharsch And The Infinite Church Of The Leading Hand, en dat is geen verrassing omdat Geoffroy al met Albin Julius op het podium stond.
Starttrack Ténèbres liegt er niet om. Meteen word je in een vreemde atmosfeer ondergedompeld. Het is een wandeling door de catacomben, maar wel op je eentje. Uit elke hoek dreigt er gevaar, de angst besluipt je. Een ideaal begin, want Geoffroy zal meer dan eens in je donkere brein komen piepen, ook al doet hij dat via melancholische pop met darkambientinvloeden. Meteen na de intro is het tijd voor heroïsche klanken op Les Rêves De Dorian. De combinatie van een donkere sfeer en de aparte (bijna poppy) stem van Geoffroy Delacroix maken van Derniere Volonté één van de mooiste (en meest aangrijpende bands) in het neofolkgenre.
A Bout Portant is melancholische synthpop. Het klinkt ontzettend vreemd om het te schrijven, maar denk aan Etienne Daho met een glockenspiel en je hebt de perfecte omschrijving.
Petit Soldat is zwarte pop. Ja, het is een term die je maar zelden leest, maar andere woorden hebben we er niet voor.
Prié Pour Moi is al even meeslepend, het is bijna minimal wave. Op Je Serai Toujours klinken de synths bijna als een kerkorgel.
De schoonheid houdt aan. Après Nous brengt ons (alweer) in Etienne Daho-gebied, maar wellicht zeggen we dat omdat geniale Franse pop altijd wel naar hem zal leiden…
Prié Pour Moi klinkt bijna ondraaglijk melancholisch en ondanks de poppy klanken, gitzwart. Briljant, en een cd die tranen in je ogen brengt wegens zijn ultieme schoonheid. De cd van het moment, wellicht zelfs van het jaar.
Didier BECU
09/12/2016
---