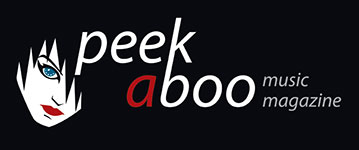 like this concert review
---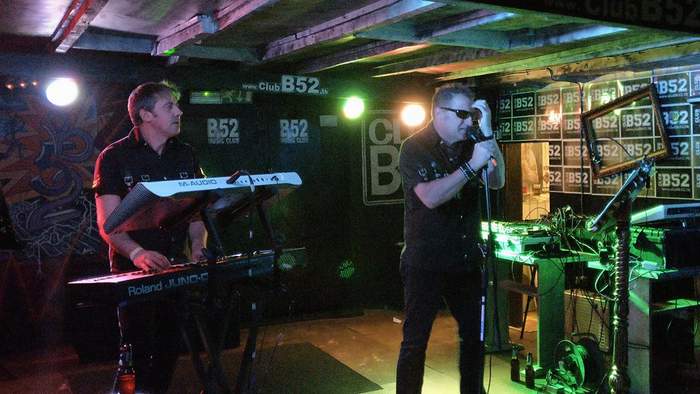 DIE SELEKTION - STORY OFF
Zondag 17 september - B52 Eernegem
Concert
10/11/2017
---
A rainy Sunday evening mid September. The picturesque Eernegem guided us towards B52 for a Dark Wave night with the Belgian band Story Off and the German (Berlin) trio Die Selektion, the last one ending a 20 date tour with a final show in West Flanders, Belgium.
Story Off, the two-headed band featuring Chesko Vandekerkhof and his companion Marco Varotta (both also active in Der Klinke), had the pleasure to open the evening. The audience was sadly not very numerous but this didn't affect their performance at all. Chesko used the necessary amount of humour to bind their effective synth-oriented wave creations together. Amazing Conversations was the opener, followed by the dark track Fear. Story Off has released only one full album up until now, but Chesko announced new material is coming, some of it they already fired at the public that night. It sounded good and familiar to our ears. Their style is recognisable but still at the same time diverse and this is exactly what makes each performance of these two gentlemen captivate you from the first to the last note. Free of compromise, humorous, lived through. A very worthy and good performance, which ended with a hommage to the Belgian cult band The Neon Judgemement, with a cover version of TV Treated!
Die Selektion is a trio with their roots in Berlin. The three (still young) musicians have been busy for a couple of years now and gathered a very wide and strong fan base with their rhythmic but darkish Cold-Wave music. What's special about them is they combine beats and synthesizers with trumpets. Something they didn't think much about, they say, it just evolved that way so and the brass instrument got the place it deserved. It took quite some time for the trio to enter the stage but when they did nobody could tell this would be the end of an intensive tour. Frontman Luca Gillian, full of energy, uses almost every inch of the stage. His melancholic, floating voice, with the occasional emotional cry, makes their music sound both retro but also very contemporary. This is of course also due Max Rieger's smooth synth playing. Musically it sometimes reminds one a bit of the eighties but then again there are also 'Techno' elements surfacing time after time, but only of the good kind. The mixture of all this, along with the trumpet playing of Hannes Rief, results a somewhat different but interesting sound. Luca said that despite the crash the band had while driving some scooters, they had to get up again and finish this tour here today! After some 'slowas' (Dixit Luca), it became time for some 'dance-hits'. And the people moved indeed! Not least inspired by Lucas's unorthodox dance style, stomping pure energy into our bodies. This band deserves more attention because what they do is far above average. I guess the few attendants will have to help and spread the word to bring this sympathetic Berliner band onto the Belgian map.
Meanwhile we'll just wander away again, into the rainy night, while the music of the B52 afterparty fades away ….. but in the end is was a very musical and nice closure to the weekend.
Setlist Story Off:
Amazing Conversations
Fear
Facing Forward
Familiar
Dance Of Death
A Dark Romance
Life On Other Planets
Cold Dance
To Let It Go
TV Treated

10/11/2017
---
Een druilerige zondagavond half september. Het pittoreske Eernegem wenkte ons richting B52 voor een darkwave- avondje met het Belgische Story Off en het Duitse (Berlijnse) trio Die Selektion, die als afsluiter van een tour met 20 optredens een finale stop hielden in West-Vlaanderen.
Story Off, de tweekoppige band met Chesko Vandekerkhof en zijn kompaan Marco Varotta (beiden ook actief in Der Klinke), mocht als eerste de bühne op. Het publiek was weinig talrijk, maar daar was op het podium niets van te merken. Chesko haalde de nodige dosis humor boven om de zaak aan elkaar te praten en hun synth-georiënteerde wave hield moeiteloos stand. Amazing Conversations was de opener, gevolgd door het diepe Fear. Story Off heeft één full album, maar Chesko liet weten dat er nieuw materiaal op komst is, dat ook live al op het publiek werd losgelaten. En het klinkt vertrouwd in de oren. De stijl is herkenbaar, maar tegelijk ook divers. En dat is wat elk optreden van deze twee heren boeiend houdt van de eerste tot de laatste noot. Compromisloos, humorvol, doorleefd. Dit was een héél waardig en goed optreden, dat werd afgesloten met een hommage aan The Neon Judgemement, met een cover van TV Treated.
Die Selektion is een driekoppige gedreven band met zijn rooots in Berlijn. De drie (nog steeds jonge) muzikanten zijn intussen een paar jaar bezig en hebben een heel ruime, standvastige fanbase voor hun vrij ritmische, maar donkere coldwave. Het bijzondere is dat ze beats en synthesizers combineren met trompet. Iets waar an sich weinig over werd nagedacht, het groeide zo en het instrument kreeg de plaats die het verdiende. Het duurde vrij lang tot het trio het podium innam. De laatste in een reeks van optredens. Maar dat was niét te zien. Frontman Luca Gillian palmt met zijn geweldige energie het podium volledig in. Zijn melancholische, zweverige stem met af en toe de nodige emotionele uithalen, laat de muziek zowel retro als verdomd hedendaags klinken. Het hedendaagse komt ook uit de synths van Max Rieger. Muzikaal klinkt het op momenten hélemaal eighties, dan weer zijn er techno-elementen te ontwaren, maar dan van de heel goede soort. De mix van dit alles, samen met de trompet van Hannes Rief geeft het een wat apart geluid. Luca deelde dat hij er ondanks een val bij een rit met scooters die de band had gemaakt, toch nog overeind gekrabbeld was om met dit optreden de tour af te sluiten. Na enige 'slowas' (dixit Luca), tijd voor de 'dancehits'. En beweging was er, niet in het minste geïnspireerd door de onorthodoxe dansstijl van Luca, die pure energie in je lijf stampte. Deze band kan nog meer voet aan de grond krijgen, maar wat ze doen, is meer dan goed. De weinige aanwezigen zullen predikend deze sympathieke Berliners mee op de Belgische kaart moeten zetten.
We schuifelen dan maar de regenachtige nacht in, terwijl de muziek van de B52 steeds verderaf klinkt. Een muzikaal heel leuke afsluiter van het weekend.
Setlist Story Off:
Amazing Conversations
Fear
Facing Forward
Familiar
Dance Of Death
A Dark Romance
Life On Other Planets
Cold Dance
To Let It Go
TV Treated

10/11/2017
---
---