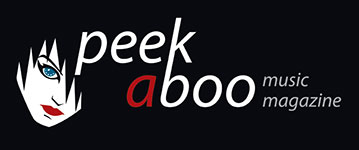 like this concert review
---
PARTIKUL - SYGO CRIES - LILIDOLLRAGE
@B52 Music Club Eernegem
Concert
22/04/2023, Jurgen BRAECKEVELT
---
The Eernegemse club B52 presented us with an evening of "post-punk" with two Belgian bands, Sygo Cries and Partikul, and the French violence of Lilidollrage.
The latter were allowed to kick-off the evening and the duo didn't waste any time. Their powerful power noise/garage rock/(post) punk or whatever you want to call it, dealt some serious blows even if there are only drums and a guitar (propelled by half a music store of pedals) on stage. But what a wall of sound they produced with that gear. It's punk, one could hear some Sonic Youth, but also modest at times. In short, they presented us three quarters of an hour of enjoyment. With the guitarist/front woman who demonstrated her vocal talents and acrobatics from captivating silence to really angry screaming. Add to that the very fast pace and a quick succession of songs that is indebted to the Ramones and you know that the set was tight and relentless. How one can be surprised by a band you didn't know yet.
Sygo Cries then ascended the stage. Mika Goedrijk (This Morn' Omina, Nebula-H, Powder Pussy), Wim Guillemyn (also with The Other Intern), Olivier Moulin (also keyboard player with The Mars Model) and Brooklyn Machet bring their cold post-punk and goth rock with great conviction. The band was already active in the 1990s, then fell into a 30-year hibernation only to experience a musical resurrection sometime in 2020. We saw a strong set, although in my opinion the cruise control switch had not yet been found in the first songs. But from the third song 'Surrender' on, the band found the right gear. Sounding firm, convincing while Mika's voice explored and exploited every style.
'Half A Man', 'Parting Glass' and 'Out Of This World' were my personal highlights of the set. It is clear that Sygo Cries is a strong live band. With a sound balance between Post-punk and Goth-rock, with edgy basses and solid guitars, we really enjoyed this performance.
The Brussels duo Partikul was allowed to headline the night. Aly (synths, drums, programming and vocals) and Stef (guitar, vocals) started working on debut album 'Related Memories' during lockdown and it was released in October 2021. They announced that the second album has been recorded and will be released during the next few months in 2023.
Musically they float between Minimal, Post-punk, Shoegaze and we can hear influences of bands like Boy Harsher and The Soft Moon. Stef plays his Fender Squier Jaguar as if he is ballroom dancing with it. From subdued melodies to a Shoegaze wall of sounds to be reckoned with. And we haven't even mentioned his partner in crime Aly, passionately playing with her frugal set-up of 3 Korg synths and a Roland rhythm box. That's all it takes to slap their intriguing songs right in your face at breakneck speed. The changing tempos, the vocals they take turns in, the different rhythms from hip-swaying to almost electro-punk.
We got a solid tight set thrust upon us. What more can you wish for! 'Curse' cuts through the marrow and bone. 'E.M.I.' lets you catch your breath for a moment, while 'I'm Yours', with its lingering guitars, takes you to a slightly higher plane. 'Apart' is a wonderful post-punk song, 'My Love' has Shoe-gaze vibes while Aly's voice overwhelms the whole track with even more drama. The final song was 'Goldmoon'. A song with a heavenly noisy build-up towards the end. Stef forces his guitar to moan with pleasure.
Yes it was entertaining, musically diverse and hearty. Therefore we eagerly await the second album that is on its way. If you have the chance: go check this band out! You will have a great evening too!
Jurgen BRAECKEVELT
22/04/2023
---
De Eernegemse B52 presenteerde een avondje postpunk als we er een brede term op moeten kleven. Met twee Belgische bands (Sygo Cries en Partikul) en het Franse geweld van Lilidollrage.
Deze laatsten mochten de avond aftrappen. Het duo liet er geen gras over groeien. Hun heel krachtige power noise/garagerock/(post)punk of hoe je het ook wil noemen deelde ferme klappen uit. Wetende dat er enkel drums en een door een halve winkel aan pedalen voortgestuwde gitaar op het podium te vinden zijn. Wat een wall of sound produceerden ze daarmee. Het is punk, je hoort er bij momenten wat Sonic Youth doorheen, maar ook ingetogenheid bij vlagen. In elk geval was het drie kwartier dik genieten. De gitariste/frontlady getuigde met haar stem van een acrobatiek van innemend stil tot echt woedend schreeuwend. Voeg daarbij het heel strakke tempo in de songs en een aan de Ramones schatplichtige snelle aaneenschakeling van songs en je weet dat het strak en meedogenloos is. Of hoe een mens verrast kan worden door een band die je nog niet kende.
Vervolgens besteeg Sygo Cries het podium. Mika Goedrijk (This Morn'Omina, Nebula-H, Powder Pussy), Wim Guillemyn (ook bij The other Intern), Olivier Moulin (ook toetsenist bij The Mars Model) en Brooklyn Machet brengen hun koude postpunk en gothrock met veel overtuiging. De band was in de jaren '90 van de vorige eeuw al actief, viel dan in een 30 jaar durende winterslaap om ergens in 2020 terug de muzikale heropstanding te beleven. We zagen een sterke set, hoewel die naar mijn gevoel bij de eerste songs de cruise control nog niet gevonden had. Vanaf de derde song Surrender kwam de band onder stoom. Het klonk stevig, overtuigend en Mika's stem plooide zich in diverse bochten.
Half A Man, Parting Glass en Out Of This World waren voor mij de uitschieters. Sygo Cries staat er live echt wel. Met het midden tussen postpunk en gothrock, met snedige bassen en stevig gitaarwerk, hebben we dit optreden enorm gesmaakt.
Het Brusselse duo Partikul mocht de eindspurt trekken. Aly (synths, drums, programming en vocals) en Stef (gitaar, vocals) begonnen tijdens de lockdown te werken aan debuutalbum 'Related Memories', dat in oktober 2021 verscheen. Ze kondigden aan dat het tweede album is opgenomen en één van de komende maanden in 2023 verschijnt.
Muzikaal tappen ze uit verschillende vaten: minimal, postpunk, shoegaze. We horen invloeden van bands als Boy Harsher en The Soft Moon. Stef bespeelt zijn Fender Squier Jaguar alsof hij ermee stijldanst. Van ingetogen melodieën tot shoegaze wall of sounds om u tegen te zeggen. En dan hebben we zijn partner in crime Aly nog niet passioneel aan de haal zien gaan met haar zuinige set-up van 3 Korg-Synths en een Roland Rhythm-box. Meer is niet nodig om hun intrigerende songs met een razende snelheid in je gezicht te slaan. De wisselende tempo's, de zang die ze beurtelings voor hun rekening nemen, de verschillende ritmes van heupwiegend tot bijna electro-punk.
We kregen een stevige strakke set in de maag gesplitst. Wie wil iets anders dan dit. Curse sneed door merg en been. E.M.I. liet je even op adem komen, I'm Yours met zijn slepende gitaren brengt je in hogere sferen, Apart is een zalige postpunksong, My Love heeft dan weer shoegaze-vibes en Aly's stem overgiet het geheel met nog wat meer drama. De finale was Goldmoon. En laat net dat een song zijn die naar het einde toe hemels lawaaierig (maar dan in de goede zin van het woord) is. Stef dwingt zijn gitaar te kreunen van genot.
Ja het was onderhoudend, muzikaal divers en stevig. Het is dan ook uitkijken naar het tweede album. Als je de kans hebt: ga deze band zelf live checken. You will have a great evening!
Setlist Partikul:
Alike - Curse - E.M.I - I'm yours - Apart - My love - Genocide Straight white line - Stay - Goldmoon
Setlist Sygo Cries
Hand me down – End Of A Century – Surrender – Spiders – Half A Man – Parting Glass – out of This World – Trust Me – La Muerte: Evil Land – Ship Of friends
Jurgen BRAECKEVELT
22/04/2023
---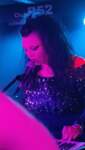 ---