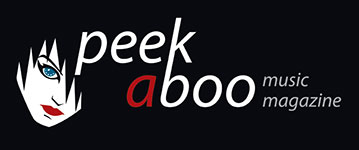 like this interview

---
LES PANTIES
The eighties TV was less cynical in a way and there was a real policy of public interest which includes some emerging cultures...
28/12/2013, Frédéric COTTON
---
Les Panties were formed in Brussels around 2008, but it's only since 2011 that they played regularly concerts and released the remarkable single "Porkshop/Westie". Easy comparisons with legendary acts such as Siouxsie and the Banshees or Savages were rapidly made to describe their post-punk, but the recent digital release of a new single, "L'Arrivée", unleashed some new horizons... A good opportunity to discuss of the future with Paul (bass) and Sophie (voice).
Can you explain us how Les Panties were born?
Paul Normann: It all started when two members of our previous band (Paul Normann/bass, Hugo Fernandez/drums) met the Sophie's voice. We used to play drunk music after dinners with Sophie on small Casio vintage synths, it was always a lot of fun and we created interesting improvisations. One of them became a gimmick: "We are the Panties". After a few kitchensessions, we invited her to a rehearsal with the band. Her voice was the missing piece to our already existing tracks. This new element in our music naturally drove us to new songs and we decided that it was time to start a new project called Les Panties.
In 2011, you released a first 7" single and played several interesting concerts. Then there was a gap... What have you been doing over the last 2 years?
P.N: After those concerts, we were not on the same creative line anymore. Inside the band, most of us wanted to get more personal tracks, but we had to make choices between a lot of aspirations. We decided to take the time. At the same period, we met a new guitar player (Seb Dec) who was more in the mood to explore some more "post modern" and electronic parts played by Tony Bambinell who had joined the band while we were giving our first gigs. So we also wanted to discover this new combination. We were curious to see how it would fit together. We try as much as we can to leave the ghosts from the studio away. The temptation was there to sound like Joy Division or to record like The Cur did… which is quite cool and fun, but also very common... without being too radical, we want to be open to each idea or style of music but keeping in mind that it has to be through the Panties-filter… on every level, we take care of the visual field as well. It is quite minimal and rare. All this take time and there is no deadline when you want to get what you're really looking for.
I think you plan a new release. What can you tell about it ?
P.N.: It's still a work in progress. We want it to be musically beautiful, but also a desirable object. It will be a double 7" inch record entitled -NO RUN-
You recently released a new track called "L'Arrivée" on your Soundcloud-page which sounds quite different from your previous songs. Are you taking new directions with the new line-up?
P.N.:You are right. We feel more free and open minded, "L'Arrivée" is definitely a step across various borders. We were looking for some "cold disco wave" with fading dreamy guitars. Of course, playing with a new line up creates a new vibe. We also play our older tracks with new arrangments, but we always keep in mind to create global atmosphere on the setlist. We are probably less raw. One of the nicest revelations for us has been to explore a sweeter and higer side of our singer's voice, reaching more intimate and moody landscapes.
You had important collaborations on the new material, namely with Mark Plati (David Bowie, The Cure, Hooverphonic...) and Gilles Martin, who worked on many great records in the 80's. Why did you choose these people and what did they bring to your music ?
P.N.: It's all about meeting people, of course they worked on huge records with huge artists we admire and it's a bit scary at first, but they both had a very close and human approach about what we were doing. They pushed us to do what we first had in mind. They were really receptive. We wanted to work with different people for different tracks in search of a certain color, it's certainly not a perfect science but the chemistry worked very well and in the end we think that they really sticked to the tracks we have been working on with them.
Sophie, you worked on the national French-speaking Belgian television. What is your opinion about the complete absence of the music you like and or alternative music in general from the national media ?
Sophie Frison: Waoww this is huge ! Let's say times are bad for the television which becomes more and more a part of the senior's world. It's all about food and gardening because leaders are scared, so they look for cheap people and cheap shows. Youth abandoned tv for the internet…
P.N.: The 80's-TV was less cynical in a way and there was a real policy of public interest which includes some emerging cultures. Nowadays things are less ambitious and openminded. Let's say no comment, we could have good surprises in the future…
You'll play the 41st Fantastique.Night on the 22nd of March. What can we expect?
S.F.: This will be an awesome night, with bands we like, a brand new set, videos and the release of our upcoming record -NO RUN- What else? A large audience…
Click here to hear some tunes.
Picture 4 by J. Selosse
Frédéric COTTON
28/12/2013
---