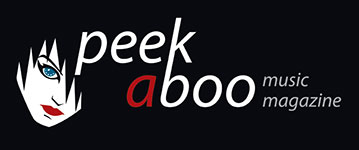 like this interview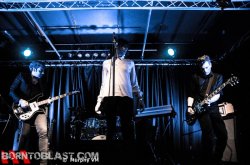 ---
LES PANTIES
... unveil everything !
13/09/2012, Philippe BLACKMARQUIS
---
On 30th June, the Brussels based band "Les Panties" gave a remarkable concert at the Fantastique.Night in the TAG in Saint-Josse (Brussels). They delivered a fascinating and hypnotic performance, dominated by the deep and enchanting voice of Sophie Frison. Sophie is best known for her animations on the RTBF but in this project, she reveals a real talent as a singer and songwriter. It was enough to make us want to meet this promising combo.
The story began in the late 80s when the three founders, Xavier Fernandez (bass), his brother Hugo (drums, production) and Vincent Lachenal (guitar), met and decided to make music together.
Influences
"We were very much influenced by the Cure wave, admittedly a little late," said Xavier. "We bought instruments to learn to play self-taught." They rehearsed and recorded demo's on cassettes but did no concert and no album. The project disbanded and it was not until 2008 that the three acolytes decided to dig up the tapes and started playing together again.
After a few months, they realized they lacked a 'real' voice in the songs and asked Sophie Frison, Xavier's girlfriend, to do some testing. "This was my first experience in a band," recalls Sophie. "Previously, I had just followed classical singing lessons. I improvised vocal lines and lyrics and everyone brought their suggestions in a very democratic way, like everything we do elsewhere." Sophie's voice is very special, it evokes Siouxsie in the high tones but it mainly stands out in the lower range, where it makes us think of Nico.
The band's musical style is based on new-wave and post-punk, with influences from Joy Division and The Cure. On top of this, they add the influence of each musician. "Vincent brings a power-rock influence, with touches of Magazine," said Xavier. "In fact, we have very eclectic tastes, with bands like Velvet Underground, Justice, A Place To Bury Strangers, Crocodiles, The KVB or The Soft Moon. "
Nine months ago, a young keyboardist, Pony Bambinelli, joined the combo. Fascinated by keyboards and computers, he brings modern overtones. "My favorite band is Soulwax," said Pony. "But I also like Justice, Late Of The Pier, etc.."
Retro-futuristic?
By combining musicians from different generations, Les Panties draw a bridge between the music of the past and a true modernity. A 'retro-futuristic' approach, in a way. "At first, the sound was more raw, more post-punk," says Xavier. "Now, the sound has become richer and more complex." This trend is reflected in the two compositions "Eno Vision" and "Post Eno Vision", which refer to the well-known keyboardist and producer Brian Eno. "The songs start in a typical postpunk style but we gradually deconstruct the structure to evolve towards a synth-wave style, more hypnotic, a bit like Suicide."
Though the band confesses a passion for analogue instruments, their approach is not a fundamentalist one. "We use a lot of analog sounds emulators on a PC or MAC," said Hugo. "It is also more convenient and more economical!" This "Do It Yourself" philosophy led the group to produce a first single themselves, with two A sides: "Porkshop" and "Westie". This is a 45 rpm vinyl pressed in 300 numbered copies. Retro-futuristic here too? "Absolutely! We love beautiful objects. We have done everything ourselves: the recording in our home studio, the 'mastering', the cover (design by Spike and Jones). Our aesthetics is definitely vintage."
The band goes even further and is planning to release an audio tape with two new titles. There will be a code to download the tracks via internet: vintage but modern at the same time! The songs are tentatively called "Endless Day" and "DSK".
The band played concerts in Brussels at the Halles de Schaerbeek, La Maison du Peuple, Madame Moustache, at the Atelier 210 (supporting Birdpen), the festival in Bourgeois, the Fantastique.Night, London Calling and at the Magic Mirror. If you get the chance to see them live, don't miss them!
Les Panties on Facebook and Soundcloud.
Here is a second video from their concert at the Fantastique.Night:
Philippe BLACKMARQUIS
13/09/2012
---