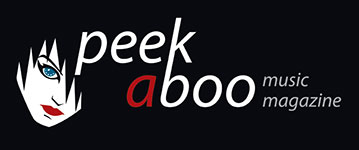 like this interview
---
DI*OVE
I'd love to hear AC/DC cover one of our songs. That would be ace.
25/07/2012, Jurgen VANVLASSELAER
---
Everyone knows that Belgium has a fantastic history when it comes to electronic music. And we can add another name to that long list: DI*ove , a duo from the Liège region, combines the typical Belgian EBM with a good sense of humour. Peek-a-boo had a chat with these friendly, illegitimate sons of à;Grumh… :
Hi guys. Firstly, how do you pronounce the band name? Secondly, where does that name come from and what does it mean?
Eric: Hey Jürgen, well it's easy, really. It's pronounced 'dee ove'. The name is really a play on words for insiders. My previous band was called Evoid, which was also a play on words, originating in the early 2000's obsession with words that started with 'e' until the e-bubble burst, and also obviously because of the word 'electronic'. Turn Evoid around and you get DI*ove.
How did you meet each other? When did DI*ove first see the light of day?
Luc: Nothing fancy; we just have friends in common, and I'm the kind of guy who can't stop singing along to tunes. So, Eric told me he had this instrumental track that he was considering throwing in the bin. He had the feeling something was missing; that it had potential but was just too repetitive, and too far from what he had been doing so far. He asked if I'd be interested in throwing lyrics at it and doing the vocals. That was a first to me. So we tried it out, and Haunting Me came about.
Were you both in other projects before DI*ove? Have you released stuff with those projects?
Eric: Though a big aficionado, Luc is a virgin when it comes to making music (muffled noises) although he was a DJ in the early 80's, at the time of the 'pirate stations' revolution. He was one of the talking heads at the legendary FM Brussel, for instance. Me, I've been in the music business all my life. I've had all kinds of bands and have released one demo with Escape Industry and three albums with my previous project, Evoid, called Connection, Transformation and Reaction respectively.
Your music can be described as good old Belgian electro. I always compare you with à;Grumh….can you live with that? I mentioned à;Grumh…cause, just like them, you use a lot of humour in your songs. How important is that for DI*ove?
Luc: I think you refer to I want a bear and yes, that was a lot of fun to make. Same for Thank you 80's, which pretty much pre-date what we do today. We've kinda left out the 'funny' edge. I seem to like to use the band for therapy. My texts are really quite dark, all about relationships gone sour. Among other things.
Eric: Actually, I agree with you, Jürgen. I enjoy putting all kinds of references in my songs. If you really pay attention, you'll hear my musical background in DI*ove, but though the origins of my passion for music are obvious, I've really made it into something that I consider quite personal. And Luc's contribution (the vocal harmonies, the 'big' voice, the dark lyrics) have made for quite a diverse mix. Obviously, I know what you're referring to Jürgen. Musically, I lean more towards dark atmospheres and Luc adds quite profound but dark lyrics to that too. That being said, in real life we're really quite 'jolly chaps' and we clearly like the odd little 'mad' track like I Want A Bear or more recently I Love My Synthé. I do have to add that I enjoyed the energy that à;Grumh... conveyed. Back in the days, I thought they were quite a breath of fresh air in an EBM landscape that tended to take itself, often, too seriously.
What are your main influences? What do you write about?
Eric: Obviously the whole early minimalistic, electronic music scene from the early 80's until today has done it for me. But I really have a soft spot for EBM which strikes a specific cord in me, and which I don't shy away from, to process into our music.
Luc: I add the melodic part. I'm really a child of the seventies and the early eighties. I'm crazy for cold wave (the early Cure, the early Simple Minds and Human League). Then again, I can go all soft for a well-made, bog-standard pop song with good lyrics and nice harmonies that are kind to the ear. I think this combination makes DI*ove a special thing in today's music business.
What have you released so far and how can we purchase it?
Eric: We've released three albums. The first one Evoid Becomes DI*ove is available as a free for download album on Knovel records (www.knovel.be) and contains Haunting Me. The second and the third (respectively DI*verge and DI*rection) are available on a multitude of platforms, including the likes of iTunes, Amazon.com, CDBaby etc…
Luc: And at a very moderate price, might I add (smiles)
Your latest release was the digital only EP DI*rection. Are there any plans to release it as a CD as well, because I think EK Product or Alfa Matrix would be the perfect label for you?
Luc: It is available as a digital-only EP release, but the business being what it is, it's easier for us if people who are interested just contact us at diove@hotmail.be. We'll send it to you with all the artwork. We even have some fun merchandising stuff.
Eric: As for labels, yes you're right, Jürgen. These guys would feel like family to us. We're currently in touch with Alfa Matrix. Fingers crossed. We're also in touch with a big name, but that's still very hush hush. EK Product… Yes, hadn't thought of them. Okay, Luc, that's work for you.
Are you already working on new material?
Luc: Our next album is as good as finished. We're still cleaning out the rough spots here and there. It will be a lot more melodic than DI*rection. We like to do that, and we hope to get more airplay with this one. We're doing lots of interview these days to promote our album.
When can we expect to see DI*ove live on stage?
Eric: Our next gig is in Arras with Darkmen, the 8th of September. For the rest, we have some projects in Berlin, Rome and Milan, but really want to come back to the Belgian scene. We have a booking agent whom you can reach on wunderbar_brussels@hotmail.com but you can always contact us on the above address, or on our FaceBook page https://www.facebook.com/pages/DIove/180780228634640. Alternatively, just look for DI*ove on Facebook.
Nearly all electronic bands are being remixed or remixing other bands. Let's say you have an unlimited budget. Who can have a go with a DI*ove track?
Luc: That's a tough one. Obviously, there are some electronic gods that could do something nice. I wouldn't mind Boards Of Canada or Crash Course In Science sinking their teeth into one of our songs. But I'd really be interested in (clears his throat) a totally unexpected band. I'd love to hear AC/DC cover one of our songs. That would be ace.
Eric: (gives his colleague the mean eye) Seriously, Luc!
Eric: (after a short break) Give me a minute to compose myself after what I've just heard. AC/DC, sheesh… The question is a bit redundant because we've had the incredible privilege to be remixed by Plastic Noise Experience. I was amazed one day to receive a message from Claus saying that he was into our music and that he wanted to remix one of our tracks. What an amazing experience that was – and one that I hope will be repeated. Oh, and Alan (Wilder), if you're a bit bored, we're all for working on a track with you :-)
What are your plans for the future?
A new EP, a new video clip, a couple of dates abroad to be confirmed. We would also like to do some gigs during electronic festivals so this is a cry out towards organizers of such festivals.
A final message that you wanna share with the world?
Get a piece of DI*ove!
Thank you for the answers, we're looking forward to the new album!
Jurgen VANVLASSELAER
25/07/2012
---