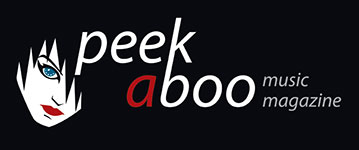 like this interview
---
MODERN CUBISM
A bridge between poetry and electronic music (exclusive interview and review)
14/06/2012, Philippe BLACKMARQUIS
---
Ten days before the release of their brand new CD, "Tout Le Firmament Autour", Modern Cubism gave us an exclusive interview to talk about the album, about poetry and about their projects. After the interview, we had the opportunity to discover the new songs "live" on stage and to listen to the album. Check this exclusive report!
It was daring: mix French poetry with electronic music and present this project both in electro music festivals and in literary events. It's precisely in the framework of the "Marathon Des Mots" ("Words Marathon"), the international festival of literature, that we met Modern Cubism. Formed 4 years ago by Jean-Luc Demeyer, singer of the internationally reknown band Front242, and Jean-Marc Mélot, keyboardist and composer (also in MED), the Belgian duo was giving a concert at the Cultural Center "Riches-Claires" in Brussels to present its new album "Tout Le Firmament Autour".
After a first album, "Les Plaintes d'Un Icare", dedicated to the poetry of Baudelaire, the group has selected the Belgian poet Norge.
But why Norge?
Jean-Luc Demeyer: "Based on what I had felt in the evolution of Jean-Marc's new music, I thought: it sounds less organic, less dark, the horizon is clearing, the heavy black clouds are moving away and give way to a deep blue sky. All this seemed to fit well with Norge".
Jean-Marc Mélot: "Yes, my music was much more positive and the first texts that Jean-Luc sent me, like for instance 'En Forêt', ideally suited to this new type of music, more ambient."
There is a continuity between the two albums in the themes: love, women, death, sex, human condition,... We also find that grating, cynical, dark point of view that seems to be the hallmark of Jean-Luc Demeyer's interpretations. "These themes are recurrent for all poets," he says. "Norge also loved animals and vegetables, for example, but this was much less a match to the music !" (laughs) Throughout the 14 tracks on the album, we discover a poetry that is both concrete and metaphysical, sensual and cruel, with earthly cravings and a huge thirst for the infinite.
Other interpretations of poets
The two artists are of course not the first to put Baudelaire and Norge in song. Before them, Jeanne Moreau, Juliette or Florent Pagny tried this perilous exercise, an approach that Jean-Luc Demeyer believes, however to be salutary. "I do not feel close to most existing interpretations of Baudelaire or Norge because I find they are much too 'light' compared to what these authors had wanted to put in their texts but I will always prefer people who try to make poetry live rather than people who do nothing. Today, poetry is transmitted by a growing number of artists who take the stage to recite texts or make performances. In a world where everything is mercantile and where nothing is free, poetry remains a fresh and elevated point of view on the world, offering an unconditional communion with the public. This is something that comes naturally because it lacks terribly in our everyday lives."
Evolution of music
In Modern Cubism, there are important references to electronic music, such as Jean-Michel Jarre, Klaus Schulze or Isao Tomita. Jean-Marc Mélot: "These musicians are important to me because they have combined electronic and classical to develop structures that are different from the usual pop canvas 'intro-verse-chorus'. This is music that allows to open doors, to explore new territories. In our albums, we try to open a new door every time. Here, the direction is indeed lighter, more ethereal." Note, however, the presence, here also, of new-wave, synth-pop or downright EBM. The group has also made three remixes, which are naturally more dance-oriented. "All in all, our album offers a good mix of slow, low tempo titles that evolve more slowly, like, eg, "Couronnes / Le Trône" and songs that are more drum 'n bass or old school EBM."
The beautiful cover of "Tout Le Firmament Autour" was designed by Natalie Saccu de Franchi, a versatile French artist who excels as an architect, designer, director and writer. She will direct the duo's next video's, but this is not a priority. "We have a very low profile, what we do is quite bare, the music and words are sufficient in themselves."
The concert at "Riches-Claires"
This approach is confirmed during the concert at the Riches-Claires. The scenic formula is indeed very 'minimalist', with the singer and his microphone and the musician and his keyboards. No projections, no accessories on stage, only the beautiful lighting creations by Olivier Cassart. Modern Cubism plays a total of nine songs from the new album and a few songs from "Plaintes d'Un Icare". Demeyer alternates declamation and singing with great expressiveness. Inhabited by the texts, he accompanies the highlights of the texts with evocative facial expressions and gestures. Most titles have been reworked for the stage. "Because our music is quite complex, we simplify it a little for the stage while of course maintaining their melodic aspects and their power." Speaking of power, some spectators were visibly surprised by the volume of music, especially during the electro tracks. But this is part of breaking down barriers between cultures, an approach that Modern Cubism advocates. It takes an effort to lovers of poetry to immerse in electronic music, as well as it takes an open mind to electro-fans to lend an ear to Norge's prosody....
To conclude: what might have appeared at first as a "casting error", a "schizophrenic clash between two cultures," ultimately proves to be a unique and successful combination between a poetic, blazing, sometimes violent vocal performance and a cold, mechanical music, the whole presenting a glaring paradox of modernity, where man is struggling against an increasingly dehumanized world....
For their next album, the duo is exploring several music evolutions and plans to choose an Anglo-Saxon author, or maybe another French 'classic' like Verlaine and Rimbaud? Wait and see!
Watch the full interview with Modern Cubism (in French) below. Two videos of the concert are also available: "L'Importun" and "Mes Statues" (new song!).
The album "Tout Le Firmament Autour" will be released on June 22nd by the German label Emmo.biz in the form of a CD (limited edition of 888 copies) and a box set (111 copies). To order: www.emmo.biz.
Tracklist
01. En Forêt
02. Mes Statues
03. D'enfance
04. Le Petit Non
05. Couronnes / Le Trône
06. La Corde
07. Râpes
08. La Fille de Fabrique
09. Les Quatre Vérités
10. Ennemis
11. En Prison
12. Marche des Paysans
13. La Grande Brosse
14. Force de Frappe / La Foule / De Vivre
www.moderncubism.com
www.lemarathondesmots.be
Thanks to Jean-Luc Demeyer and Jean-Marc Melot (Modern Cubism), Marianne Cosserat and Sévrine Provost (Marathon des Mots), Garjan Atwood (Photos of the concert).
Philippe BLACKMARQUIS
14/06/2012
---