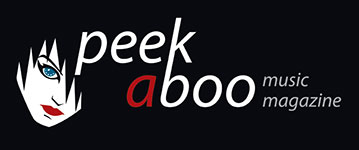 like this interview
---
EMPUSAE
Symbiosis for me, is kind of a turning point of what Empusae is. I needed this experiment as a person and as a composer.
02/06/2012, Chris KONINGS
---
With the new album of Empusae out, and his change of labels from Hands to Ant-Zen, it was time to ask some questions to Nicolas. And you can see him live at Summer Darkness or at the industrial festival in Poland...
Hi Nicolas how are you?

Hi. I'm great thank you. Enjoying a fascinating period of my life.

How did you end up making this kind of music? When I was 18 I was still listening to Nirvana ;-)

I discovered the 'dark underground scene' when I was 16 years old. Fell in love with composing music and created what I wanted to express.

You've got a new album out on Ant-Zen. Can you tell us something about it?

"Symbiosis" is an album I wanted to do for a very long time. It contains 3 very old compositions I did more then 10 years ago, which I re-wrote and proposed them to artists to collaborate on them. This way those songs ended up as they were intended to, but I didn't have the skills to make them sound like they do now. The other tracks were especially created to fit with the whole concept of symbiosis. The artists involved are in perfect merge with the music, also the layout which was done by Chris Nesis (Nesisart) is a very deep symbiosis. And the album is dedicated to Daniel Hulet, who died in 2011, a visionary graphical artist whom I collaborated with for "Extra-Muros" and "Geesten". Also the visuals made by Chris have some references to Hulet's work.

Why the change to Ant-Zen?

I worked with Ant-Zen for several releases now (two Tzolk'in album and O.A.O with Shinkiro) and with this album, i felt much closer to Ant-Zen than any other label. Empusae is evolving into something different than it was before. The essence is still the same but the shape changes. I wouldn't discribe my latest two releases as Industrial or Rhythmic Noise. Ant-Zen releases are very eclectic and it certainly covers what I'm creating at the moment. The next album will be quite different again (allthough I didn't start it yet), that's part of the evolution. Symbiosis for me, is kind of a turning point of what Empusae is. I needed this experiment as a person and as a composer.

A lot of the songs on "Symbiosis" have guest vocals and most of them of Cold Meat Industry. Any special reason for that major Swedish input?

There's no other reason for their input than the fact that they became very good friends during the last years and they all are artists I admire for more than 15 years now. So besides being an honour to work with them, it was the most obvious choice for me. Also for Nick Grey, I know his work for several years, collaborated with him a few years ago (Simple Black Lines in a Diagram) and HAD to do this with him again.

What urges you to make an album? Is there a story behind it or a certain feeling? Or is it pure intuition?

For every album I did (for Empusae), I followed both my intuition and my feelings. Even Symbiosis, which has a concept (being a symbiosis of my past and passions during the years), was made more on a emotional level than premeditated.

What's the keyword for Empusae according to you? I would say "structure" because there's always a very logical and natural build-up.

That would be 'soundtrack for the imagination'. It was the very idea who drove me to start this project and it still is. To me, Empusae is all about composing music I need to express and share, which should stimulate the fantasy of the listener. This is the slogan I use since the start. Yes, structure is a very prominent part of the music. The tension build-up adds to the stimulation. Also the melodies, dark sonorities and the rhythms. All are very important element of this project.

The album you made with Shinkiro (one of last year's best albums for me) , how did that happen?

I discovered his first album on Athanor called "Deep Blue" and fell instantly in love with it. Also his second album made a huge impression on me. It is very intelligent and organic dark ambient. I contacted him to share my thoughts about his music and being of fan of Empusae as well, we got along very well. After some months, we talked about making music together. But it took us several years before we got until the finalisation of this collaboration. (thanks a lot for the compliment btw)

How did you do it practically? Sending demo songs to each other and using Skype all the time?

The music is mainly based on sounds he sent me as a base which I used to create songs with. One ornament was done the other way around. But is was a very logical way to work for me (and for Manabu as well). It gave me space to re-interpret his musical sources and match them with my idea of the symbiosis between Shinkiro and Empusae. And it worked.

No, we actually didn't do any skype sessions. We communicated by e-mail. We both worked on our own on the music. Sending the result to each other was instantly approved by the other side, so it went quite fluidly.

You're playing at Maschinenfest again. It's like a family there and you seem to be a permanent member ;-)

Yes, for me, Maschinenfest is a family gathering. I meet a lot of friends there, from the audience, promotors, labels and artists. It's true that I played every year there with one or more project since the first time I was there (2002). Actually, this year, I won't be playing so far. I might ending up in the line-up later, but nothing so far...

What bands do you desperately want to see there?

I'd love to see Kraken again, also Bad Sector, Fjernlys, Peter Bjärgo, Deutsch Nepal, Rome, 7JK, and... too much others to write down actually...

Any other gigs planned?

The 16th of June I will do a special show in Zweibrucken for "18 years of De Luidspreker". It will be a 2 hours performance of Empusae vs This Morn' Omina. I will play at Shadowplay in Belgium with In Slaughter Natives and Tzolk'in. Also at Summer Darkness in Holland with Empusae. At the end of august I have a gig in Riga with Empusae as well and in November with Tzolk'in at Wroclaw Industrial Festival in Poland. And maybe maschinenfest as well [;)]

Thanks a lot for the interview!

You're welcome, It was a pleasure answering your questions.
Chris KONINGS
02/06/2012
---