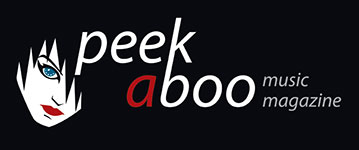 like this interview
---
EMPUSAE
Creating the music for a videogame or a horrormovie is my ultimate dream! Is there anyone who can help me to realise this dream?
09/03/2013, Filip VAN MUYLEM
photos: © Benny Serneels
---
Empusae is one of these bands that exists for a while, but which is still underrated. Read about it and open your eyes, you never could have known that one man could do so much! For the fans: Empusae will play at the Porta Nigra-festival and Nicolas will also do a mini-tour with Peter Bjärgö and Desiderii Marginis which will bring them to Café Bizarre in Dentergem.
I noticed you call yourself Sal-Ocin, what does it mean and why this name?
That's a very easy to solve enigma actually. It has a direct correlation with my first name, Nicolas. Let's say it's the name for my artistic alter-ego.

You have already a long career & if I remember correctly then the first gig I saw by you was in Brussels, can you tell us more about your first steps on a stage?
I remember the first concerts I did (the late nineties that was) were quite interesting. I didn't make it easy for myself. I used several unorthodox techniques on stage, such as sound-sources from a video-camera, vinyl/effects manipulations and lots of microphones. I was joined by Tom De Doncker (still the live-member of Empusae) and my brother. I remember I also controlled a dia-projector merged with a 8mm video projection. Because of all those techniques it was quite 'dangerous to fail' on stage, so I searched for a more accessible way to perform live during the years (and I still do).

If you look back at everything you have done until now: what are the things which makes you the most proud of and why?
The things I did which are above all my expectations are the collaborations I did during the years with Daniel Hulet (Extra-Muros), twith ORE, Arcana and ISN on Symbiosis, the Machinenfest-special "Empusae & friends" concert featuring Mimetic, Monolith, Xabec, Flint Glass, Roger Rotor, Stefan Alt (Ant-Zen) and Thomas Hein (Maschinenfest), Synapscape, The [law-rah] collective and Ah Cama-Sotz. All those collaborations were together with artists I admire for several years, so working together with them were highlights in the Empusae- history,

You record the soundtrack for a strip-book (with Empusae), but what would be the perfect movie for your music and can you describe it a bit?
The perfect movie would probably be a horror movie. It could be other genres actually, as long as it would contain some elements which would inspire me, such as dreamy atmospheres, threatening situations, absurdity, beauty and ugliness confronted, organic... and scary.

Am I wrong if I say that making the music for a video game would be something for you as well? Some scary videogame (Silent Hill or Evil Dead) or more a fantasy game (Final Fantasy)?
Yes, that would definitely be a project for Empusae. Videogames have always been a huge inspiration for Empusae. The tricky thing is that it's a very closed and isolated industry. It's hard to get in. Most of the game companies have their own fixed sound designer/composer. Unfortunately, they're not open enough to give a chance to external composers. So if anyone could get me in, that would be amazing.

You worked in studio and on stage you were performing with a lot of artists, can you still name them all, one by one and tell us something about it?
I'll try to make a list of the artists I worked with during the years. Let us first start with the studio work. For my first album Funestus (2002) I worked with TMO, Implant, Lith and H.I.V+ as remixers. Same for the second album Ritual Decay (2003), with Sonar, TMO, Displacer, Flint Glass, S:Cage, Synapscape, Ah Cama-Sotz and Prospero. Then came the 10" picture disc "Scars", a split with Oil10 (2004) and the 3" ep with Nick Grey, called Simple Black Lines In A Diagram (2007). In 2011 Ant-Zen released by Empusae & Shinkiro Organic. Aural. Ornaments and the year after for Symbiosis, the following artists contributed with their vocals: Arcana, ORE, In Slaughter Natives and Nick Grey.
Then of course, there's the collaboration with Flint Glass, called "Tzolk'in", of which we just finished the fourth album from(Ant-Zen). And I contributed to several This Morn' omina-albums.
I won't start writing the list of remixes I did because there's too many of them and impossible to remember them all after all these years. On stage, I was accompanied by several artists. As Empusae: Ah Cama-Sotz, TMO, Displacer, Monolith, Thomas Hein, Stefan Alt, Flint Glass, Desiderii Marginis, Subheim, H.E.R.R. (cello player), Jännerwein (guitar/accordeon), Mimetic, Xabec, The [law-rah] collective, Roger Rotor, Synapscape, Ann-Mari Thim (Arcana, Angelic Foe) and probably a few more which I might have forgotten. With all of them, it was an unique experience which made the concerts very different each time. I think I'm really blessed to have worked with all of them.
With these collaborations, what was the highlight and the most funny moment?
The highlights were Empusae & Friends at Maschinenfest and Darkland:Fire Festival in Estonia (with Johan Levin from Desiderii Marginis, Ann-Mari Thim from Arcana and Oskar Van Dijk from H.E.R.R.) And then the most recent concerts in Russia, with Benjamin Sperling (Jännerwein) and Tom De Doncker (Empusae, TMO) too.
The latest adventure which happened in St. Petersburg ended up being funny. At least when looking back at it. We arrived at the airport the same night of the concert. So after a long day of traveling, we still had one hour to drive from the airport to the venue. But first, the organizer invited us to her place for dinner and drinks (yes, vodka it was!, a spicy one). After that we drove to the venue for the soundcheck. But there was still some other concert going on stage, so we couldn't set up our gear. Meanwhile, we opened our luggage and discovered Benjamin's accordeon being trashed during the flight. So he started repairing it. I had to tune my 32 psaltery strings during the concert of the band playing, it was all detuned due to travel as well. Then the soundcheck time came with other unexpected issues. There wasn't a keyboard in the venue yet and neither was there a snaredrum or a guitar. So we had to wait again. After the soundcheck, the party started with a performance of a Russian project, who played for nearly two hours because the second band was out for dinner. When they finally arrived, they still had to do a soundcheck, so they did, while the first band was still playing (same stage). I guess you can imagine the stress? And on top of that, I had a fever since several days, so I wasn't in the best shape. But after all those "adventures", we had a very good concert, lots of hours later than planned though.
Which collaboration is still going on and what can we expect from it?
As I said before, the fourth Tzolk'in album is recently finished. And more music will probably emerged from this ritual project. All the other collaborations were "one-time experiences" I guess. Although I have some more projects with other artists in the pipeline, it's too soon to talk about it at this moment.

How come you played in Russia?
I've been there six times so far (the last five years) because there seems to be a sticky fanbase for Empusae (and Tzolk'in). I always worked with the same organizer from Moscow (Indiestate) and it went perfectly each time. Besides, I love this country and the audience there is the most passionate and sensible I've ever played for. And trust me, each time is a huge adventure but I always came back safe.

In the past you also went to the USA to play there, how was it (and with which band)?
In the early 00's I played as live-member of the Belgian dark electro band Implant. Then I went back (after 9/11) as TMO, Ah Cama-Sotz and Empusae. I've been there four times so far but I have to say it has been a while. It's not an easy thing to come over and play across the ocean. I hope it soon will happen again as I have many friends over there.

Can you cope this international and energetic touring with your professional job? I read on your Facebook you needed help to get some papers because you couldn't take a day off from the office (you job is working with children?)?
Yes, I work at a school with kids who are between six and twelve years old. It's a part time job with a lot of school holidays, so I'm able to go abroad for concerts during these periods and also during the weekends. During the week, it is harder to get administrative things done. The post on Facebook was about getting the proper documents for the visa application for Russia. Of course, sometimes, I have to take an extra day off (if I got a proposition to play on a Friday for example), but those are limited so I rather save them for concerts. It's actually quite frustrating to visit so many countries without being able to stay a bit longer so I can visit them. But I can't complain, I've been to cities and countries I would never had been if I wasn't involved in all those musical projects.

You are signed by Ant-zen, can you tell something about it, as I know a lot of bands who would give up something to be able to get signed too?
After releasing three albums on Hands Productions and taking the music of Empusae into a different direction, I found it a right choice to go to Ant-Zen. I released already some albums before as Tzolk'in and This Morn' Omina before. So with the Empusae & Shinkiro album, I decided to propose it to Stefan Alt for his label. He loved it so much and released it. I just love the actual eclectism of Ant-Zen the last years. It's not just rhythmic noise anymore as it was in the early years, but it got much more styles mingled: experimental, ambient, electronica, dubstep, breakbeat, powernoise, tribal, melodic... well, nearly any sub-culture style I can think of.

You will play at the Porta Nigra-festival. Can you tell us something about it? Will you collaborate with some other artists who are playing there?
I'm so glad to be part of the next edition of Porta Nigra. The line-up of the first edition with Empusae, Raison D'Etre, In Slaughter Natives, Spiritual Front and Ordo Rosarius Equilibrio was a trio of amazing concert and very close friendship. So now with the new line it are again all good friends and artists I admire (Empusae, Triarii, In Slaughter Natives, Rome and Ordo Rosarius Equilibrio). It will even be more intense. At the moment, I can't reveal with which bands I'll be part of stage on, but it will be at least in the half of it. Come and watch for yourselves, it will be a unique series of concerts you wouldn't want to miss (neither would I)!

To close this interview: any further future plans?
This year will be very exciting for me. After a series of concerts I did so far with Empusae and Tzolk'in, a lot more will follow and I'm also as live member of other projects. During the last weekend of March and the first two weekends of April, Empusae will do a mini-tour with Peter Bjärgö (Arcana, Sophia, Karjalan Sissit) and Desiderii Marginis. We'll play in Athens, Leipzig, Dentergem and Utrecht.
As for the releases, the new Tzolk'in will be released early this summer on Ant-Zen. A special limited ultra-deluxe 7" vinyl will be released on the Russian Sealt label in spring. Next autumn the new Empusae full album shall be ready to be released on Ant-Zen as well.
There are also some plans to release a live cd of the last Empusae concert in Moscow, later this year or early next year. I have also some plans to collaborate with artists from different genres, good friends, great musicians and other exciting ideas.
and here is a review of one of his epic concerts, he also joined some of the other bands:
http://www.peek-a-boo-magazine.be/en/reviews/ordo-rosarius-equilibrio-in-slaughter-natives-rome-triari-mentalplastic-bodyfiller-empusae-dead-man-s-hill-mr-manuva-porta-nigra-1-6-2013-aarschot-belgium/
Filip VAN MUYLEM
09/03/2013
---