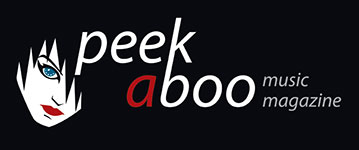 like this interview
---
DREAM AFFAIR
We are an amalgamation of things from the past, present, and future.
27/02/2013, Didier BECU
---
Postpunkfans will certainly have heard of Dream Affair, a mighty trio from Brooklyn who have just released their new astonishing single From Now On. As we like them so much, Peek-A-Boo had a chat with member Hayden. Just don't forget to check 'em out once you read this as Dream Affair could change your life.
Well as you're not world famous (yet), tell us who Dream Affair are.
Dream Affair is Hayden, Bryan, and Abby. Bryan and I first met in our hometown in Medford, NJ but now we are based in Brooklyn, NY.
I really like the name of your band. It is simple, but oh so effective. How did you find it?
It is the title of a song from a rare post-punk 12" of a band called Calculated X from Tennessee. Bryan came up with it.
You are from Brooklyn. Can I say that there's something like a Brooklyn-scene over there or are you more like a bunch of outsiders in the Brooklyn-scene?
We are outsiders of that scene and culture (or lack of culture).
Your first releases were on Avant!-records. How did you find them or did they found you?
We were featured on an online compilation a few years ago. Andrea from Avant! liked our track and offered to put out our record.
Your latest EP From Now On is probably the best thing you've done so far. I know you will say 'of course', but still….
Of course…with this EP, I spent more time on capturing the atmosphere and really making the instruments sound more like they exist in a space rather than individually recorded tracks. I took influence from more dream-like sounds and tried to make a wall of sound. I think it is more interesting that way.
I definitely need to ask. I'm totally overwhelmed by Jasper and if you ask me then I hear Clan Of Xymox in it. Am I right?
Close, but a big influence for the drum machine styles and guitar was the Cocteau Twins' album Garlands. But yes, Ivo-era 4AD is an absolute favourite.
Talking about inspirations. Your sound will probably be described as postpunk which is like music from the past, but still Dream Affair doesn't sound from the past, not?
I think new post-punk music is still prevalent today. And no, we don't sound like we are a time capsule from 1981. We are an amalgamation of things from the past, present, and future.
I often interview bands who are already around for 20 years and who are struggling to be heard. Can you imagine fighting so long?
Well I've already been in bands for more than 7 years. So, I can see it taking even longer. Yes.
In fact, do you see it as a fight to be heard?
It is hard to stand out when so much music is readily available online. You need to fight through all the static that is the Internet.
A nasty question, perhaps. Suppose you could be as big as U2, would you take that opportunity?
Yes. I hate day jobs.
I understood that you're doing a small tour in America. How are the reactions over there? Of course I suppose it's a very small clubcircuit, not?
We have a good turnout in the Midwest of the United States. I would love to play on the West Coast as well. In Canada, we are building a strong following and that is where our record label Artificial is based.
What's the next step for Dream Affair?
New songs. New album. European tour.
Let's finish with the two questions I always ask. What's your favourite record of all time and please state why?
Killing Joke's first self titled album. Brutal.
With whom wouldn't you mind to be alone with in an elevator for 8 hours and what would you do then?
My cat. Pet him.
Any special message for the Peek-A-Boo readers?
Hopefully see you all later this year…
Didier BECU
27/02/2013
---