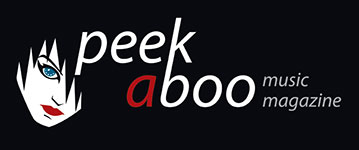 like this interview
---
ALISON LEWIS (KELUAR, EX-LINEA ASPERA)
My ultimate passion is to understand the human mind...
04/02/2013, Philippe BLACKMARQUIS
---
Linea Aspera gave their last concert at the Grauzone festival in Amsterdam. In just a few months, this London duo, composed of Alison Lewis (Vocals/Synths) and Ryan Ambridge (Synths/Programming), had become one of the most promising bands in the synth-pop genre. Their music is very catchy eighties minimal wave topped by an amazing, sensual and haunting voice singing extremely intelligent and touching lyrics. Unfortunately, at the beginning of January, the band announced that they were calling it quits. Their show in Amsterdam was therefore the last opportunity to see them live on stage. Peek-a-boo took the unique opportunity to talk to Alison Lewis about her passions and her future projects. You can read the interview or watch it on Youtube at the bottom of this page.
Alison, thank you very much for this interview! My first question will be "What are your passions in life and how do they influence your lyrics"?
My ultimate passion is to understand the human mind. I've been on a journey through academic education so far. First I studied archaeology, now I'm studying anthropology with a focus on primatology. So I've been reaching back further and further into the human past and now I'm trying to look at how we evolved. And all this influences my music because with every step I take towards understanding humans better, I'm able to understand myself better and I'm able to write lyrics that people can relate to. There's a dual passion: I want to learn and I want to create and I'm doing both of those at the same time, which I'm very lucky to be able to do.
I also read something about your interest in osteology and physiology?
I originally started studying archeology because I used to really love bones.
The name of the band refers to a bone, doesn't it?
It's the muscle attachment on the back of the femur. The only reason we chose this name was because it was a nice Latin translation of 'rough line' and it sounded nice. I also like to insert a few archaeological and osteological themes in the music like in 'Reunion'; it's about punching someone in the face and the order in which the bones break. (laugh)
And you're also directing your video's yourself, like eg the one for 'Malarone'?
Yeah, I made it totally myself. I set up the camera on my synth case in order to film myself. I made it in my bedroom one winter's night in January 2012. I just put it together very quickly but I was very happy with the result.
It's very organic!
Yeah. That's what I want to do. Electronic music is my passion but at the same time, as humans, as living creatures, we are organic, and I feel there has to be a organic element in the music in order for it to be adaptable and related to.
What are your projects right now?
At the moment, I'm working on a new project, with another electronic musician. I can't give too many details now but it will come out by the summer time, we will have some music released.
You know that a lot of people, including me, are complaining about the fact that you're stopping the Linea Aspera project because it really created a big buzz in just one year.
Well, that includes me. I'm not happy for us to be over because it was one of my huge passions to be working on Linea Aspera but I understand that sometimes a good thing must come to an end in order to be replaced by something better. I wouldn't be able to go on singing the same songs for years and years so I'm sort of glad it has come to an end because life is about change and you can't dwell on something that happened in the past. The Linea Aspera songs were written by a version of myself that was alive a year a go and that person is no longer the same today. I'm a big believer in evolution.. (laughs).
What about your influences? Everybody is talking about eighties music like, eg, Soft Cell, Siouxsie, etc.
Musically, I'm influenced by a lot of eighties music but lyrically and vocally, my major influence is HTRK, a London and Berlin based band, now returned to Australia. For lyrics and for the general mood. Lyrically, another major influence is Morrissey, because he's able to approach the negative aspects of life in a very matter of fact way and I appreciate that. And then, there's also Maynard James Keenan from Tool and A Perfect Circle. It's an influence not so many people understand but I like his use of words and themes relating to the psyche...
For the tribal aspects as well?
Yes, exactly. And also Lisa Gerrard from Dead Can Dance is someone I really admire. Seeing her live for the first time was akin to some transcendent religious experience.
Which song for instance?
"Sanvean", especially since she wrote this song about missing her relatives back home. I've spent a lot of my time away from my family. I understand what it's like to be an outsider. I can get very much in touch with emotions that have to do with longing.
Do you know a band called Athamay?
No.
It's strange because your voice makes me think of Athamay, especially the song "Domination". Are you going to evolve in a different kind of sound universe? Will you cut from the analog stuff?
Yeah. In Linea Aspera, I am the voice. The music is Ryan. And Ryan is a genius who can do plenty of other things, but Linea Aspera's overall sound was a style specific to him. I can apply my lyrics and my vocals to lots of different types of music. It will continue to be electronic because that's what...
No guitars?
Maybe, one day. I do have a guitar, that I need to pick up again and play. But at the moment, I'm in my electronic phase and I'm taking it as far as I can. The next project will maybe be more digital, less analog and a bit more progressive...
What do you mean by 'progressive'?
A bit more experimental. Not like 'prog rock', not straight up minimal wave, a little bit industrial.
A bit like the song 'Kinabalu'?
I would love to go more in the direction of 'Kinabalu', but I'm afraid that'll remain unique to Linea Aspera's tour tape. I'd like to mention here that Kinabalu is the name of a mountain in Malaysia, that's a reference to my home.
I was going to ask you about your origins.
I'm originally from Australia but I grew up in Malaysia, Indonesia and Papua New Guinea. But Malaysia is my ultimate home. I spent 10 years there. That's where my family is and where I go back to.
How long have you been living in London?
I've been in London for 3 years.
We are really looking forward to hearing your new project! Thank you very much for the interview!
Thank you!
Check the review of the GRAUZONE festival (including Linea Aspera's act) here.
Philippe BLACKMARQUIS
04/02/2013
---