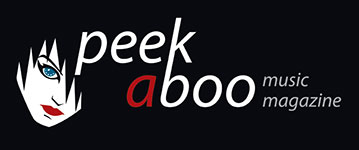 like this interview
---
HITHERSIDE
We predicted we'd be ready to play by the winter and we are ready
15/02/2013, Didier BECU
---
I admit, I fell in love with their sound. Why? Because Jennifer and Sam are making catching gothpoprock(whatever), songs that stick in your mind. According to them they're ready, all they need now is a listening audience.
Please tell us, who is Hitherside and how would you describe your music?
Hitherside is a Belgian and American Rock music duo, consisting of multi-instrumentalist, Sam Oerlemans and singer, Jennifer Summer. The band formed in late 2011.Our music is described as female fronted, highly listenable, melodic rock music that is filled with catchy choruses, lush harmonies and real life lyrics. We'd say we sound like Evanescence meets Dolores O'Riordan from The Cranberries with a dash of Deborah Harry.
Correct me if I'm wrong, you are part Belgian and Part American.
Yes, Sam is Belgian. Jennifer is American, but lives in Belgium.
Do you think Hitherside fits into the Belgian music scene?
We would hope so. Since Hitherside can't be categorized into just one genre, we could potentially reach a bigger audience and get more recognition. Talkin' about fitting in… I really have difficulties describing your sound because it's so varied.
Please forgive me for comparing you to Pat Benatar, even though I consider it to be a compliment. Apart from that, isn't it true that you can't pigeonhole Hitherside into one genre?
Being compared to Pat Benatar is a huge compliment! Thank you for that! She is a top Rock goddess!
It's true-- you can't squeeze Hitherside's music into one genre. It can be described as Rock, Art Rock, Alternative Rock, Gothic Rock, Nu-Metal or Alternative Metal. In a nutshell, it's artsy, genre-crossing music.
How's it going gigwise? Can we see you on the scene on a regular basis or is it difficult these days to get a gig if you're unsigned?
We're actually on target gig-wise. We predicted we'd be ready to play by the winter and we are ready. We've only just started looking for gigs and have lined up two for ourselves and are busy arranging for more. We were also chosen to play for yet another one, but we're not saying that we think finding gigs is an easy thing to do. However, being an unsigned band these days has never been more popular and acceptable, thanks to technology and to the internet. There are vast amounts of information to be found online from which to learn.
So many bands these days are DIY, 'do-it-yourself' bands, and Hitherside is no exception. We do it all ourselves, from song writing to recording to mixing to producing to video-making to promoting to marketing to managing to photography. By doing so, we landed an endorsement deal with the American company PreSonus Audio Electronics with our debut song/video, "Insignificant Other". Our music is played on internet radio stations here in Belgium, in the U.K. and in the U.S.A. We have quite a decent sized international following, but now we're ready to try to capture a sizeable Belgian audience. Of course, the best way to do that is to play live and to promote ourselves here (and in The Netherlands and Germany).
I hate to say it, but I'm afraid that if you're not hyped by Studio Brussel in Belgium, you're nowhere.
Really?! Then we'll have to add that to our 'to do' list. No, joking aside, we realize that we will need the support of the major radio stations and magazines to make it in the Belgian music scene. All we can do is try to get as much relevant exposure as possible.
Is there an album or an EP in the make?
Yes. Even though we just released our first 6-song EP at the end of November 2012, we are already busy writing and recording new material for our next EP.
Everybody has dreams. Tell me yours….
We are hardcore realists and try not to get carried away and dreamy about what life holds. We take things one day at a time. But, of course, we would like to play big festivals in the future and to be able to make a living out of making music. That would be great!
Two questions I always ask. What's your favourite record of all time and please state why.
Jennifer – My favorite would have to be "Jagged Little Pill" by Alanis Morissette. The voice, the musical energy, the rawness, the lyrics…it all speaks to her, personally.
Sam - It is impossible for me to pick one album, so I will mention a few and give a little explanation why these are my favorites:
'Awake' by Dream Theater: John Petrucci's guitar playing on this album instantly blew me away! In my opinion, Dream Theater never reached that level of quality again. The sound was perfect, the music top level. I'm not a big fan of the vocalist, but still this album shaped my musical mind so it's certainly in my top 3 all-time favorites!
'Ocean Machine' by Devin Townsend: I love this album from the first note to the last. It really influenced my way of producing music.
'The Perfect Element' by Pain Of Salvation: Such musicianship and vocal capabilities! Great album, great lyrics, great music, great sound.
'Grin' by Coroner: The most underrated band ever. The solos of Tommy Vetterli are the most technical yet super melodic. For me, the music could not be compared to anything else.
'In Absentia' by Porcupine Tree: Gavin Harrison's drumming awoke the drummer in me and made me put my guitar away for a while. Steven Wilson is a musical mastermind. The entire album is great (as is everything by Porcupine Tree).
'Still Life' by Opeth: An album that I played for weeks in a row. I still turn this one on regularly.
'Aenima' by Tool: A classic. Doesn't need any explanation, just listen to it.
My list could be longer J
If you had to be stuck in an elevator for 8 hours, who would be your person of choice and what would you do?
Jennifer—my person of choice would be an elevator technician so he could get me the heck out of there as soon as possible! J
Sam – That would have to be with one of my biggest musical influences so he can teach me some techniques and general music knowledge. I'll pick John Petrucci from the 'Awake' and 'Change Of Seasons' period.
A message for Peek-A-Boo could be….
Thank you for doing such a fine job in helping unsigned bands/artists get a leg up in the ever competitive music scene. J
Didier BECU
15/02/2013
---