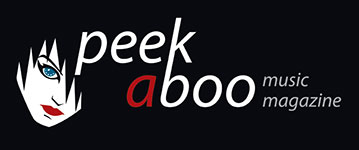 like this interview
---
DAEMONIA NYMPHE
Our aim is to express ourselves and to produce music that we want to hear and music that can accompany us in our daily lives.
16/01/2013, Filip VAN MUYLEM
photos: © photo (1) by Yiannis Katsaris, de rest is from Julie Haelemeersch
---
At this moment Daemonia Nymphe is recording a new cd and soon they will perform at the Trolls et Légendes, on 31th March in Mons (Belgium). We are looking forward to seeing them on stage and listen to their new work, so an interview became a must and that's always a delight with Spyros on the chat.
First off all: your recent music is really heavenly music, very floating, like on a dream and yet you named yourself Daemonia Nymphe? Sounds a bit contradictory if you forget the lyrics or is there a good (evolutional) reason?
First of all Daemonia Nymphe consists of a duo, Spyros Giasafakis and Evi Stergiou.
At the concerts session musicians participate. At the Trolls et Légendes the session musicians will be: Victoria Couper, Vaggelis Paschalides, Christopher Brice and Stephen Street.
Well, Daemonia Nymphe means Divine Nymph and the meaning of such an entity can have many interpretations. A nymphe in Greek mythology is a minor female nature deity associated with a particular location or landform. They even take their names from the natural elements that they are associated with. Nymphs are actually divine spirits who animate nature and are somehow animated by nature themselves. They are usually depicted as very beautiful creatures who love to dance and sing. They take their name from the natural element that is connected with them and live as long as this element lives. For example the Potamides are water nymphs(nymphs of the rivers), the dryades are nymphs of the woods etc.
They are so many different names and different characteristics of each nymph that it would take thousand of words to describe them. Nymphs can be very friendly (as nature) to humans, although they can also be very unfriendly when humans do not honour them, the way nature can be unfriendly when it doesn't receive the respect that it needs.
Regarding your question I wouldn't think that there is a contradiction between our music and the name of the project. I believe that it is apparent that there is a lot of variation in our music. It can be very ethereal and dreamy as much as it can be very powerful, very dynamic or even ecstatic (Bacchic). Also the male and the female element are evident in our music and we try to use it in such a way that these two elements blend harmonically. So, to conclude I don't think that our music can be described as heavenly and ethereal only, the description would be too limited and it would ignore the other very important aspects of our music.
Long time ago you worked together with 7th Harmonic (Caroline Jaggo), that's how I got to know you. Can you tell a bit of the story for those who are too young to remember?
This collaboration was really long time ago! I was studying at the Byam Shaw School of Art (St Martin's) in London back in 2001/2002 and I was trying to find musicians to work with. I can't remember how I found Caroline but somehow I contacted her and we decided to work together on a new project. It was a really nice experience. As far as I remember one of the songs was used in a short film!
After this did you do some more nice collaborations? Who are the most inspiring artists for you at this moment?
Yes, we have had a lot of collaborations and we still do. We love working with other musicians who are as passionate as we are. We have collaborated with wonderful and renowned singers such as Alkinoos Ioannides and Psarantonis and recently we collaborated with the wonderful Dimitra Galani(famous in the Greek scene for many years, one of the greatest female singers in Greece) and the fantastic Bulgarian Dessislava Stefanova for the new album. We have also collaborated many times with our great friend Louisa John Krol and also contributed to her new album which should be released this year. Other brilliant musicians that we have worked with are Peter Ulrich(ex-Dead Can Dance), Beefcake, Christian Wolz, Mimetic Mute and many others.
I noticed you where recently working on a new album, can you tell something more about it? Will it still be with Prikosovenie as label?
Yes it will be released by the French label Prikosnovenie. We recorded the album in Athens, Thessaloniki and London. We are still recording it in London as it is a very big project, one of the biggest we have ever being involved with. I can not reveal many things about it though; I can only say that we have never collaborated with so many fantastic musicians and artists for the same project. Some of the musicians that contributed to the new Daemonia Nymphe album are: Dimitra Galani, Dessislava Stefanova, Luka Aubri(Rastaban) and Victoria Couper who recently worked with Damon Albarn(Gorrilaz,Blur)! Peter Ulrich(ex-Dead Can Dance) and Peter Jaques(Stella Mara) have also shown interest to participate on the new album!
Besides the studio recordings, we worked on a new video clip with long-time collaborators photographer Yiannis Katsaris and director Anastasia Revi. Me and Evi discussed our ideas with them regarding the concept of the song and the main idea of the album and all together we directed the video which was shot in an extraordinary place together with many brilliant actors and actresses such as Denise Moreno, Tobias Deacon, Annabelle Brown, Matthew Wade and many others.
Can you give us one phrase to describe what the band stands for?
Quality, at least we hope so. Our aim is to express ourselves and to produce music that we want to hear and music that can accompany us in our daily lives.
I know you played almost everywhere, but which site was the most beautiful, most fitting to your music?
The Entremuralhas festival in Portugal was one of the best in terms of the place (the beautiful castle) and the audience. Also "La Nuit des fees" in Clisson (France) where our first DVD was shot and Trolls & Légendes are definitely our favourites. I would also add the concert in Graz (Austria) at the Psalm (Styriarte) festival, which is mainly a classical one. The sound there was brilliant; we didn't use any microphones even though. It is very difficult to get a good sound in a big space with the reproductions of the ancient Greek instruments that we use(like the lyra, the barbitos etc).
We have also performed at the magical ancient theatre of Kourion and in the ancient Odeion of Paphos in Cyprus even though this wasn't a Daemonia Nymphe concert but a performance for a theatrical play for which we composed the music.
I noticed that you are very looking forward to play at the Trolls & Legendes (31/3/2013) happening, tell us more about it?
We performed at the Trolls & Legendes back in 2009 and it was spectacular! The place where we lived next to a small forest was magical! We explored the forest and found a deserted house immersed in soil. No further details need to be said although I can say that the place inspired us a lot.
The atmosphere of the festival was fantastic, the audience was really great and the musicians were great too! We even performed with many musicians after the concert at the back stage. We are really looking forward to performing again this year!
If you could invite somebody on that stage to perform together: who will it be and why?
We have invited Luka from Rastaban(and the whole band) and Asynje to perform together! Let's hope that this will become reality. Luka, as I mentioned before, performs on our new album. His didgeridoo performance is unbelievable!
Finally: if you don't have to think about getting on stage at the Trolls & Légendes, what would you do there as first thing and why?
Drink a Belgian comic and read a Belgian beer!
What can Belgium offer you (their fans, beer, chocolates, waffles, cities, old towns …)? Any good thoughts about Belgium to conclude this interview?
It can offer us all these and more. We have performed many times in Belgium in a wide variety of different festivals (Fantasy, Roman and Folk festivals) and enjoyed every time there. We are really looking forward to performing there again and especially at the fantastic Trolls et Legendes! See you soon!!
It was indeed a great gig:
http://www.peek-a-boo-magazine.be/en/reviews/saltatio-mortis-daemonia-nymphe-folk-noir-asynje-trolls-et-legendes-30-3-2013-at-mons-belgium/
the review of the new cd:
http://www.peek-a-boo-magazine.be/en/reviews/daemonia-nymphe-psychostasia/?viaadmin=1
The final version of "Selene's Awakening Horos" music video has been released! Hope that you will enjoy it! http://www.youtube.com/watch?v=OgqOIchruR4
A great initiative, thinking out of the box and showing a pure heart. Let politics out of it and see for yourself … sound cloud is included … Thx a lot for your input!
http://www.peek-a-boo-magazine.be/en/reviews/folk-for-the-people-folk-for-the-people-a-benefit-compilation-for-the-victims-of-repression-in-ukraine/
Filip VAN MUYLEM
16/01/2013
---