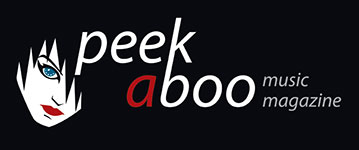 like this interview
---
BLABLARISM
True inspiration is quite elusive. If I start making something under 'conscious' inspiration, I am afraid of getting too literal.
04/01/2013, Philippe BLACKMARQUIS
---
If you like fuzzy witch-house and lo-fi chillwave, then you have to discover this new artist from Kiev (Ukraine): Oksana Zmorovich. She's only 20 years old and after performing as drummer in the band Oriental, she decided to go solo under the strange moniker "blablarism". Her music is a combination of baroque analog synth sounds with a drone bass and haunting vocals. A sort of crossover between Chelsea Wolfe and The Soft Moon. Mysterious, fascinating and beautiful. She has released one track on a Scrap Mag compilation and a few additional tracks are available on the internet. She is currently working on her first official release, due at the end of January. We had the opportunity to talk to Oksana:
Thank you for this interview! First of all, why this strange name: "blablarism"?
"blabla" is a space which you can fill in with any concept, and "-ism" stands for a noun and maybe even a term - thus you get a conditional name, just another band name.

How would you describe your music?
I can't describe my music - I'm afraid I'm not very eloquent person, you can see this by the way I've chosen my pseudonym.

Do you feel related to the 'witch movement'? I find some correspondances with bands like ∆AIMON, Soft Moon, Chelsea Wolfe...
I like the Soft Moon, and I wouldn't mind if someone said that I do have such relations - I myself have never thought about it.

How do you find inspiration? What is the message you give with your music?
True inspiration is quite elusive. If I start making something under "conscious" inspiration, I am afraid of getting too literal.

Do you play all the instruments in blablarism?
Yes, I do everything by myself.

I like "Saccades" a lot: can you explain this song, how it was created, its meaning?
Thank you. The conventional plot is really dramatic - I was so inspired by three Lynch's films, that I even wrote the lyrics. And that's what I'm talking about - I think the music itself became too literal to me.

Is there a 'dark' scene in your country? What is it like to have a band in Ukraine these days?
To be honest, I'm not really interested in our scene - that is, probably, because it's not that evident, and I guess I'm too lazy to dig into music blogs that are hidden in the recesses of the Internet.

What are your favorite bands/artists? Which ones are an influence to you?
Okay, I think I should start with Bauhaus and Siouxsie & the Banshees: this is the point where I got acquainted with the dark 80's. After this, of course, I couldn't miss such bands as Tones on Tail, And Also the Trees, Modern Eon, Cocteau Twins, Mephisto Waltz; 90's gave us beautiful Slowdive, Lush, Ride, etc. Perhaps my musical education at the right time gave me a reverence for the classics as well - at some point I feel the connection with J.S. Bach, Beethoven, Messiaen, impressionists Ravel and Debussy, as well as modern composers like John Williams and Thomas Newman. Speaking of modern electronic music (which is, obviously, divided into hundreds of sub-genres) I would like to emphasize such artists as Jonny Greenwood, The Caretaker, Lukid, Carsten Jost, Alex Smoke, Andy Stott, Demdike Stare, etc.

What are your plans? Tours? No tours planned in Western Europe?
Currently I'm working with a young label 'New Ideals' on my debut release. As for tours - right now I would like to concentrate and spend time sitting at home making some new stuff.

Thank you and we are looking forward to your first release!
blablarism – golveoleth from Perepadya on Vimeo.
https://soundcloud.com/blablarism
https://www.facebook.com/blablarism
Philippe BLACKMARQUIS
04/01/2013
---