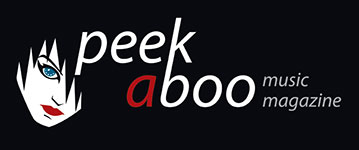 like this interview
---
THE SOFT MOON
I live in San Francisco. My music is a way of reacting against my environment.
04/12/2012, Philippe BLACKMARQUIS
---
The Soft Moon, the solo project of Luis Vasquez, is one of the prominent American bands from the so-called witch-wave movement, which also includes A Place To Bury Strangers, In Death It Ends, Zola Jesus, Animal Bodies, etc. Those bands produce a psychedelic shoegaze postpunk music with ghostly overtones. Luis Vasquez came to present his new album, "Zeros" at the Magasin 4 in Brussels on 29 November 2012. We took the opportunity to talk to him.
Luis, thank you for this interview. How is the tour doing right now?
It's doing really good. So far, so good. We have 6 days left in Europe and then we finish the tour in the US, on the West Coast.
You already came to Belgium earlier this year. You were in Kortrijk, for a festival, and in Ghent?
Yes. This is our first time in Brussels.
And how is the new album doing?
I think it's doing pretty good! He made it on the Billboard charts. It's the first time. It's pretty exciting. It was number 4, in a ranking of upcoming bands. It was surprising, so I assume it's doing pretty well.
You started as a solo project. Would you say that you're a real band now?
There are two entities to the project. It's still a solo project for composing, it's about my life, my body, everything, but there's also the live aspects of the band. Those are two very important components that make the whole thing.
And Lumerians is another package?
I haven't been in the band for two years now. Things were starting to move very fast for me and The Soft Moon was a more fulfilling personal project for me, so it felt right to continue with The Soft Moon and say goodbye to Lumerians.
So you feel it's really coming for The Soft Moon?
Yeah, it feels pretty good. Things are in motion and everything seems to be positive.
The sound of the new album is different. You've been working with a producer this time?
Yeah, I still wrote everything by myself, like normal but this time, I wanted to expand a little bit in terms of production. So I took my recordings to a more professional environment. And also because I felt limited writing music in an apartment. Plus I have a limited amount of instruments so I thought it was a cool idea to take it to a studio, where you have more equipment.
Did you have to change a lot in the studio?
No, it was pretty much the same process, it was only the sounds. They could be a little bit louder than in an apartment, where I had to be more quiet. There is a little bit more freedom.
The drums sounds are amazing.
Yeah, very powerful.
I also liked the first album for other reasons, because it was precisely not powerful.
Yeah, the first one was more humble, very intimate and I did it all myself, I didn't know what I was doing. Now, I like the direction it's going with the production.
I heard you are doing more drums and percussions on stage.
Yeah. Tonight I'll be playing a little bit of percussion and I think, maybe, in the future, it will evolve in a more percussive direction.
What about the themes you're talking about? You seem to be obsessed with anatomy and biology?
Yeah, I'm just wierded out by the human body and I trip out when I think about it. For instance, the way your hands look, just little things like that. Also, neck phobia. I'm very guarded around my throat and my neck, so I think about it a lot. Sometimes I cant sleep because of this neck phobia. Or things like sex. It's very strange to me what humans do with each other, all that kind of stuff blows my mind, it's fascinating. All that curiosity makes its way into the music.
What about the scene. Which bands do you feel related to. Agent Side Grinder, eg?
It's weird, I don't feel related to anything but I know my music is classified within certain genres of music for sure, but...
It's a thing a journalists, we need to describe for those who don't know you...
It's totally true. I understand this need to have some genres, categories but for me, it's just me, naturally writing music. When I write, it's just what comes out.
How did it come for the first time?
When I started The Soft Moon, I hated my job as a graphic designer, sitting on the computer everyday from 9 to 5. So I think I was sick and tired of that. I'd always written music since I was a little kid, so I thought, I should go back and start writing music again. So, that's what started it: it was me reacting to my job, to do something more creative, more personal, with more fulfillment.
It was a rebellion?
Yeah, I live in San Francisco. My music is a way of reacting against my environment. That's the reason why the music has a certain feel and vision.
We tend to associate you with Led Er Est and minimal acts and also with the grave-wave, with In Death It Ends, this kind of stuff... Does it make sense?
Yes, it makes sense.
Are you in contact with those guys? Do you have cooperations with them?
I have friends, I know the Led Er Est guys...
We saw them yesterday in Brussels.
Oh, cool! Was it good?
Yes! They were playing with Matthew Dear.
Oh really! He must have headlined, right?
Yeah, he's very professional, while Led Er Est was more experimental.
Yeah, we went on tour with them about a year ago. They opened for us for about a week in the US, and I know it's their style, kind of more improvised.
When you play live, are there a lot of improvisations?
No, our live shows are very rehearsed. It feels more comfortable and also because we are rewriting the music I wrote at home, so we're trying to make it sound as close to the album as possible, to make every sound very precise. I like to improvise too, but not in this kind of project..
Maybe, when you play percussion, then you fell more free to do what you want?
Yeah, exactly, for sure!
Is playing live an easy experience if you have this introvert personality? I heard you don't look at the audience?
I close my eyes a lot. I feel comfortable playing live. It comes from the experience now, touring for so long now.
You look at your shoes, that's why we say "shoegaze"? (laughs)
You'll see me closing my eyes more than anything but that's also because I wanna be inside the music when I play. It's very cathartic, very emotional for me, so I enjoy it, actually.
What about the future, any plans?
Yeah, I really wanna start writing again. We're gonna be touring up until September 2013 basically, off and on. So, a lot of live shows. In the meantime, I'll be working on new music and we'll see what happens after that.
Your biggest show was Primavera?
Yeah, and also La Route Du Rock, that was big. 15000 or 20000 people. It's funny: last night we played a show for 150 people in Brighton. So it's very stimulating, different all the time.
Here, it should be 250, 300.
I like this amount of people, it's nice.
Thank you for the interview!
Philippe BLACKMARQUIS
04/12/2012
---