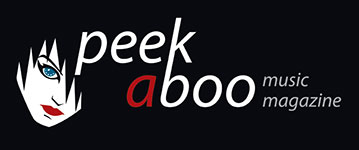 like this interview
---
JONTEKNIK
A good friend of mine says that my music is made of elements of all my favourite artists with a bit of me gelling it together.
12/10/2012, Jurgen VANVLASSELAER
photos: © Andy Sturmey
---
If you are into minimal electronics, Kraftwerk, early OMD, Karl Bartos,.... JONTEKNIK will be your thing for sure. His latest album Giants Under The Microscope has just been released so it it was a good time to have a talk with the man behind the machines: Jon Russell.
Welcome Jon. Can you give us a little introduction to JONTEKNIK?
Hello. JONTEKNIK is the name of my solo music project, it's about creating music in the tradition of the music that speaks to me. A good friend of mine says that my music is made of elements of all my favourite artists with a bit of me gelling it together.


Your music is clearly influenced by Kraftwerk, Karl Bartos, early OMD etc., but are there any less obvious bands that had a heavy influence on your work?

Those are definitely the main ones for sure. I also feel that Mark Bell's LFO project has been a good influence, I love the hard distorted sounds in that. The first electronic artist to influence me was Jean-Michel Jarre. His first three albums really got me hooked on electronic music.


How many JONTEKNIK releases are there so far and where can we purchase them?

I have a drawer full of DAT tapes with music that hardly anyone has heard. I have put out some older music of mine in the form of compilations. In 2008, I made an album which included collaborations with some singers as well as my own instrumental pieces. It is called Sounds From The Electronic Garden. I updated this album earlier this year with some remixes and a couple of extra tracks. My latest release is a minimal electronic album called Giants Under The Microscope. It is very much in the Kraftwerk and early OMD vein that I deliberately aspired to when writing it.
I have several releases on download here: http://jonteknik.bandcamp.com/
My recent releases are available on promo CDR's with full artwork here:
http://www.jonteknikmusic.com/page2.htm

You release them on your own label, Jonteknikmusic, which gives you the complete control over your music. How important is that for you?

There are positives in 'doing it yourself', mostly in that there is no window to promote your releases. On a record label your release may get promoted for a couple of weeks and then that's it, they own the recording and that is that. However, the negatives of 'doing it yourself' are that you have to learn as you go, as you obviously don't have the expertise and know-how of a label. Distribution and contacts is also a huge obstacle unless you are on a label. I think it would depend on the label, for example Mute would be a dream to be on. I have huge respect for Daniel Miller and have been lucky enough to meet him in the past. I went to his office once and handed him this home-made boxset of my music. It must have had 8 CDs full of what were probably just ideas!


Is it the intension to release other projects on your label as well?

If I had the budget I would love to release other music than my own. So who knows, one day. I have asked people to remix my music for my own releases in the past and that is something I will continue to do. I see it as a way of helping them promote their name in return for me getting alternative versions of my music.


Your videoclips are very minimal, very sober, they blend in very well with the music I have to say.

It is very deliberate. I am not a film-maker in the true sense, but I think videos are a great marketing tool. However, I don't want the visuals to detract from the music though. The music is the most important thing. I like minimal!


You worked in the past with big names such as Claudia Brücken from Propaganda and Paul Humphries from OMD on their Onetwo project. How did you got involved in this?

I was introduced to Claudia years before by the producer Pascal Gabriel. I stayed in touch with Claudia and just sent her demos and we did a little track together which she recorded the vocals to on her home 4 track at the time. I didn't meet her until a few years later when I was asked if I'd do a Bowie cover by someone I had got to know. I programmed This Is Not America and Claudia liked it so I went up to London and finished it with Paul and Claudia, we had Paul Rutherford of Frankie Goes To Hollywood on backing vocals too. So I stayed in touch with Paul and Claudia and co-wrote, co-produced and programmed on the Item e.p by Onetwo. Of course having my name not only next to Paul and Claudia's but also Martin Gore's was a wow moment! Claudia wrote Cloud Nine with him and I got to program percussion and some synths on it. I then went on to do a bit of work on the Onetwo album. I am very proud of The Theory Of Everything Part 1, which I co-wrote with Paul.


When you are working with a synthpopicon as Paul Humphries, how difficult is it then not to ask too many questions about the old OMD days? Cause I bet he can tell a million great stories.

Paul is a great person to work with. We just clicked in the studio, I felt very at ease and we didn't mind either of us saying 'that's not working'. When I first met Paul, I only knew The Best Of OMD. I was heavily into Depeche Mode and somehow OMD had passed me by. Of course I went into town and bought a few OMD CD's as soon as I could and did my homework. It was then very flattering when Paul said in an interview that I had helped him rediscover his roots. Paul has many great stories, but I couldn't possibly repeat them ;-)


What was the best advise that he gave you?

He said that I should always make the music that I want to make. In the past I had even tried doing Euro-pop and I lost my way I think. So I will always take Paul's advice as long as I continue to make music.


If you had an unlimited budget , who would you love to do a remix of a JONTEKNIK track?

Vince Clarke.


Is JONTEKNIK just a studioproject or do you perform live as well?

I did one live gig in 2008 supporting Oppenheimer Analysis in London. I have always just seen myself as a studio project, but recently the idea of doing live excites me, so you never know.


What's on the JONTEKNIK agenda for the upcoming months?

I am going to release an e.p on download which will be free and exclusive to people who buy my latest album. I will also release Robot Music//remixes. I also want to start work on another album which will hopefully feature vocalists.


A last message that you want to share with our readers?

Please support independent music where you can, even if it's just sharing a link. It all helps. Thank you :-)
Thank you Jon for your answers and all the best with JONTEKNIK!
Jurgen VANVLASSELAER
12/10/2012
---