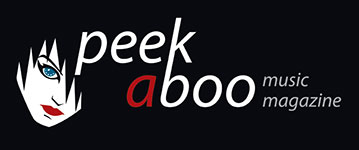 like this interview
---
PITTERSPLATTER
At it's core the concept of Pittersplatter has to do with feeling so disgusted with human nature that one no longer wishes to be human and longs to become something else entirely.
24/09/2012, Jurgen VANVLASSELAER
---
A few months ago I got caught up in a discussion about a cancelled American electronic festival on facebook. One of the bands due to play there was Pittersplatter from Oklahoma. I got introduced to their music and I loved their sound immediately. Old school Skinny Puppy meets Lead Into Gold came to mind. A new album is on the way, so we thought it was a great idea to have an interview with the man behind the project : Michael Gottfried aka Worm!
Welcome Worm. Can you give us a brief Pittersplatter history?
I started working on what would become Pittersplatter back in 2002. I had previously been the vocalist and song writer in a metal band and during the last few months of that band's life cycle I began experimenting with electronic music. I spent some time with a local industrial/metal band and helped product their first album. A few months later I had purchased a keyboard, a drum machine, had built a Frankenstein computer out of the bits and pieces of a few old machines, and I started working on solo material. After playing with a few different project names I settled on Pittersplatter and pretty much set out from there.
Who came up with the funny name? And what does it mean? I bet it's not easy to pronounce after 7 beers :-)
Pittersplatter seems to be difficult for most people to pronounce even sober. After playing with a few band names I decided I wanted to go with something completely original. I always had a certain vision for Pittersplatter and I always kind of knew that the project would be somewhat of a misfit. I had come up with a few band names that were pretty typical names an aggressive electronic music project would use and then I sort of figured out that this project was anything but typical. Pittersplatter is a word I pulled out of my head. I've always focused on sheer creativity and wanted to project that, and so I decided that the project name needed to come from that same place. To be honest the name Pittersplatter has taken on many different meanings through the years, but the origin of the name came out of nothing but pure artistic expression. I've made it a point to change up the story of the name with every interview though, but this time around I figured I'd tell the truth, maybe.
Can you tell us something about the concept behind Pittersplatter?
The time in my life when Pittersplatter was created was a really bad time. I had pretty much been used and lied to by just about everyone around me and was just really fed up with people in general, and to an extent that's ongoing. A lot of really horrible things happened to me over the course of about 3 years that I won't go into but the result was it left me absolutely disgusted with humanity. I was not in a good place at all and when that happens I always turn to writing music, and Pittersplatter came from that. At it's core the concept of Pittersplatter has to do with feeling so disgusted with human nature that one no longer wishes to be human and longs to become something else entirely. Over the years the concept has branched out towards many conclusions, but each branch is traced back to that core concept. For instance my newest album titled Frozen is the second album in a 4 album concept that deals with the fall of humanity, or the fall of one's own humanity, rising from the ashes of that destruction as a new creature, and thus rising above the current and often hopeless definition of human. I express these ideas by telling stories of the things I have been through in my own life. I tell those stories by way of metaphor or parables if you will, and I try and create a world to act as a setting for these tales so that the listener can relate these experiences to their own lives. It's really difficult to explain and it probably makes no sense whatsoever, sorry about that.
I recently discovered you guys thanks to a mutual friend from the UK. I loved the tracks I heard immediately and ordered your latest album straight away. What I really like the most are the old school elements in your tracks and the fantastic vocals.
Thank you, I really appreciate that. To be honest Pittersplatter sort of writes itself as cliché as that may sound. Of course my personal music likes and dislikes are what steers the boat but after that its really just an exercise of pure musical expression. I don't set out to write a hit club song or just create a collection of songs, I am trying to create worlds for the listener to travel to and get lost in. I've been told by many "important" people that Pittersplatter needs to be more genre specific and that the music is too all over the map, but the fact is I write what I want , how I want and then I share it with whoever cares to listen. So when someone buys a song, or a CD, or even just expresses to me that they like my music its a really humbling thing that I see as a great honour and something I am extremely thankful for.
The vocals often remind me of old Skinny Puppy meets Lead Into Gold etc…so I presume those bands had a big influence on your work. What other bands can you add to that list?
First off being compared to Skinny Puppy is a huge honour albeit an honour I don't feel worthy of. Secondly when it comes to music that has inspired me over the years there are almost too many to name. Bands like Gary Numan and Skinny Puppy are what validated electronic music for me when I was starting out, but I draw inspiration in everything from film soundtracks to ritual music, from new age to black metal.
You also made a great cover version of INXS classic Need You Tonight. Are there more covers in the pipeline?
That is an OLD cover ha ha. I don't do many cover songs but when I do they seem to happen at random. I just completed a cover of House Of The Rising Sun at request from a friend of mine and that is now available as a free download from our bandcamp site (http://pittersplatterofficial.bandcamp.com). I completed a cover last Christmas that I have yet to release, but I will be releasing it soon also for free.
You are from the Oklahoma area. Is there a scene there? Any more interested bands we have to keep an eye on?
I get asked about the "scene" here in Oklahoma a lot and the fact of the matter is I don't know much about it. There are a couple of bands around here including Pittersplatter that have been playing dark electronic, or industrial music live for over a decade now, and speaking just for Pittersplatter I can honestly say we have always had an extremely diverse crowd. Folks from the local industrial scene will show up at our gigs along with people from the metal and punk scenes and that is something I have never been able to explain but have always been very very thankful for. In my years of live experience those mixed genre crowds are the most loyal and are always there no matter what. As far as the specific local industrial scene, again I really don't know much. We get invited to do something with that specific scene once or twice a year or so, if that, so I don't have much experience there. I will say that it seems like a pretty tight nit scene but that's about all I can say. When it comes to other bands around here that folks might want to check out the names that come to my mind are Axis and Systemachine, a couple of really solid local bands.
I've never seen you live, but I am pretty sure that you put a lot of effort into your gigs with the necessary stage props, masks etc. How important is playing live for Pittersplatter?
Initially I never intended for Pittersplatter to ever play live. I sort of wanted to create this online presence that generated dark electronic music along with monstrous imagery and videos but I never really wanted to play on live stages. I had this vision that people would be able to listen to the music, watch the videos, immerse themselves in the imagery, and purchase it all if they wanted, and Pittersplatter just would sort of remain this ethereal presence never manifested in the flesh. When it came down to it though I was sort of talked into taking the project live and in 2004 Pittersplatter played its first live gig in a small Oklahoma town called Enid. There were just 2 of us on stage for years and years and as time went on the stage show got more polished and elaborate and the look did as well. We do put a LOT of effort into our stage presence and to be absolutely honest there is not another band here in Oklahoma like us live. As far as how much importance I put on playing live gigs, I sort of see gigging as a way to say thank you to the folks who support Pittersplatter. I put all my focus on writing the music and making the art first and foremost of all, and then after I release an album I gig when I can as a thanks to the great people who love Pittersplatter. Of course with the abysmal turn the live music industry has taken here in America over the last few years, less has become more where gigging is concerned but I think Pittersplatter will always play live shows in some capacity or another.
Any chances to see Pittersplatter on European soil one day?
I am working hard on that along with our management at Juggernaut Services (www.juggernautservices.com). I have no specific time frame on when we will be able to make that happen but I am working very closely with Mr. Nick Quarm towards that end. I hope we can accomplish it soon, but I will say at this point it's not so much an "if it happens" thing but more of a "when it happens" situation.
I know you are already working on new material. The first snippets already sound very cool. Can you tell us something about this new release? Release date? Will it be in the same line as The Dawn Of Carnage or will it be something completely different?
I have completed a brand new album titled Frozen and already have copies in stock. The official release date is 31.10.2012 (Halloween). Frozen is the second album in a 4 album concept which started with the 2010 album The Dawn Of Carnage that is currently being distributed by Mutant-E Records. You can purchase that album at sites like http://stormingthebase.com, http://mutant-e.org and even http://pittersplatter.net .Mutant-E Records also intends to distribute Frozen when it becomes available.
What's on the Pittersplatter agenda the upcoming weeks/months ?
Right now I am sending out advance copies of the new album to a few radio stations and publications who have requested it. I've been offered some pretty cool press opportunities and that will be under way very soon. I am also doing interviews and preparing the live members for a couple of really awesome gigs we have been booked for in November and December. Last but certainly not least I am scoring a film by a local director titled Wastelands. I will be writing a completely original soundtrack for the film.The concept of the film falls in line with my current 4 album concept so the Wastelands soundtrack will double as the 3rd Pittersplatter concept album. It will be very different sounding and probably not a full length album since it is a soundtrack, but it will be a nice companion piece not only to the film but to the current Pittersplatter 4 album concept and a nice treat to hold folks over until the next proper Pittersplatter album is released. The film is in development now and hopefully will begin shooting soon. I am really excited to get to score the film, a benefit of being best friends with the director admittedly. There should be a proper website for the film online pretty soon but as of now all I have is the director's blog (http://suitedmonkey.tumblr.com/ ).
A final word that you want to share with our readers?
I would just like to say thanks to Peek-a-Boo for this interview and I would also like to thank Mr. Nick Quarm and Juggernaut Services for their awesome representation. Of course a huge thank you to everyone who loves and supports Pittersplatter, you folks have no idea how much you mean to a creature like me.
Thank you very much Worm for your answers and we wish you all the best with Pittersplatter.
http://www.pittersplatter.net/
http://www.facebook.com/pittersplatterofficial
Jurgen VANVLASSELAER
24/09/2012
---