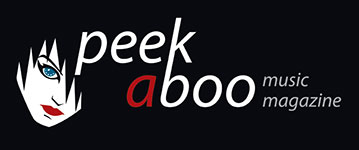 like this interview
---
INCITE/
We love to convince the club audiences that art does not to need to be exhaustingly dry and boring.
20/09/2012, Chris KONINGS
---
With the Pluto festival (a multimedia event with visual and audio art) coming up, we thought we should have a chat with some of the artists playing there. Since we really can't think of any more questions for Dirk Ivens (playing there with Sonar), I wanted to turn my looking glass to a few of the lesser known artists. Incite/ makes music but they are so much more, putting visual effect on the foreground. Later we shall also have a chat with Ben Lucas Boyson, better known as idm/dubstep producer Hecq... But now, Incite/ is up!
Hi Kera and André, can you introduce the band for our readers?

incite/ is our audiovisual electronic duo, started in 2002 to spread our own idea of 21st century digital art, focussing on unorthodox danceable electronics closely linked to greyscale imagery somewhere between abstraction and semi-narration - with a pretty high density of sound- and motion picture information, every part differs from the part before, no repetitions. And our music and video is always connected really tightly, kind of a synaesthetic experience that is far beyond showing a film in the background while playing music. Nevertheless we are musicians in the first place, and are pretty proud having been awarded for our av-performance as well as specifically for our music.
Our background is the local Hamburg sound art scene, but we've evolved quite a bit in different direction. incite/ performs on very different kinds of events - media art festivals, industrial festivals (which is probably best explained by the influence of our label, Hands Productions), sophisticated dance parties and even rock music festivals. Sometimes we're the only band playing electronics, or using visuals or being danceable. Depending on the event we play there is always one part of incite/ standing out from the rest, something new to explore for the audience. We love to bridge the art and club worlds and the other way around!
And in fact that's most important to us: to get across and share the love doing all of this - on a very elementary level, you know, incite/ is a labor of love.
All our work, starting from sound-design to capturing video-footage, composing and editing, is done by the two of us alone, we're always searching and exploring new techniques and possibilities from stop-motion, 3D animation, tilt-shift, macroscopic perspectives and so on. The fact that we only use the shades of grey (no colors) and have always the same stage setup (featuring us in the center of the image, blending with our visuals) creates kind of a coherence despite the wild mix of visual techniques.

Under the name 'Appi', you made experimental stuff in the 80's. Influenced by krautrock? Or more structured like Bauhaus (the art movement).

André: How come you have heard of this? (…laughs…) That was long before incite/: In the second half of the 80s, Appi was the name I used for releasing noise from experimental to harsh, covering a certain phase of my personal development. Let's maybe say metaphorically: I was very young and everything was very exciting. Influences were all over the place, everything from the re-discovered Dada via early experimental Super8 movies to 70s industrial, I was awash with impressions and received a solid education of free art from a very punk perspective - I still feel like I owe a lot to the people I was with in those days.
But as with all things, time changes and changes us so eventually I moved on and my focus shifted. Meeting Kera and her much more autonomous and less influenced approach to art gave me access to a new and exciting openness that's much more future bound than ever before.

When I read the showtitle for the Pluto Festival 'holistic glue', I couldn't help thinking about Clock DVA or The Anti Group. An influence for you guys?

Adi Newton and other great artists with a similar background in the late 70s or early eighties have honestly never been a direct influence on incite/ - there's much more elektro, dubstep, breakcore, for sure PanSonic and some RasterNoton. But then again, you could argue how much of these we'd have without the pioneers of industrial. A history lesson never hurts, though….and would probably help raising the awareness of people supporting bands flirting with Nazi-symbols nowadays.
Anyway, we always aim at finding our own expression, our own articulation, our own path into what we think could be music of today or tomorrow. That's much more interesting to us than repeating art that's been there for so many years. Which is not to diminish its significance or quality, of course.

What can you tell us about the show at the Pluto Festival?

It's going to be the world premiere of our all-new live-set "holistic glue", so we're of course super excited!
The whole is greater than the sum of its parts…The main idea of this live-set was to work on the subject of Hamburg, our home-town of choice. Nine audiovisual tracks, the sound keeps getting another bit warmer while still routed in the same area between electro, glitch, IDM and industrial and the visuals another bit more narrative. It's obviously a very personal view on Hamburg: Friends' smiles, a surreal harbor-boat-trip, metropolitan animal wildlife, up and down on staircases, elevators and paternosters, gentrification issues, a shoemaker's dance and the illusion of safety ending up in urban paranoia.
One thing we're most thrilled with is to have another Lego-stop motion video in this set: a really wild story of our Lego-avatars filmed out in the park, subject to the weather - which is not known to be one of Hamburg's finer points… We had much fun filming and wish to get it across.

I was checking Maschinenfest's history, how did they not yet put you guys on stage? What a disgrace! ;-)

Like we said, the industrial scene is not the area we perform the most. We played Forms of Hands twice and loved it and would probably love the Maschinenfest just as much - but don't forget that our stage setup with the huge screen may be quite a challenge to festivals focused on music. And then there's so many other great bands in that scene, it's hard for a festival to choose.

Any special meaning for the '/' in your name? Or just visual reasons?

It's a symbol for digital arts to us, if any labeling, that's what we are part of the most.

What are your dreams or hopes for the future? For incite/, or yourself...

We love to continue creating exciting art, find open-minded audiences to play it to and maybe we can even contribute to opening club audiences to art and the other way around. We always enjoy seeing art audiences that may not be exposed to a sound as distorted and rough as ours start getting into it just by the music being linked to the visuals. And we love to convince the club audiences that art does not to need to be exhaustingly dry and boring. We think art/club is a connection that's just starting to unfold in front of our eyes - this is going to be a very interesting field of artistic development in the next years and we are happy to be part of this!
And of course and above all: love and peace!

Thanks a lot for this interview!

Thanks for your interest!
Chris KONINGS
20/09/2012
---