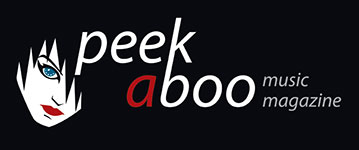 like this interview

---
AGENT SIDE GRINDER
'Analog equipment can fail you and adds the possibility of chaos, on stage and in studio'
05/08/2012, Philippe BLACKMARQUIS
photos: © Marquis(pi)X
---
Sweden's Agent Side Grinder burst onto the scene in 2008 with their never-heard blend of industrial, post-punk trance and minimal wave topped with the apocalyptic crooning à la Nick Cave of singer Kristoffer Grip. References include Joy Division, Cabaret Voltaire, Einstuerzende Neubauten, Front 242, Suicide and Kraftwerk. Their last concert in Belgium dates back to 2008 and they will (finally) come back at the Fantastique.night on 8 December 2012. Don't miss them: their performances are full of raw violence and mastered tension. Peek-a-boo had the opportunity to interview Kristoffer Grip (vocals) and Peter Fristedt (tape loops, percussions) at the Summer Darkness festival in Utrecht. The video of this interview can be watched here (part one and part two).
Thank you very much for this interview. First of all, how would you describe you band, for the people who don't know you?
KG: We're an orchestra making dark electronic music with analog equipment.
Is it important for you to use analog equipment and to play real instruments in the studio and on stage?
KG: It's really important when you realize that analog equipment can fail you and adds the possibility of chaos, on stage and in studio, when computers don't. When you hear the difference, it's tremendous.
Did you already have problems with the equipment?
PF: Some chaos is always possible. We don't limit ourselves to analog. We also play guitars, tape loops, synthesizers but for sure, we enjoy analog equipment both old and new.
KG: Yes analog is not a means in itself, it's more the aspect of the organic feature of analog, that's very important for us.
Sometimes it must be challenging to play sequences live.
KG: Yes, things can fail but it is always the start of something new. We had a sequencer in the early start of Agent Side Grinder and it died just before a gig. So, Johan (Lange) decided to make the sequences all by himself. So this became the new rhythmic synthesizer part of our sound. So you see every time something dies, something new is born.
Who are the other musicians on stage?
KG: Henrik Sunbring is the other synthesizer player and he has noise pedals and strange electronic stuff that he has built himself and he also manages the drum machine. Tobias Eidevald is playing electric bass. And this time, Simon Ekstrand replaced Johan, who could not be present.
You have just finished your "Hardware" tour a few weeks ago. How was it?
KG: We played in Germany, France, Holland, UK, Denmark and Sweden.
PF: It was our 5th tour and now we start to see the result of all the work we have done. All the venues were very crowded, we had a lot of success with radio stations, for instance in Lyon.
KG: It was wonderful: we played a lot of gigs one after the other and it's the only way to improve yourself. Every new song that we write has to go through the process of touring to be good.
Your setlist is mainly based on Hardware and Irish Recording tape?
KG: Yes, with an extra from our first album, "The Voice Of Your Noise", at the end of the set. It's always good to end with a song that has been hanging around with us since the beginning. It's a good disintegration song.
Do you remember playing this song on a small podium in Brussels in 2007 at the "Fête de la musique"?
KG: Oh yes! It was during the day.
PF: It was in the very beginning. We were trying to figure out how to do things. We had found the form of it but it think the PA system was a bit too small for us.
Then there was the Fantastique.Night at the Magasin4 in 2008?
KG: That was also a wonderful gig! A bit chaotic, I remember.
PF: I remember it was a fantastic concert; we played for a very long time, with a massive sound. I remember we played a 10 minutes version of "The Voice Of Your Noise" and there was this guy, looking psychotic who came on the stage and threw a glass of beer on Kristoffer's head!
And then there will be a concert in December in Brussels at the Fantastique.Night. Looking forward to it?
KG: Yeah! We like to play in Belgium. We have played too little there.
PF: It's interesting to play in Belgium because of the historical musical heritage of this country, with EBM and this scene has always been important for me.
Which bands in particular?
PF: When I was young, it was Front242. I received a tape with "Geography" when I was 14 years old. Neon Judgement,..
Klinik?
PF: Absolutely! I like everything Dirk Ivens does.
How do you see the evolution of your music? It seems it has been evolving all the time.
KG: All the things we do now have been with us all the time, but were put into place in "Hardware", our latest record: the monotonic, crushing, melodic, danceable, even the poppy sides,... Also, in the beginning we were a trio and now we are a quintet; we have more possibilities and everything is marching on... In the beginning we chose the equipment and tried to do the best with it. I think now we have done everything we can with it and pushed it to its limits.
You have achieved maturity?
KG: Yes, hopefully! When we make a new record we want to do new things all the time but when you listen to it, it still sounds like Agent Side Grinder! (laughs)
PF: For Hardware, it was fun because we tried so many things, recording with dictaphones, we also worked during the tours. A bit like Kraftwerk, who used to try songs during sound checks...
The reviews of Hardware have been very good up to now, I think.
KG: Yes, they have been raving, it's great!
By the way, what is this ABC computer on the cover?
PF: It was the first personal computer in Sweden made by a company called Luxor and I saw an add with this computer saying "the future is here" and it looked great, it was a bit like "let's play the time machine"...
But at the same time, your music is not nostalgic. You are playing music of today, aren't you?
PF: Yes we take the elements of electronic music, rock'n roll, etc. and try to do something new.

During the concerts, the way Kristoffer sings and moves is amazing. You really get into a trance. Does it come naturally or do you take drugs? (laughs)
KG: No, I've never taken drugs and I've never been drunk on stage. I comes very much naturally. It's a very fast switch. It comes from the fact that I was shy as a child, so putting myself on a stage in front of people was not the first thing I thought of doing. So every time I go up on stage, it's like a transformation. I'm the center of every person's attention in the room, so let's go! The energy and the kick is very strong.
PF: The way we play our instruments live and concentrate very much, what we do together somehow becomes a drug for us, and the psychedelic aspects of the songs bring a lot of energy. Nobody drinks before the concerts because we enjoy so much what we are doing: it is not useful.
For the singing, I was also thinking about Nick Cave.
KG: Yes, it's always difficult to compare yourself to someone else but Nick Cave has been a huge influence so I won't deny that. So, if that shines through, I will see it as a compliment.
And of course, Ian Curtis.
KG: That's funny because in the beginning, I didn't think about that, but I guess I have the same baritone voice and the same epileptic transformation on stage. I'm not surprised but it has never been an intention to sound like Joy Division.
And Jim Morrison?
KG: Yeah! It's a huge influence!
PF: I have the feeling that Jim Morrison has been closer to us, esp. in the psychedelic part, which is a big thing for us.
Are there bands in or outside the scene that you feel close to right now? Soft Moon? Present Moment?
KG: Yes, they're all very good.
PF: We played with Cold Cave once. We enjoy the American bands like Soft Moon, etc. We play the same venues as them in Sweden and abroad.
Are you planning to tour in the US?
PF: Yes! We received several requests but we need to have a partner in America who can take care of the logistics.
Any other projects for the future?
PF: We have started thinking about the next album, this process takes a long time. We bought a mixing desk for recording demo's.
KG: There are also remixes of our songs. It's always nice to see what other people think and do with your music.
There was also a cooperation with Henric de la Cour?
KG: Yes that was really a nice shot. He's been around in the Swedish scene for a long time. He was a star in the dark scene in the 90s. We felt that our song "Wolf" needed an extra push, esp in the chorus. Henric has a high voice, I couldn't sing as high as that.
Last year you opened for Suicide in Lausanne. Did you have feedback from them?
KG: Yeah, we even recorded the concert on tape and they totally approved this, so obviously they liked us. They are a huge influence. For me personally, I started listening to Suicide at a very young age so it was very huge to support them.
PF: It was fun because Martin Rev asked us 'How did you get all your equipment here?' and I answered: 'We just shipped it here on a palet with DHL!' and he said: 'Why didn't I think about this!' (laughs)...
Thank you again and see you in Brussels in December!
Interview by Phil Blackmarquis and Marc X-Pulsiv
Check our review of Agent Side Grinder's concert in Utrecht here.
You can have a look at the pictures of this concert by Xavier Marquis here.
Read our review of their last album Hardware here.
Philippe BLACKMARQUIS
05/08/2012
---