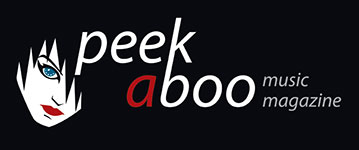 like this interview
---
AGENT SIDE GRINDER
We are very excited to play BIMFEST! Belgium has a rich history of great bands that formed the Industrial, EBM, Synth genre, we are honored to be part of it.
28/06/2014, Fred GADGET
photos: © Marquis(pi)X
---
Agent Side Grinder will play on the 13th edition renowend BIMFEST later this year so time for a little chat with them. We spoke with Johan Lange, founder and keyboardist/songwriter of ASG.

For those who haven't heard of Agent Side Grinder yet, Who are you and how would you describe your music?
A group of musicians from Stockholm, Sweden. People describe our music as a mixture of post-punk, industrial, old school electro and pop.

How did you guys meet up?
Me and Peter met in a recording studio almost 10 years ago. Kristoffer joined the band a bit later. Henrik and Thobbe came on board a couple of years later. We're not childhood friends or anything, the music kind of handpicked us.

If I'm not mistaking your last release was the 12" 'Go Bring it Back', a mash-up of your own song 'Bring it Back' and 'Go Back' by THE KLINIK. Hence the guest vocals of Dirk Ivens on the release. How did you come to this idea?
To start with, we are big admirers of THE KLINIK. We had this song 'Bring it Back', that had some similarities with 'Go Back'. The idea of mixing them together actually came when I was out jogging. I contacted Dirk, who luckily was very positive about the concept.

Before this 12" you released 'SFTWR', an remix album that incorporates a wide range of styles making it quite an eclectic album. Why did you decide to release a full remix album?
There were some great ASG remixes out there already, so we decided to make a full album out of it. We felt 'SFTWR' was a fine complement to our own discography, it shows the diversity in ASG's music.

With Your last studio album 'Hardware' you won the Manifest-award (N/A: a sort of Swedish indie-grammy) for 'Best synth album' in 2012. Did it open doors? Did this award do anything for you?
It was a boost for us and proved that our idea of synth music was "right". That means, skip the laptops and backtracks and focus on the melodies and musicianship. And it also proved that our audience keeps on growing.

I witnessed some of your life shows in the last years and I found the very good & energetic. Can we say that all of are possessed by music and thrilled to play live shows?
Absolutely, we love to play live, to put both the audience and ourselves in trance.

I've been told your sound-engineer is quite an audio/sound freak. Is this the reason
you amplify almost every instrument trough onstage amplifiers, before sending the signal to the mixing desk?
That's true! We put microphones on each amplifier to get the right sound. And it makes a huge difference!

When can we expect a new full album of Agent Side Grinder?
Hopefully early 2015. We are recording new music this summer.

What should we do to save the music business?
I'm not sure, I believe the music industry is doing pretty well right now compared to 10 years ago.

Your are invited to play BIMFEST this year , are you exited about this and can we expect?
Very excited. We've got many friends in Belgium. Belgium has a rich history of great bands that formed the Industrial, EBM, Synth genre, we are honored to be part of it.

Any bands you like to see yourself on BIMFEST?
DIE FORM and BORGHESIA. We haven't seen any of them.

Last message, what should we do to save the world?
Help each other!
Fred GADGET
28/06/2014
---