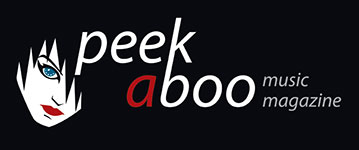 like this interview
---
SIMI NAH
Facebook is like any kind of easy marketing tool, use it but with moderation! I use it too, like anyone else, but I would never on earth take this seriously! I mean, how many "likes" THE SISTERS OF MERCY had in 1985?
27/06/2014, Fred GADGET
photos: © Marquis(pi)X
---
For those who have been living on another planet the last years, can you please tell us who or what SIMI NAH is about?


Welcome to our planet, we are also living on another one! 

SIMI NAH... it's all about music, emotions and sharing those with other life forms.


Last month you played on the renowned Wave Gothic Treffen in Leipzig, Germany. How was the show, the experience?


That was for me one of the most exiting concert and experience so far !! The people there are just great to play for, they are responding to the music like they are drawn into it !! It's amazing, it gives so much energy to the band... you never want to leave the stage anymore ;-)
I would have loved to hang around on such a festival in the 80's... Born to soon?

Your newest album 'Be My Guest is getting quiet good reviews everywhere I look... Did you expect this? What do you think is the success formula of this album?

Good reviews and great reactions so far yes ;-) Well I didn't expect less, because I think the combination of all artists makes this project quiet special and very attractive for music lovers ! But most of all, I think the success formula of it was to twist all those hits from the late 70's & 80's into alternative versions, with new sounds and power, and to let them be performed by guest artists in duo with me.

How did you come to this idea of recording and releasing an complete cover album?
First of all, some tracks are covers we wanted to do in some form or other for a long time and some were picked to suit the project. It all just fell into place.
 2 years ago we presented our second album "5" which contains a song called "Coco chaRnel". If you're a fan of SUICIDE, you can hear an influence in it. Wim Punk did, and after the show he was talking with Kenny and after a couple of drinks...they ended up with the idea of doing "one day" a cover of SUICIDE, in an electro and powerful version. 2 years later, it finally happened! Same with Danny from VIVE LA FÊTE, we were talking together backstage about doing a track together just for the fun, and one year later we did it. Then we started to play with the idea to do a cover album with more guest artists.

How did you select the other guest singers/musicians and tracks?
Well, Nikkie Van Lierop, because she is a great singer and a good friend, I could only ask her to cover that track from Amanda Lear ! A diva covering a diva !! I wanted to do the cover "Follow me" for years and that was the perfect opportunity.
For Safyée, it came naturally, because we do the cover "Wardance" of SNOWY RED live already ! And it fits perfectly to that project.
 Then we asked Dirk Da Davo, "Nag Nag Nag" from CABARET VOLTAIRE was just so perfect for him !! He accepted with pleasure :-)
Strangely, I was a little shy to ask Dirk Ivens, I didn't think he would have time to participate in the project... but he did !! He of course wanted to do a SUICIDE cover, but sadly that was already done on the album, so we chose a strong track for him "You spin me round- like a record", which we twisted so hard in order to match his voice and charisma. I quiet love the result !!
With the success of the project, we were getting emails from many artists who wanted to participate, but as last guest we asked Luc Van Acker, who covers "Disco Rough" from MATHÉMATIQUE MODERNES. He chose that track himself, because he wanted to do it for many years, but we changed it completely in order to match the other versions on the album.
And of course, at last but not least, KGB aka Kenny did "Fade to Grey" together with me. Why? Because I couldn't do it without him, and that song fits so good to our story, background, and to his voice!

Which track is your personal favourite on this album? Simi? Kenny?

Simi: That's an impossible question ! I love them all they all have a different story ! Kenny : If I have to pick one it has to be "Cheree" from SUICIDE because they are the protopunk electro pioneers.

Will you play these songs live, and how ill you manage? I can imagine it will be hard to synchronize the agenda's with all those artists?


That's a big plan I know... it's still in construction, but we will work on it after the summer, because like you say, very difficult to synchronize everybody, especially in the summer ! But yes, we would love it, because that would be the apotheosis, and show the entire sense of the project : get all artists together, sharing their passion together, for the fun and love of music, that's what its all about after all!

Despite the good reviews it seems you didn't succeed in finding a suitable label or was releasing this album by yourself a planned / logical step?


Finding a label for an album those days is not that easy. Finding a label for a cover album is almost mission impossible !
Because OK, we didn't do it for the money, but labels don't care about that. Money makes the world go round, so there was no point to give it to someone who wouldn't put enough energy in it.
So yes, the circumstances gave us the opportunity to start our own label "Why2k Music", and it was more than logical after all !

Is it easy to self release and album these days?
I've heard you literally went to visit every record-shop in Brussels, and managed to sell a couple of albums to almost all of them?


That's the only good side of internet and all that's connected to it, is that starting a label these days is a piece of cake. With lots of energy, no sleep and motivation, anyone can do it. We do everything ourselves, from A to Z, (music, mixing, mastering, graphics, videos, websites, marketing, etc...) so that reduces the costs.
 I visited all alternatives shops in Brussels and the best from Ghent, and yes we sold to all of them a couple of albums. Well I didn't give them much options, this album is a must have in a music shop anyway :-)

Friends of mine say the term 'music-business' has become old term and should not be used anymore... They like to use 'music-circus' instead...
How do you feel about music-business today? I guess you also have know the better days, before it became a 'circus'?

Your friends are very sweet, you should present them to me ! LOL! 
I would call it now a "hobby" ! Or "Junk Music", it depends on what kind of music-business you are talking about ! You have "Music", I mean the one written, played and performed by musicians, and that became a hobby because you are forced by society to do a regular job to fit in, and then you have the "Junk Music", the one that grows with "likes", voting's via SMS, points from the judges, it's like being on trial and you did nothing wrong! And the worst of it is, that people love that!

Today, many bands seem to think that the number of 'likes' on their Facebook equals their popularity, forgetting that they, themselves, begged everyone to like their band.
So it happens there are bands out there with over 5000 likes on Facebook and still, almost never get asked for a concert, while others with a whole lot less, play almost every festival and club...
Do you believe in the 'power' of Facebook and social media?

You read my mind...
 Facebook is like any kind of easy marketing tool, use it but with moderation ! I use it too, like anyone else on the planet, but I would never on earth take this seriously ! How many "likes" had THE SISTERS OF MERCY in 1985??? 
Music is about music, not about likes... so lets enjoy our "non-likes" by those who use
their ears instead of a computer mouse :-)

I think another indirect result of modern technology and social media is that these days there are so many bands around and.... they all are desperately to play! But sadly, most people seemed to have lost the interests in visiting live (club) shows. What's your thought about this (sad) evolution?

You mean devolution right ? Social media, makes me laugh how their turn such phenomena into a "social thing" ! There is nothing social about sitting behind a computer / smartphone, pretending talking with someone you don't know, who pretends to be your "friend", who pretends to like your music, but would never get out of the house to have a real chat, with a real drink, with real people and listen to real music performed by a real band on a real stage, let alone going to real record store... 
So what I think about it ? I'm glad I was going out every single night in the 80's because we had no other way to socialize!

No surprise it became very hard for independent bands to find live any gigs, even so hard the line between prostituting or promoting their band became very thin...
How do you feel about this and where do you draw the line with Simi-Nah?


Everyone has to decide for himself how low he wants to go to promote his band but at the end of the day... "We are all prostitutes", aren't we?

What are the future plans for Simi-Nah? Will there be a new regular Simi-Nah album in the near future?


Of course. We are already busy on it. "Be My Guest" project was not supposed to take so much time, it was only a "one off", but there will be a new album of SIMI NAH, all new compositions, just the way we are on the moment!

If I'm not mistaken some songs on your previous album '5' was inspired a lot by fashion? Do you have any idea already about the topic(s) you will handle on the next album/songs?

For those who know me well and also who can read in between the lines, the previous album "5" is most AGAINST fashion !! Except Coco Chanel at her beginning, a hard working revolting lady, respect. But for the rest, like "Die for Fashion" : Girls you are the victims,... you can be such bitches... "5" was a nice way to express myself about what I really think about fashion and it's stupidity to impose format to people; another marketing brainwash indeed !
The new album will be more about who we really are... black will be black, white will be white, grey will not be... amen.

Any last message to you enemies?
Not gonna waste my time writing them a message ! Oh maybe just one: I'm indestructible!


Any last message to you fans?
I usually send them messages in my music... but to all music lovers all over, big thanks for the support always. You're the ones that make a difference... as long as your ears will hear me, my eyes will see you !


Thanks for your time!
Thank you for your time!
Fred GADGET
27/06/2014
---