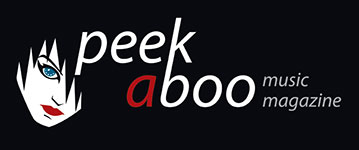 like this interview
---
SIMI NAH
Balancing between the 'normal' world and the 'artistic' world was frustrating, but perhaps led us to make our best record ever!
31/12/2018, Xavier KRUTH
photos: © Luc Luyten
---
To end in beauty, this is what Simi Nah wanted to do with her latest album release 'La terre est noire'. And did she succeed? Yes she did! This record has become a true gem. A dark gem, though, with many references to depression, insomnia, pain, death and suicide.

Hello there Simi Nah. I want to congratulate you for your album 'La terre est noire'. It's simply great. I would even dare to state it's amongst the best you have ever released. How do you evaluate this album?
Thanks for the compliment. I admit that I have the same feeling about this release. I have grown and became more matured. I really have enjoyed my performances in recent years, but I have also suffered. So yes, this record collects all these strong feelings, making it perhaps the deepest and most personal piece I have made.
The album sounds very sad, with many references to death and even to suicide. I also feel that it became a very personal record. What has led you to make such a 'dark' record?
As I said before, it is perhaps that strange mix of pleasure and inner suffering. I realise that I am a complicated person, despite the beautiful appearance. Not easy to grasp. I constantly need change. Monotony makes me depressed and routine makes me crazy... I went through a very complex period in which I sometimes woke up in the morning with only 'dark' thoughts in my head... like death. Writing the album has given me the opportunity to not go down and overcome my fears.
It is gloomy, but still with that pop-ish touch that has accompanied you all your career. That is something that you have in common with Milène Farmer, with whom you have often been compared to? What do you think?
Ah, that comparison with Mylène Farmer... Actually, it does not bother me at all. She makes very nice things and the comparison can only be positive. Now there is no desire for me to look like her. I write words in my own native language, I play with words just like the words play with me, and I like dark and soft voices... So yes, inevitably there are some similarities.
After hearing the record I was quite surprised to hear that it would be your last one, especially when you apparently also decided not to promote the album by means of live concerts. Why this decision?
It's complicated... This album is a way for me to put an end to this … to end in beauty, if you want. Life is fleeting, ephemeral. Everything is 'F.M.R.', and sometimes it is better go with a bang than to fade away. Together with Kenny, my partner in crime, we decided to radically change our lives. At this very moment we live in a small village in France where only the birds perform symphonies for us.
You have released three singles in the run-up to the album, the first one already in June 2017. I suspect that the road has been long to this release. How long have you worked on it and why did it take so long?
Because my personal problems may have helped on the one hand to write the texts, but I also strongly inhibited as long as I did not know where I wanted to go, neither in my head nor on a musical level... Time has yielded different atmospheres that you also can find on the record. The gloomiest songs are the last written ones.
With 'La terre est noire' you also return to French as a language. I love your puns and your dealings with the French language. Why was this return important?
Actually, I never abandoned this way of writing. 'Be My Guest', which was not really a personal album, was just an exception. The two releases that came before that one were also almost entirely sung in French. For 'La terre est noire', the things I wanted to tell about were far too theatrical to use the language of Shakespeare. So I used the language of Molière instead to express myself.
Since this is apparently the end of your musical career, I thought it might be interesting to shortly overview your entire career. Your first record - 'Cherchez la femme' from 2004 - was based on relationships with your mother and your daughter, a topic that you are still engaged in. We also notice that your musical style has remained quite consistent until today... How do you look back on your debut?
A debut remains a debut, and at every beginning you are still looking for yourself. 'Cherchez la femme' was effectively an in-depth concept album about the search for personality between my mother and my daughter. I have now switched to something else. The musical production was still very naïve and shy, although we already anticipated the return of the new wave and the goth style, which in 2004 was not yet up to date.
With your second album '5' you wanted to give a reflection on the world of fashion. You have tried to become a designer and even moved to Paris for that, where you went through a very difficult period. The album is rather critical of the fashion world, is not it?
Yes definitely. You see, this is another aspect of myself that is difficult to interpret. I wanted to become a designer when I was young, but due to lack of resources - my mother only raised me and I could not afford the studies that existed here at the time - I never could pursue my dream studies. I left everything behind and went to Paris hoping I could learn on the go, but that dream soon turned into a real nightmare. It opens your eyes, and makes you realise talent may not be for sale, but popularity certainly is. The fashion world manipulates the population and urges its choices. The time of Coco Chanel is now far behind us. Even so far that it has reached the borders of China and mass production...
Was it in Paris that you had that famous meeting with Gavin Friday from Virgin Prunes? What happened?
Hahaha, yes! How do you know that? I attended one of their performances around 1986, if I remember correctly, at the Elysée Montmartre in Paris. After that show, I found myself in the backstage of the venue were I entered one of the loges. Do not ask me how it happened, I don't know myself! Apparently Gavin Friday just had a fight or a high-level conversation with Guggi and was in tears. I approached him to comfort him as well as I could. After he had dried up his tears, he re-painted his eyes and I benefited from doing the same by borrowing his khôl eye pencil. He said that I could keep it as a memento. Can you imagine that I still own it?
The first two albums contain a certain reflection on the role of women in society. What does the feminist movement mean to you today?
Nothing! I am not a feminist at all, I'm a woman, nothing more than that. I do not like to stick my words to such ideas. I rather have respect for everyone, man or woman. But I fear that will become a too long a debate here. The role of 'the woman' on my first records was rather sentimental in nature, rather than a general role in society. Having said this, I have more affinity with animals than with women or men.
'Be My Guest' is an album with covers songs of some of the best New Wave classics with 'guests' like Dirk Ivens, Dirk Da Davo, Nikkie Van Lierop, Luc Van Acker... The album was undeniably a success, but critics said it was an bit too easy harvesting success with this formula...
Bad criticisms remains criticisms. The negative is just as positive as the positive. Are you still following? The success of that album was in my opinion the spontaneity of the project. Nothing was planned in advance, everything went naturally. It was a really enjoyable album to make, but at the same time also the one that has demanded the most work, both for production and for the organization. Me and Kenny have done everything ourselves. Recordings, arrangements, the mix, the cover, the promo... And just to be sure, we have created our own label Why2k Music to release this album. The 'easy formula' was therefore mad work.
I have a thesis and want to know your opinion: 'the crisis in the music industry means that commercial considerations have lost a lot of importance and that the artistic starting points have again become the most important. At the end of the journey, this will improve the quality of the works that are published today. ' What do you think?
I am a bit divided about that thesis. When I started my solo project we could still live from our music. As you have indicated yourself, the recording of a record takes time, a lot of time. You have to be able to dedicate yourself with all your soul to achieve good results. In the current situation I know a lot of artists who are obliged to have a second activity to survive, and that has not been successful in my case. Because yes, I too was obliged to do 'something else' in order to be part of this society that stipulated that making music is not part of the norm. That really touched me. I failed to make the transition every time between a world that is called 'normal' and an 'artistic' world. Hence the long periods of time between the discs. Now it is perhaps also the intense frustration that has led us to make our best record now.
What plans do you have now? A resurrection of Coma, the first group of you and Kenny?
Living a serene life. Listening to 'Le chant des loups', the howl of the wolves... and the deer... The rest will follow.

Thank you for this interview!
Thank you too.
Simi Nah: bandcamp/ website/ facebook
Xavier KRUTH
31/12/2018
---
U kan dit interview ook in het Nederlands lezen bij onze collega's van Dark Entries Magazine door hier te klikken!
Xavier KRUTH
31/12/2018
---