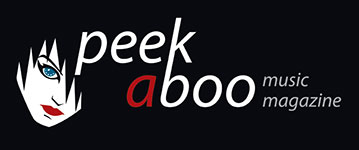 like this interview
---
ALIEN SEX FIEND
Alien Sex Fiend Is A State Of Mind And Not A Choreographed Or Rehearsed Thing
27/12/2018, Stef COLDHEART
---
I have to admit, it is always something special when you do an interview with a band taking you back to your teenager years… the early years of new-wave, post-punk and related genres. The 80s had something magic because a lot of emerging bands were releasing songs that would become 'history'. Alien Sex Fiend was one of those bands. Set up in 1982 and driven by the creative spirit of Nik Fiend and Mrs. Fiend the band always remained active and never stopped releasing new productions and playing live. This year they released the new album "Possessed" (Cherry Red Records) revealing a band that hasn't really lost its original spirit and sound. I got in touch with the enigmatic duo: Nik Fiend and Mrs. Fiend.
"Possessed" is your first new album since "Death Trip" (2010) but still the first one that took that much time to achieve. How does it feel to be back with the new work and what kind of album did you want to compose?
Nik Fiend: We didn't spend that long on the album itself - in terms of coming up with ideas or working on the tracks. "Death Trip" was a very successful album so we did a lot of gigs after that was released. Simon 'Doc' Milton and Mat Pod came back on board in 2012 and the shows we'd played together had been reaching such a high point - it was such a great live line-up. We didn't think about recording new songs until around the beginning of 2015 when I started to get a very strong feeling that we really HAD to do some recording with that line-up - and soon!
Mrs Fiend: So we recorded a few ideas at home…
Nik Fiend: Just as a basic starting point…
Mrs Fiend: When we went into the studio we did not plan on starting to record an album, far from it, it was literally 'let's go record and see what happens'!
Nik Fiend: But when we went into the studio we were on a roll, and we kept coming up with ideas, some of the songs were written totally in the studio. We played a lot of it live in the studio as well, all of us together, so that we could work off each other as a unit, exactly as we'd been doing at the live shows. Initially I thought about a 7" single or an maybe an EP, we never had any thought it could become a double album!
Mrs Fiend: But that's how it turned out in the end.
Nik Fiend: We don't think about what kind of album we want to do, we never have done that. With ASF it's always organic, we never have a set plan, the songs come out how they come out, they take on a life of their own. It's almost like the songs tell us what they want to be. You have to free your mind, then your arse will follow (laughs), tune into it…
Mrs Fiend: The actual recording was easy, straight forward, the problem came afterwards with a number of personal events and some family matters, that we won't go into here, but those events prevented us from continuing work on the album at the time, we just had to hang on, deal with the shit, and then eventually when things settled back down a little we were able to finish the tracks. So it's a massive relief in one way that the album is finally seeing the light of day.
Nik Fiend: It's brilliant that "Possessed" is now out and everyone can hear what we've been doing!
"Possessed" was the last work featuring Simon 'Doc' Milton (RIP) who played most of the guitar on the album. How do you remember him as a musician and the person he was? Any anecdotes you want to share with us?
Nik Fiend: Yes Doc played most of the guitar but Mat Pod also played guitar on "Ghost In The Machine" and he did the blistering guitar towards the end of "It's In My Blood".
Mrs Fiend: As we said a number of personal events caused delays on the album and Doc's death in September 2016 was one of those, it was very hard losing him, we still feel it now.
Nik Fiend: After such a fantastic run of gigs and then the euphoria of recording new songs to lose Doc was devastating. We'd known him for over 30 years, he was a friend, not just someone in the band with us. A total mate.
Mrs Fiend: We'd shared a lot, in the studio and on the road on tour, he'd originally been in the band from around 1989 to 1992 and we did a LOT in that time, lots of recording, loads of shows, big US tours.
Nik Fiend: Yes we'd shared all sorts of shit with him. He'd been there and experienced things first hand, it's not a matter of going out and getting another guitarist off the shelf. Alien Sex Fiend is a state of mind and not a choreographed or rehearsed thing, it's a state of being. What was weird was that we couldn't shut him up in the studio when we were recording what would become the "Possessed" album, his Marshall amp was full blast - on 11. It was out of character for him, usually he would record one guitar track and then almost have to be persuaded to do more. He wasn't a 'shy and retiring' character but nor was he one of those 'look at me' guitarists or a 'show off' type of person! He had borrowed several guitars from friends and he'd brought his own and he was determined to record each and every one of them, which he did. So in hindsight it was strange that he recorded as many guitar tracks as he did. He was a really good interpreter of ideas, I can only play very basic guitar but I could show Doc my ideas and he could run with them and then add his own interpretations.
Mrs Fiend: As a person, he was very kind…
Nik Fiend: A gentle soul…
Mrs Fiend: A lot of fans have written about meeting him backstage at various gigs or festivals and what a nice person he was, easy to talk to, which is lovely. He didn't get phased either, on the road you have to cope with strange events, unplanned stuff and he didn't lose his cool, he was always quite calm. He was also really funny, he had a great sense of humour and could tell some great stories especially from when he was a studio sound engineer, about some of the idiots or people on ego trips that he had to deal with, unfortunately I can't name any names, but they were hilarious stories!
Your music has been often linked to 'punk' but I have always experienced your sound as a fusion between multiple influences and music genres, which makes it hard to define. Is it important for you to get labeled as one specific genre such as 'gothic', 'punk'… and what does 'punk' mean to you - especially today in 2018?
Mrs. Fiend: We'd agree with you that we're more about multiple influences and music genres than one specific genre… some elements would be 'gothic', some 'punk' but some other elements don't fit in either category.
Nik Fiend: I call it a musical blender (liquidiser)…
Mrs Fiend: Yes, we like to combine different musical elements to create something new, it's like mixing the colour blue and the colour red, the result is purple, it's neither blue nor red but it's own colour, you know?
Nik Fiend: Musical alchemy! We never set out with an aim of being anything other than 'Alien Sex Fiend' - unto ourselves - but as time has progressed newer definitions and genres have come along. When punk was happening I found somewhere where I could exist, up until that point unless you were a top musician it was as if you weren't allowed to take part in music. What punk did was to open up music to everyone, including me, it allowed me to take part. It felt like anyone could do music in some way, however good or bad you were, or design clothes, or make art. Punk said 'no rules', so that was a catalyst for me personally.
Mrs Fiend: Of course our use of drum machines, synths and samples and so on - the electronic elements - wouldn't be considered 'punk' by most people which is OK but to me they are perfect 'punk' instruments because -as Nik said, you don't have to be a top musician or have studied at music college to use them, it may help, of course, but it's not necessary. I suppose that we were too electronic or spacey or weird to be termed 'punk', also as a genre it had already begun to fade when we started. We were originally called a 'Batcave band' or 'Positive Punk', which was a short-lived term in the early 80s to describe bands like us and Killing Joke, etc.
Nik Fiend: By the mid to late 1980s 'gothic' - then later 'goth' - became a genre and we were included in that. That whole genre has become bigger over time and has spread out and absorbed all sorts of different elements.
Mrs Fiend: We do understand that visually - our image, the artwork, the live show etc - and some of the lyrics would put us in the 'gothic' genre and that's OK. However the 'punk' element is also important… Maybe we should be 'gothic space punks'! (Laughs) We've always had that 'DIY' ethic of punk, that meant 'do-it-yourself', create it yourself, so you would make and dye clothes…
Nik Fiend: Make your own magazines, make punk art, which is what I do, I think, because I didn't go to art college. Anything creative was possible, anyone could express themselves.
Mrs Fiend: To us today in 2018, it's the same… the do it yourself ethic that we had at the beginning is still there, and we still produce our Fiendzines (ASF's own magazine) the idea of doing those came from fanzines.
The song "Shit's Coming Down" has been released as a digital single while a video clip is still available. What makes this song 'special' and what did you try to express in the clip?
Nik Fiend: Although I'd written the lyrics before all the shit happened - like losing Doc – it was like a premonition –that is what was taking place, so it was a weird coincidence. I'm not trying to be literary in my lyrics, my lyrics are more emotional, when I sing it's how I feel, it's not sculpted in a pop song fashion. The lyrics or words fall out of me, the music and the sounds of ASF provoke me and it is therapeutic for me, though I don't always know what I'm singing about! (Laughs) A lot of the fans know that it's all coming from the heart, I don't know any other way of doing it. I am only being me. I cannot define it, I am only singing about how I feel. I think "Shit's Coming Down" is speaking to a lot of people right now, we know a lot of people who have been or are having a lot of personal shit at the moment – let alone what's going on in the world in general. Which is why we didn't want to go into details about our personal stuff earlier, we know we're not being singled out to experience shit, everyone gets shit, it's how life goes sometimes and you've just got to try and hang on in there. I'm probably saying 'Yes I know how you feel, I feel the same way', it's empathy or solidarity with other people…
Artwork has been always a particular item in the band's discography and an easy way to recognise your records. Tell us a bit more about the concept and creation of the artwork and the link with the lyrics, album titles etc?
Nik Fiend: The artwork and the music go hand in hand, one influences the other. I know that our fans like illustrated lyrics because it gives them more depth and background so I like to do something more than just typed out lyrics and that was my starting point, that was the only concept, I had no idea how it would all look in the end. It was like constructing a jigsaw puzzle, I had all these disparate parts - sketches made in dressing rooms at gigs, on the road, in the studio, at home. I do drawing or painting at all different times. Also I write lyrics out and play with the words, writing some words in big letters, or drawing in and around the words, so I had a lot of different material. The CD booklet and the gatefold for the Double Vinyl are different collages of those lyrics and artworks. Some existing sketches or drawings fitted with the meanings of the lyrics although they were from different times and places, it was a matter of putting all of the pieces of the jigsaw together. It took a long time! I painted the cover image a while ago and then I forgot about it, it got obscured by a load of other stuff, until I was looking through artworks that I'd done and I came across it. Mrs Fiend really liked it and from that point it felt like it was a potential front cover. Same with the back cover, that screaming head image fitted with tracks like "Shit's Coming Down".
As for the album title - we'd recorded "Ghost In The Machine" with me saying the word "Possessed". As a word "Possessed" started speaking to me more and more because we had to be possessed - or obsessed! - to see this album through to completion with all the challenges that we'd faced, and it also fitted with how the music sounded. I still create an album in an 'old school' way, it has to be a whole - the music, the track listing, the flow of the tracks, the artwork and the title all come together eventually to create a particular journey.
I will always link Alien Sex Fiend with some of your early songs "Lips Can't Go" and "Ignore The Machine". How much of this early stuff and attitude do you still find in the new songs and how do you perceive your own evolution as musicians and performers over the past 35 years?
Nik Fiend: Fundamentally I don't think we've changed at all! (laughs) We've never made a statement like 'we're going funky' it's always just been 'Alien Sex Fiend'. We still have the same purpose as when we did when we created "Ignore The Machine" and "Lips Can't Go". When we started ASF it was about 'let's do something, let's make something happen and something good might happen', so I don't think we've really changed because that was how the "Possessed" album recording started! "Ignore The Machine" and "Lips Can't Go" are still as relevant to us as newer songs like "It's In My Blood" or "Shit's Coming Down", each of those earlier tracks we fought to release, we have stood by those decisions, believe me we've never compromised! And we never will, it's not in my nature. I am driven - once I have an idea then I will see that to its conclusion to the best of my ability, immaterial of other people laughing or saying it's shit or whatever – which is their prerogative – I just don't listen, it is my purpose and I will see it through, no I won't edit it, water it down (dilute it) in order to try to please other people. Luckily our music has found other free-thinking people who revere it and allow us to continue as ASF, and to continue exploring.
BAND LINKS:
ASF web site
http://www.asf-13thmoon.demon.co.uk
ASF store
http://www.bluecrumbtruck.com
ASF on Facebook
http://www.facebook.com/AlienSexFiendOfficial
ASF on Instagram (new)
http://www.instagram.com/aliensexfiendofficial
ASF on Twitter (new)
http://www.twitter.com/AlienSexFiendHQ
Stef COLDHEART
27/12/2018
---