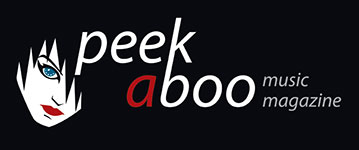 like this interview
---
DAVE INOX
I Am Never One Hundred Percent Happy With The Result Of My Works
17/11/2018, Stef COLDHEART
---
David Hinojosa aka Dave Inox is based in Barcelona (Spain). He was previously involved with Extinction Front and later on set up Dave Inox. Last year he released the great EP "Danger Signal / MissConceptual" and this year strikes back with the debut full length "The Computer And The Brain" (Unknown Pleasures Records). This album is a great work of minimal-electronics and EBM influences.
Can you briefly tell us how you got in touch with electronic music, your first sonic experiences and your involvement with Extinction Front?
I grew up listening to all kinds of electronic music and started DJing the old-school way from a fairly early age. When I got in touch with industrial music I began to produce in a more serious way. Extinction Front was my first project; first it was a solo-project but other members progressively joined - especially for the live-shows.
I was rather surprised in realizing that you were involved with Extinction Front, which is a totally different kind of electronic music than Dave Inox. How do you explain this eclecticism and what does Dave Inox stand for?
With time passing by I worked on new proposals but finally I adopted the alias 'Dave Inox', with which I want to create the music that I enjoyed in the clubs years ago. Before I started working as a DJ, I used to visit techno and electro clubs, which took me to electro-industrial music and for several years I was nearly only focused on this kind of music. I recently felt that I'd to go back to the roots. This year you released the debut-album "The Computer And The Brain", which is mixing minimal-electronics and old-school EBM influences. Tell us a bit more about the work.
The idea was to find that old-school sound; I listened carefully to some classics like Krafwerk, Nitzer Ebb, The Hacker... The recording of the album took me a year, just after having released the "MissConceptual" single.
According to you, what are the strongest elements in your music and other elements you maybe want to improve/change?
I think that, like all artists, I am never one hundred percent happy with the result of my works so it is always improvable. Nevertheless I am satisfied because I think I have come close enough to the desired result. Maybe on the next work I'll try to make it a little more dancefloor-friendly but always without losing the essence I'm looking for.
On the EP "Danger Signal / MissConceptual" you were remixed by The Horrorist and Adriano Canzian while the new album features, among others, Dirk Da Davo singing on one of the songs. How did you get in touch with those great artists and what did you learn out of these experiences?
You can learn a lot when you get a good remix. You can see your track in a different way and you might think 'why didn't I do it that way?' And when you have a luxury vocal collaboration, your instrumental changes radically. I'm happy to have counted on them, I am very lucky.
You're based in Barcelona, which is a very trendy and hot city when it comes to tourism but what about EBM and underground-electronics?
There're a lot of people coming to EBM-related events but only when it's organized in large and well-known places. We have been organizing parties and working hard with this type of music for years now. Nowadays, it seems that it is coming back little by little but it still concerns a minority of people, at least in Barcelona…
Stef COLDHEART
17/11/2018
---