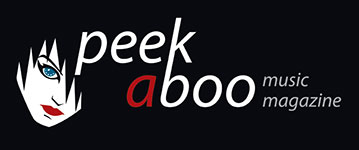 like this interview
---
CAUSTIC
The Way America Is At The Moment I Realized I Needed To Say Some Things
11/11/2018, Stef COLDHEART
---
Set up in 2002 by Matt Fanale, Caustic became, especially in the US, a recognised sonic project involved with rhythmic-noise. Earlier this year, Negative Gain Productions released Caustic's new opus "American Carrion". While the lyrical themes clearly reflect the American society and life of today, the sound of Caustic never has been so elaborate and eclectic.

The album "American Carrion" was released earlier this year. How do you look back at the writing of this work and what are your main sources of satisfaction?
"American Carrion" was a big step forward for me in many ways. On the production side I upped my game quite a bit and musically I feel like it is some of the best stuff I've ever written. I took a lot more chances on this one, as I'm not typically considered a 'political' artist but given the way America is at the moment I realised I needed to say some things. It's time to pick a side and I did it in a way that hopefully doesn't come across as preachy. I needed to be honest and I feel good about the results.

The title of the album doesn't exactly sound 'happy' and clearly reflects some 'political' engagement. Do you want to say a bit more about it?
The album, while not a concept album at all, does explore the themes of what it's like in America right now in many ways. People are angry. People feel left behind. People are angry at the system. This is felt on both sides of the table but I was coming from one side. I'm definitely happy to have it out of my system and maybe happier at this point to get to work on some less serious stuff for a while. I said what I needed to.

Caustic has often been defined as 'industrial' music but I experience "American Carrion" as more sophisticated, becoming a fusion between industrial music, EBM and a few more influences. What kind of sound did you want to compose?
Caustic's 'sound' is a little of all things electronic. I described the sound on this one to a mixture of Wax Trax and 90s electronica but songs diverge from that all over the place. My earlier music was more in the punky power noise/rhythmic noise realm but has evolved into a nice distillation of all of my influences, whether EBM, dark-techno, synth-pop, or whatever. Frankly, I'm not good at sticking to one genre/subgenre/subsubsubsubgenre of electronic. I like to see where the track takes me and each idea blossoms/vomits from there. Not being a typical musician, I'm more like a kid in a candy store with Caustic, so I tend to gleefully jump around when I come up with something interesting. It's all about the passion.

I noticed the album has been also released as vinyl. What does this format mean to you and don't you think it's more a collector's item instead of a format people will use to hear music?
While I've released a few side projects on vinyl, I liked the thought of having at least ONE album on vinyl. I did my last album on tape. There's a certain nostalgia to it. Hell, I don't even have a turntable set up and needed to listen to the test pressings at a local record store. I think there's definitely a collectible aspect to vinyl, as it's a limited run and I doubt I'll repress them but I also grew up with vinyl around so it's pretty cool having it to look at. I'm personally not big on physical media. I have too much crap to begin with but it was fun releasing it in that form and it sounded great.

I also noticed you already self-released 2 (digital) albums with remixes from the "American Carrion" album. You clearly like to see your songs being remixed but what makes it that exciting and do you have some favourite Caustic-remixes?
"Dead Meat Volumes 1" and "2" were originally meant to be one release. I typically ask a lot of artists I admire to remix my stuff and, typically, a certain percentage don't finish in time or something else comes up, so I end up asking a lot more people than I think will come through for me. In this case all but one person was able to finish their remix, so instead of releasing a huge digital album I opted to split it in two to ensure none of the remixes were buried if they were among like 20 other remixes. Also, since I released "American Carrion" at the stroke of midnight on New Year's Eve it gave the album a little more publicity since it's been out almost 10 months already.
I like getting remixes done for a few reasons. The main one is I enjoy seeing my stuff re-interpreted by artists I enjoy. I also really like asking current, more 'buzzworthy' artists for remixes in an effort to get their name out there more. With that said, I never complain when more established friends like DoublePlusTen or Null Device do one, either. It's always win-win to me.
Honestly I really dig all of them (I asked people to do them for a reason - they don't suck at what they do) but a few favourites off the top of my head are the HAEX remix of "Stoma", Acidrodent's remix of "Fuck That Fascist Beat", Seeming's remix/rework of "The Coital Staircase" (which he also released on a Seeming-EP) and the Sweat Boys mix of "One Nation Under Fear". Ask me tomorrow and I'll give you a totally different answer though.

You set up Caustic in 2002 and have released an impressive list of productions so far. How did you see yourself evolving as a musician and can you imagine an ultimate point you ever want to reach?
I don't think there's even an 'ultimate point' but I'm always working on my skill sets and try to, for lack of a better term, just do the damn work. Caustic was never meant to succeed but somehow I've stuck it out for a hell of a lot longer than a lot of people in this scene. Tenacity, determination, and downright stubbornness go a long way, plus I absolutely love doing this.
My main goal is to always get better and to not get stuck in a rut. If I'm not surprising myself with my music I don't see much point in doing it. The big perk is that I now have a pretty dedicated audience that appreciates and encourages it. I've been having a lot of fun working on more collaborative projects the last year, the biggest of which is the new beat/early EBM influenced Klack. I do that with Eric Oehler from Null Device (who also mixed American Carrion). That's taken off more than we'd expected, so it has been a fun ride exploring music with him on that project.
I just want to suck less every day. That's a pretty simple dream.
Stef COLDHEART
11/11/2018
---