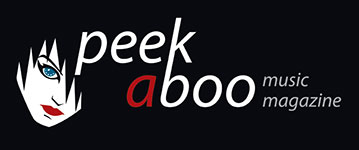 like this interview
---
GERTRUD STEIN
'La coriandre et le persil ont beau se ressembler, dans le papet Vaudois, la coriandre ça le fait moyen.'
05/11/2018, Fred GADGET
photos: © Benny Serneels
---
After witnessing Gertrud Stein perform a couple of times, such as the amazing concert at the DAFT festival in Antwerp last year, and her this year's recently announced performance at the Belgian Independent Music Festival or BIMFEST in short, we thought it was a good idea to ask this rather eccentric young lady some questions.

First and before all, why did you choose the name of the extroverted art and literature figure Gertrude Stein as a name for your musical project?
It's Gertrud Stein without the "e". It comes from an album from Jeff and Jane Hudson. One of their tracks was called like this. When I was living in Geneva, Gertrud was considered to be about the most unpopular name there was, it's generally a name French-speaking people would consider horrible. So I thought this was perfect.

Do you feel a lot of kinship with the person Gertrude Stein and if so, which characteristics or things do you feel that you share with her?
When I chose that name I didn't know about the lady. I did then read about her, just to be sure it wasn't some sort of right-wing loony or something my stage name was similar to. From what I have read she seemed pretty kick-ass.

I'm not sure how I should discribe your music... Is it minimal, is it synth-pop... How would you describe your own music?
I call it retro-futuristic folk. Like folk there is a lot of autobiography, little stories and protest songs in it. And it uses retro-futuristic instruments like old (I don't use the word vintage) synthesizers and drum machines and is entirely recorded and released DIY-style. Think Bob Dylan stuck in an elevator with a TR606, an old analogue synth and a tape deck.

On your first album stands a remarkable cover of Tony Holiday's 'Tanze Samba Mit Mir'. Where did that unusual choice come from?

It's the inverted process of what Nouvelle Vague have done to new wave hits, turning them into elevator bossanova. I took elevator music (well Tanze Samba is actually too good to be considered elevator music) and turned it into new wave. Because someone had to.

Also on the single 'Blumchen' we can find a beautiful minimal-electro-wave version of Simple Minds 'New Gold Dream'. What is your connection with this song?
I love the Simple Minds since I've been a teeny teenager. But I wasn't actually trying to do a cover version. It just happened that I was playing with a song I was making and it reminded me of something…I had it almost finished and then it suddenly dawned on me that this was actually New Gold Dream I had been doing for the last couple of days. So instead, I just turned it into a kind of cover version. There are some of my own lyrics mixed in as well, so it's not a faithful cover, more a sort of mish-mash.
Even if you have been active with this project for almost 10 years, you have not released so many official releases … yet... Do you have an (good) explanation for that?
It depends what you call official. The first album was a split between a DIY release and the Swiss label Urgence Disk. Then I released two singles on Kernkrach and have had a number of tracks featured among others on compilations on Plastic Frog, Minimal Baby, Daft records, Fabrika etc… so it's all official releases. My forthcoming EP is now entirely self-made, bearing the catalogue number GS0001 which I find quite cool. In total, there are about 20 tracks or so that should be floating around the wave-o-sphere somewhere. They are also all on bandcamp. If you ask nicely I might even burn them onto a cd for you and send them to you with a few Haribo.
You choose to be accompanied by a virtual band instead of real musicians. Is this rather for practical reasons or did you have bad experiences collaborating with other musicians?

I think it is for a number of reasons: as an artistic statement, for practical reasons and for a part maybe also just the result of a certain isolation in terms of the kind of music and atmospheres I like. I like Gary Numan performing cars on TV looking like he wants to kill the audience while simultaneously being terrified of them. I like Devo gigs, Kraftwerk when they play live, or Jilted John when he appeared on TOTP. Plus, I don't have to worry about drunk drummers and guitarists that break strings. Also who gets to freely choose the name of their band members? I like my Virtual Video Band. I think Mike Line and Nancy Noisegate are pretty cool names. There used to be a Diana DI box but she got fired two years ago.
Without taking into account the previous question / answer, do you still have musicians on your bucket-list with whom you would like to work together in the future?

I don't. But I'm interested in anyone who wants to do something different, has a DIY attitude and can get real angry while having a good laugh. But most importantly someone who wants to do something different. Bonus points if they have a good haircut.

You are of Swiss origin but live in London. How did you end up there?
I wanted to see men with good haircuts and some degree of manners.

You sing some songs in English and some in German... How do you make that choice?
I decided I would never sing in French as a principle. So that left English and German. I have recently tried something in Spanish and it may become a song. It's not a choice really, some lyrics just happen in one language or another – it's a matter of what I want to say and how it sounds with the music.

You played a nice live show in 2017 at the Daft Festival in Antwerp (B), now you're playing at BIMFEST in St-Niklaas (B)... Are you looking forward to this and what can we expect from you?
There will be new songs, new additions to the video, more live synths, and probably some degree of post-gig shenanigans.

Do you have a wise or lesser wise message to our readers?
La coriandre et le persil ont beau se ressembler, dans le papet Vaudois, la coriandre ça le fait moyen.
Getrud Stein @ BIMFEST 2018 - December 14 + 15
Fred GADGET
05/11/2018
---