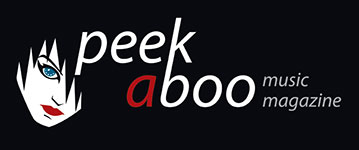 like this interview
---
A SLICE OF LIFE
Right before their performance at W-Fest A Slice Of Life released their debut album Restless which turns out to be an excellent post-punk record. Dark Entries was curious about the band's history and the album, and had
03/10/2018, Xavier KRUTH
photos: © Photos © Yani Beel
---
Right before their performance at W-Fest A Slice Of Life released their debut album Restless which turns out to be an excellent post-punk record. Dark Entries was curious about the band's history and the album, and had a chat with the founding members Dirk Vreys (vocals) and Guy Wilssens (guitar).

A Slice Of Life originates from a collaboration between guitarist Guy Wilssens and singer Dirk Vreys. How did you decide to work together?
Viavia we got to know each other online and our first experiment was a cover version of She's In Parties. That was somewhere in 2014 even before the obsCURE had their first gig, because at that time Dirk was actually still discovering his voice and was only doing cover songs. Only late 2015 our paths crossed again, Guy had worked on a few instrumental demo songs and was looking for vocals that would match and asked Dirk to sing. Matching vocals mean also writing lyrics, which was something completely new to Dirk. The musical and personal connection came fast, and we had the feeling that these songs had the potential to be brought at a higher level. When people like Mick Mercer, Dimitri from Wool-E, Nick Mertens from Shadowplay, Danny Quetin from De Dag Des Oordeels also reacted in a positive way we knew we were on the right track.

The band quickly became a sextet. How did you find the right people to join the band?
Our first idea was to keep this as a duo project and to release songs with just the two of us, but then we realized we were too curious to see how the songs would go live, and so we decided to opt for the difficult way and to set up a band. Today we know it was the right decision. Guitarist Wim Kempenaers plays together with Dirk in the obsCURE and he knew Nelson Da Silva, the bass player, from a previous project. They had both already experienced composing own material and were enthusiastic to go for it again. Then we started to look for a drummer and keyboard player via Humo and we rather quickly found Bart as keyboard player and Fix as drummer. Bart usually never looks at this kind of ads but that day he did, apparently. Probably it was meant to be.

The name of the band refers to Bauhaus. A singer like Dirk Vreys – who also sings in the Cure tribute band the obsCURE – leads to refer to the Cure. And of course people like to refer to Joy Division when it comes to postpunk. How do you react when people associate you with those big names? Does it boost your ego, or does it also create tensions?
It is a fact that we grew up with these bands and that we are musically influenced by them. As a matter of fact the first time Guy and Dirk met 'in real life', it was at a gig of a Joy Division tribute band 'Curtis'. So yes, the influence is definitely here and we feel good about it. It's part of who we are and how we grew up. But we hope that our music does not sound as a copy paste because we have many other influences. Bands like Hüsker Dü, Dinosaur Jr, Sonic Youth etc definitely also influenced us, which is maybe subtlety hidden in our sound. We find it of course very positive to be compared with the biggest bands of the 80's. Considering the reviews of the album so far, we can be very satisfied of ourselves.

We already spoke about your demo which was released earlier this year. At that time you insisted of the fact it was "just" a demo, but we find the five songs of the demo on the album again. Did you work out the songs again, or in the end you simply thought they were good enough?
It turns out that for the demo, we had no professional working on it, for example in terms of mixing. Three out the five songs were even only home recorded, without the full band. In our view these songs were far from being finished and had not received the full SLICE stamp on it yet. But for a demo they were already sounding nice. These songs were then fine-tuned during rehearsals and got richer in terms of sound. Koenraad Foesters, who mixed the album, also had a big influence. During the mixing process he had very good tips and we even recorded at the last minute some instruments again based of his advice. Given that practically everything – except for the drums and some guitar and bass lines here and there – was home recorded and then sent to Koenraad, we were amazed to hear how the album sounds in the end. We are extremely satisfied with the result.

The song 'Restless Gods' contains a sample about the Brussels attacks on 22 March 2016. Do you want to spread a message with this song?
The music in this song was written right before the attacks in 2016; whereas when the lyrics were being written, the attacks had just happened. So that's why the sample was added to the song. But the message goes way beyond that and it's more about our concerns on what is happening on the global scale. Close to where we are of course, like the attacks in Brussels and Zaventem, but also what is happening with the environment, climate, human traffic, civil wars, overconsumption… It seems we're lost. We think that we can possess everything and can cheerfully continue with the exhaustion of our planet and of ourselves. See how many burn and boreouts you see out there, the easy criticism of anyone safely at home behind your little screen via social media of all kinds. Restless Gods refers as much to the nonsense and dangers of religious fanaticism as to the guy who thinks to be almighty. In the end we have the feeling the gods above us lost their patience and became restless and punished us for that. All this can't be what they had in mind. The video clip we did for this song relates this message in a simple and true way. The song is a real Wake Up Call.

Do you work according to a specific procedure – I noticed that most of the music was written by Guy, while Dirk writes the lyrics – or do you search for new ways of working?
On this album it is true that most of the instrumental basis was composed by Guy and that Dirk wrote the lyrics. We now play a new song live which was based on a guitar riff that Wim started to play during a rehearsal. In the future we will probably tend to a combination of both working methods. We are six in the band and have a both professional and family busy life, therefore it is difficult to spend hours or days with the six of us keeping composing new songs. It will always be a process where someone brings an idea along or even already has a complete basis for a song. Dirk will probably still keep focusing on the lyrics. He is the poet of the gang.

The album has a good balance between atmospheric and straightforward songs. You even looked for different sounds and atmospheres. Was this diversity important to you?
It is more a natural development. As already said before, we have different musical influences and backgrounds, and these influences naturally find their way in the creative process. We also simply find it more fun to play a diverse set and to experiment with styles and sounds, between songs as well as within a song. We also work quite hard in rehearsals on the dynamics of a song.
On the CD version there is a bonus track – 'Liefde is oorlog – which does not appear on the digital release. Moreover it is sung in Dutch. What made you sing in your mother tongue?
This also came spontaneously. Dirk kept playing the song in his car but didn't manage to find English lyrics for it. Suddenly the text "Liefde Is Oorlog came to his mind. Once he was back home, it took him five minutes to write the rest of the song. A moment of pure instinct. Of course we talked a lot about it and in the end there was also an English version that was written and sung but for a certain reason these texts did not sound as convincing. We don't exclude to have other songs in Dutch but for sure we won't force it.

You had '15 seconds of fame' as a homeband in De Ideale Wereld on Canvas. How have you been selected for it, and which impact did these 15 seconds have on the band?
Bart, our keyboard player, works as an IT officer at Woestijnvis and registered us. Maybe this had an influence, I will never know. It was a very fun experience. The main guest was Mia Doornaert and Wim, who is a professional photographer, had already done a photoshoot with her. Right away she recognized him, and the two starting to chat during the show, while the Ideale Wereld team certainly didn't expect it. But if this had a real impact on the band, we don't think so. Everything's so volatile in the media.

Your performance at W-Fest on 19 August is very important to you. You did everything to have your CD released on time, and it will be the first time you present the album live. What do you expect?
Ho difficult to say. We will play early in the day, so we hope that people will find the motivation to wake up on time and face their hangover to see us live. We are aware that we are a newcomer band and that it is not easy to motivate people who don't know you yet to discover us. Fortunately in the meantime our album received several very positive reviews, so it can help! In any case, we can't wait to play these songs live on a big stage. Which is not that easy in smaller clubs. Wait, smaller clubs have of course their charm, but given we are six on stage, it is a bit more comfortable and exciting to play when you have some more space. Considering that we were booked for W-Fest in May last year – even before we had a try-out yet and before the demo ep was released – we are finally very excited the time has come, the prelude has indeed lasted long enough.
A Slice Of Life: bandcamp / facebook / vi.be
Xavier KRUTH
03/10/2018
---
De Nederlandstalige versie van dit interview kan u HIER lezen bij onze collega's van Dark Entries Magazine!
Xavier KRUTH
03/10/2018
---