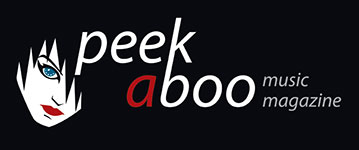 like this interview
---
HATCHLING
I was captivated by the twisted sound of Bowie's 'The Hearts Filthy Lesson'
25/06/2014, Ward DE PRINS
photos: © Gaelle de Craene, Philippe Coppens, Richard Van Koperhof
---
Hatchling is a quite recent Belgian band around singer/composer Simon Mahieu. Their sound is a kind of mixture of eighties synthpop, dance & even some soundtrack/soundscapes, with a different ratio of those for each song. After reviewing the intriguing debut ep, we catched up with Simon.
Hi Simon, thanks for the opportunity to interview you. To me, Hatchling is a brand new name, and probably that also applies to a lot of our readers. So I guess it's time that you reveal the world who and what you are….
We're an electronic act with a strong focus on songs instead of straightforward dance tracks. Hatchling is cold, noisy machinery controlled by humans. It's all a bit lonely, claustrophobic and nervous, which makes it ready to blow at any time. I love contrasts: the sounds are cold and rigid, but the themes are very human, and on stage the girls are very controlled and even a little stoic, while I'm all over the place and extremely impulsive.
Your sound is very 80's related. Do you find your musical heroes in that era? What are your major influences?
I grew up with Leonard Cohen, due to my parents being big fans, which might explain my taste in gloomy and bleak atmospheres. The first song I really fell in love with was Bowie's "The Hearts Filthy Lesson" – I must have been 7 or 8 at the time, and I was captivated by the twisted sound of it.
I've always listened to a lot of late 60's, early 70's rock: Alice Cooper, The Doors, The Stooges, … I love that kind of stuff. There's this raw power with an underlying darkness, but it doesn't always take itself too seriously and is almost playful at times. Also, most of them are very underrated songwriters. The 80's postpunk and electronic acts I really like, they took a lot of cues from these guys, so I guess part of the reason Hatchling sounds retro is because we have the same roots – only I'm about 30 years younger. Well that, and I just really love the sound of old school synths.
Creatively, I get a lot more out of movies than out of anything else though. I've always been a sucker for science fiction – 'Blade Runner' has had a huge influence on the first EP. I get bored very easily, so I need a lot of visual stimulation as well as food for thought, so directors like Terry Gilliam or Ridley Scott are a godsend to me.
I was overwhelmed by your sound. I guess I'm not the only one, how are the reactions in general?
'Other' did receive some nice reviews, especially considering it's all DIY. A lot of older new wave fans are happy to hear 'their' sound receiving an update and regard us as a breath of fresh air, but we've also gotten a lot of great response from kids who've never even heard of Depeche Mode.
On your debut EP, the song "Birds" is more soundtrack like material where the other numbers all have a rather tight rhythm, gloomy vocals & eighties synths – and yet, they form a coherent set. Was it just an experiment or do you strive to combine these genres?
We got a lot of mixed reactions concerning 'Birds'. Some people absolutely loved it and liked the contrasting atmosphere while others didn't care much for it or asked us why the hell we put it on the EP in the first place. Thing is, the first four songs are loaded with so much nervousness and underlying anger, it just felt like we really needed a breather to end. There are actually hints of this kind of stuff scattered across all the songs, so to me it felt logical and part of a whole.
I have done more of these cinematic trips and sound experiments, but I'm not sure what purpose they will serve yet.
You are based in Belgium, but the scene there is rather small – how hard is it to get some attention and/or gigs?
It's difficult for any band at the moment, even the established ones. Belgium is very small, there's too many bands and releases, and the alternative club circuit has no real budgets anymore due to heavy cuts in government funding - but that's a different story entirely. Just being a good live band and releasing quality stuff isn't enough. Every step takes a huge amount of energy compared to the results. Don't get me wrong though: I'm not complaining. I like a good challenge and have some great people supporting me so I can keep my focus on the creative aspects. Some more gigs would be nice though!
Hatchling hasn't been around for very long and we had a very rough first year, but we're stronger than ever at the moment and I'm confident about what we're doing. We try and get our music to the right people instead of trying to force some mainstream success. Building a loyal fanbase is a lot more important to me: I'd rather play a show for 50 real fans, than for 500 people who just want to hear that one song they heard on the radio.
Is there a chance for an upcoming album or ep in the near future?
No fixed dates yet, but there's some new songs I've been working on for a while now (I'm a pretty slow songwriter) and I'm trying to get those ready this summer. I'd like to do some more gigs before we record them, give them a chance to grow a bit – something we didn't do with 'Other'.
I'm very excited about the new stuff by the way: there's some vicious electropunk and a bit more upbeat vibes - I've been rewatching 'Akira' and listening to a lot of Suicide and Sigue Sigue Sputnik lately - but it's still very much Hatchling.
You will play on the Black Easter festival in 2015. That's still a long time, but what can we expect?
We're pretty fucking loud and harsh live, especially in comparison to the studio versions, and I'm anything but a calm performer: when I'm on stage, there's no tomorrow.
Oh and there'll be fog, lots and lots of fog!
Thanks for the interview !
Quite welcome!
Website : www.htchlng.com
Facebook : www.facebook.com/hatchlingofficial
Listen to and buy the EP : hatchlingofficial.bandcamp.com
Black Easter Festival: www.blackeaster.be

Ward DE PRINS
25/06/2014
---