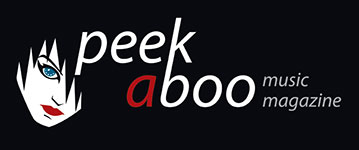 like this interview

---
HATCHLING
We bring a mix of fast and loud electropunk versus deep and dark synthpop that perfectly fits my moodswings
03/03/2015, Wim GUILLEMYN
photos: © (2) + (3) Gaelle de Craene ; (4) Philippe Coppens
---
Hatchling, the brainchild of Simon Mahieu, exists for only three years and performs now as a trio with singer Simon assisted by keyboardists Roosje Strobbe and Saida Tilkin. Their excitatory rousing electronic tunes always create a party, which they are also planning for the Black Easter festival. Time for an interview with the frontman.
How would you describe Hatchling to someone who doesn' t know the band?
We started as a gloomy, minimalistic synthpop band, and over time have incorporated more and more electropunk vibes. Sometimes we are fast and loud, other times deep and cold, but always very much in love with drama, androids and deathrays.
There have been a number of changes of band members in the young existence of the band - how did that happen?
True, and that is without taking into account all the line-ups that never even made it to a stage. The truth is pretty boring, I'm afraid: mostly it is due to a lack of time, or different priorities – playing in a band doesn't pay well. Also, some of the former members decided they wanted to focus on their own musical projects. Apart from that, I'm not an easy person to work with. I am very straightforward when it comes to reaching certain goals, and very protective when it comes to songwriting and arranging - I want to make all the decisions myself. Thit 's why we hardly ever 'jam' to get ideas for example – nine times out of ten ii 's just mucking about. I guess that has put off a lot of (potential) bandmembers in these last two years.

You have extended from two to three members? What is the reason?
I kept breaking gear because I was too abusive, plus we wanted to add more vocals, so a third member was the best option, both for the sound and longevity of the gear. Also, I prefer focusing on vocals and I get to do whatever I want on stage now, instead of having to run back to a synth every two breaths. I like it better this way. It wasn't a purely practical decision though, it just felt like the right time to add another member. I also love the way it looks and feels on stage, it kind of reminds me of Human League.

Will you perform live as a trio or will you bring some extra musicians with you?
We are focusing on the core line-up of three for now. There is a lot I still want to do: one of the early ideas for Hatchling included an electric violin and we performed a few of our songs with a choir a while ago – which was awesome, loads of drama – but for now I'm happy with things as they are.

The music feels sometimes like a soundtrack... Are you guys movie lovers?
Movie lovers and soundtrack lovers. As I said before, movies get my creativity flowing more than anything else, as do video games. The right soundtrack can turn a good movie or game into a great one. I especially love the atmospheric stuff. To name just a few: Hans Zimmer's 'The Dark Knight' score is pure art, as are Akira Yamaoka's 'Silent Hill' OST, Jerry Goldsmith's score for 'Alien' and Badalamenti's work on 'Twin Peaks'. I can go on for ages about this, but let us keep it at that for now.

What are your plans for 2015? Can we expect new work?
Wea're focusing on the live aspect at the moment, but there are some plans to release new stuff. I don't want to make promises I can't keep, but we would like to release a single at the end of 2015. We recently posted some new demos by the way, check them out!
What can we expect of Hatchling on Black Easter?
The new set is a mix of fast and loud electropunk versus deep and dark synthpop and perfectly fits my moodswings - I love messing around with contrasts and try to blur the lines between whati's serious and what is not. Oh, and smoke, did I mention smoke?
Are there other bands on Black Easter you are looking forward to?
I saw Rosa Crvx almost ten years ago and am excited about seeing them again. I found them very hypnotic and visually entertaining as well, so I'm curious about how they have evolved. In all honesty, most of the acts are new to me, so I'm just going to let them surprise me.

Whati's your favorite record of all time and please state why?
That is a though one. It all depends on my mood and on where I stand at that time of my life.
I keep returning to a few: Alice Cooper's 'Love It To Death', The Doors' eponymous first, 'Transformer' by Lou Reed, the first album by Gorillaz, the first two Sisters Of Mercy full albums and anything by Bauhaus. There is a huge list of albums and artists in general that have made an impact on what I (want to) do as a musician, so a real list would be endless.
Which band/artist should people learn to know?
Lili Grace! One of the most original line-ups (two sisters on electronics and cello) and sounds out there, and they are extremely nice people as well. I'm still absolutely in love with the 'Evelyn Evelyn' album by Amanda Palmer and Jason Webley – check them both out if you don't know them! I'm also always in the mood for Horrorpops, and 'Here Come The Brides' (by the late Brides of Destruction) was the best hard rock album of the 00s - that no one heard about.
What do you want/hope to reach you with this band?
We want to keep performing and just do what we want to do. I believe it is highly important to do whatever feels right and keep growing. We are still evolving soundwise and I like to keep all options open - in a few years we might be performing pirate songs on double bass and laser harp, anything goes!
Thank you for the interview !t
Wim GUILLEMYN
03/03/2015
---