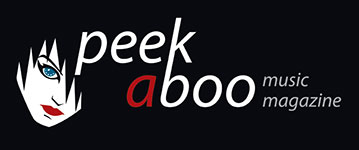 like this interview
---
ASH CODE
Maybe having a greater conscience of death helps people to be more attached to life
20/01/2015, Pascal VERLOOVE
---
"Lights and shades. Dances of Death. Visions and theatricality". This is how Ash Code, a trio from Naples - Claudia and the twin brothers Alessandro and Adriano - like to describe themselves. And, although the band was created just a year ago, its popularity is rising quickly on the electro underground scene, because its melancholic dance music cannot leave you unmoved. We had the chance to look back at this incredible year 2014 with the band members, trying to understand how this brilliant adventure started…
Claudia, Alessandro, Adriano, I've read that your moniker Ash Code came to you by coincidence, joining two words that were starting with your initials A and C, is this true? Don't you think that, coming from Naples, the biggest city in Europe sitting on the hills of an active volcano, the threatening Vesuvius has unconsciously played a role when selecting "Ash"?
Claudia: Yes that is true. The moniker was chosen that way and, fortunately, the significance that these two words have together, seems to be very appropriate for us. It evokes something indefinite and gets an existentialist sense. When talking about the unconscious influence of Vesuvius in this choice, we get the psychological field, but we don't exclude this interpretation.
You started Ash Code just about a year ago, but you already managed to finish and release your debut album Oblivion after the summer. It has already received a lot of very positive feedback in the media and you have already played a dozen gigs around Europe. Did you expect things to go that fast?
Adriano: Everything happened quickly. We didn't expect those incredible feedbacks. We are very surprised but happy and grateful to all our supporters.
Those who had the chance to see you live will confirm that you look very professional and seem to feel at ease on stage. Do you feel the pressure just before getting on stage?
Alessandro: We give a lot of importance to the live performances. We look after every single detail, besides music we try to always create the right atmosphere, using visuals and lights in sync with the songs. We are always a little bit nervous before getting on stage, but once we start playing, we feel fine and we give ourselves completely to the audience.
Your bio indicates that your music is made of "dark ballads, deep and melancholic synths, noise and distortions, dances of death" and your album cover shows a girl sleeping next to (half) a skull. Do you really have a fascination for death, or is this part of the imagery of the band that goes along with your music?
Alessandro: We think that the relation with the concept of death is conflictual for everyone. We have a fascination for death, as we have a fascination for everything that men can't explain. Maybe having a greater conscience of death helps people to be more attached to life.
Could you tell us when and why you decided to start playing music together?
Alessandro: Adriano and I play together since we are young. One year ago, I decided to found a new project, with a different sound. I sent some demos to Claudia and she gave me suggestions about synths lines, some sounds and voices. We then recorded Unnecessary Songs and Dry Your Eyes, and we put them online. The feedback was immediately very positive, so she joined the band.
When listening to your debut album, one might think that you have somehow been "influenced" by bands like Joy Division, The Cure, The Sisters of Mercy, Clan of Xymox, etc. But ultimately the music you create is a blend of the music you have listened to, places you have seen, books you have read, etc. So, ultimately, what was the most important driver when you created Oblivion?
Claudia: The bands you mentioned for sure, but also some places like Germany or Poland, that we love very much. For me, movies and books are also important sources of musical inspiration. When the Oblivion concept was born, I was reading Friedrich Nietzsche's Untimely Meditations.
Your debut album, Oblivion, is released on a Swiss label (Swiss Dark Nights). This label seems to be the perfect match for you, the darkness of the label name and Switzerland being like a natural link (geographically and linguistically speaking) between your homeland and Germany, where you already have many fans. Did you choose them or did they contact you first?
Alessandro: We have had some requests from other labels, but we decided to work with SDN because we know the boss, Valerio Lovecchio, and we liked his way of working. We understood one another in one minute.
Compared to a country like Germany for instance, Italy was not famous for its post-punk/dark wave scene in the last decades. There were a couple of bands like The Frozen Autumn or Kirlian Camera, but not so many more. However, there is Tying Tiffany, Secret Sight or your label mates and neighbors of Hapax. Is there a growing electro/dark wave scene in Italy these last years?
Adriano: I don't think we really have a growing scene in Italy, we're only a few bands. But at this moment, in Naples, there is a new wave ferment, there are new bands and it is a magical moment, I'm talking about projects like Hapax, Geometric Vision and Dark Door.
Conversely, several dark wave/electro bands who were not German, moved to Berlin (Keluar, Non-Human Persons) because they felt Berlin was THE city to live in to create that kind of music. Is that something you would consider too, or do you feel the inspiration will come anywhere you live?
Alessandro: Every place can give you something. We were born in Naples, a city full of contradictions and difficulties which, in every moment, gives us a lot of input to transform into art. Anyway, we love Berlin and we understand the choice to live there, it is a fascinating place, every year we try to spend as much time as possible there. We wrote some of the songs of the album in Berlin, like Want, North Bahnhof and Empty Room. We also shot a video there. As a band, living in Berlin gives you more opportunities to play everywhere, because you are in the center of Europe.
While mentioning bands like Kirlian Camera, that has been together since 1979 (when you were not even born I'm sure ;-) or Frozen Autumn, together since 1993, is there a secret hope inside your minds that in 20 or 30 years you will still be making music together as Ash Code? Or does this idea scare you instead?
Adriano: We can't say how long we will play... we hope as long as possible, we will create music and we will play as long as we have inspiration and something to say.
Nearly all your song titles are dark and sad. I guess (and hope!) this is just one side of your personalities, that just inspires you when making music. At the same time your music is very danceable in a way, so are those titles and lyrics a kind of antidote for your dark thoughts?
Adriano: Yes, we love to laugh and joke, we are not too serious people, but negative moods are part of life, and in those moments maybe the music and even dancing is meant to unload them.
On your album you thank Friedrich Nietzsche who inspired you about the concept of Oblivion. Are his ideas a general source of inspiration for you, or was it just the album title and concept? Aren't you afraid that citing Nietzsche can be seen as a bit snobby in the world of music?
Claudia: I studied philosophy, so it is natural for me to take inspiration from philosophers. I don't think it is snob to do that. I think that philosophy is for everyone, and not for an elite, everyone who wants to understand it, obviously. Friedrich Nietzsche is always a source of inspiration for me, but not only he. The case of Oblivion is due to the fact that while we were writing the songs, I was reading some of Nietzsche's books.
Who is writing the song lyrics? Are they based on things you have lived or are they pure imagination? What are they about?
Alessandro: I write most of the song lyrics, in some cases Claudia gives me some ideas. Oblivion, North Bahnhof and Drama were Claudia's ideas. The lyrics are a mix of living facts and pure imagination. I also like to exorcise my fears and paranoia through writing.
The album starts with a sample of Derek Jarman's last "film" Blue. For those who haven't seen it, Blue is a film without images, that shows for nearly 80 minutes a blue screen. It is all about the sounds and the imagination. Is this a tribute to the artist, to this film, or did you just choose those sentences to start Oblivion because you liked them?
Alessandro: We were very impressed by the vision (or rather the listening) of Blue and we tried to sample the part with the waves, because we wanted the album to start this way, to create a link with the title of the second track of the album [Waves With No Shores – ed.]. We have a close bond with the sea and we wanted wave sounds to start our album. Then, the words said by the female voice, are very interesting as well, and we found they were pertinent to the songs.
Drama is the only title sung by Claudia. It is very well received live, with very nice reviews as well. Of course, the song is great in itself, but additionally it brings some variety in the singing on the album and during concert. Claudia, would you like to repeat this experience in future songs?
Claudia: Alessandro and Adriano are musicians for a long time. I have played in small bands in the past, but this is my first important experience. Surely we plan to add my voice in the future, as it is an added value, I'm preparing for this.
A small wink to finish this interview: I see that you are always wearing necklaces with inverted triangles, are those like a talisman? Do they mean something special to you?
Alessandro: The two necklaces are objects to which we are very close. Claudia's necklace was bought at Rynek Główny square in Krakow and it is a sort of talisman, mine is a gift by Ekaterina Wolf, a Russian designer of Wolf Empire brand. We don't believe in magic, but we like to think that everything is possible.
Anything else to add for our readers? Why should they buy Oblivion if they have not done so yet? ;-) Adriano: Listen and then buy Oblivion, it is a very interesting collection of ten different songs, you will find at least one that perfectly describes your mood, for sure!
Thank you so much for your time!
Pascal VERLOOVE
20/01/2015
---