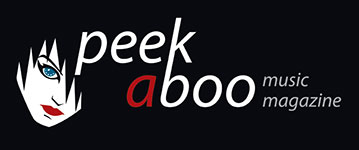 like this interview
---
BORGHESIA
Today we live in a smart world where every kid has studio in his smart phone. More than 90% of top chart music is electronic. But there is still a place for innovative music.
18/12/2014, Benny CALUWE
---
Peek-A-Boo is very happy to have a chat with one of the founders of the EBM-movement: Borghesia
In Rome there is a beautiful park Villa Borghesia with an eponymous museum. Borghesia is Italian for bourgeoisie. We use that word when we talk about wealthy people, upper class people. Is there a reason why you chose that band name?
Actually in the eighties there were three reasons why we choose the name Borghesia.
1) the Bourgeoisie Revolution in France brought us the foundations of modern society: Declaration of the Rights of Man and of the Citizen and Liberté, Egalité, Fraternité, ou la mort!
2) We liked very much the decadence of bourgeoisie world.
3) It was the name of the enemy!
Borghesia ceased to exist between 1995 and 2009? Did you have any creative outlet in that period? And where you still involved in music anyhow?
Dario had a break till 2009 when he started to collaborate with theatre director Dragan Živadinov. Aldo was active all the time. He composed music for dance theatre and films. He also produced more than 70 records. With Bast – Bast collective he released 3 cds. He also co-directed a biker film documentary Motorkult for a national tv.
I really enjoyed your video for We don't believe you. Where and on which occasion the video was shot?
The video was shot during a big demonstration against government in Ljubljana. The Film was made in collaboration with film director Janez Burger.
I was really surprised by your new album And man created God. I was expecting energetic old school EBM but I heard a mixture of different styles, with even folk in We don't believe you. Was the concept more important than the music? Was the emphasis on the message?
The world changed in those 25 years, just as technology did. We never liked to repeat ourselves. We always followed our heart and intuition. If you compare our first album "Love is colder…" and "Resistance", they are very different and after 25 years for us it is normal that the new album "And man created God" is also different and in terms of genre we've been utterly untrue and we unconditionally loved everything. For us music was always part of the concept. This time we were inspired by the music of privileged people and that is the reason why you can hear elements of folk, blues, reggae, world music….
Your first comeback-concert was on the German WGT festival earlier this year. Are you aware that many fans were disappointed because of the quite drastic style/sound change? Many complained especially about the lack of electronics, as electronics have always been very prominent in the sound of Borghesia. Will this be the new Borghesia?
Actually it was a very unplanned drastic style/sound change. We started rehearsals with the idea that we would add electronics, but during the sessions we just loved it raw and basic. On the other hand, Borghesia started as a band with 2 guitars, bass, drums and female vocals and we never played live. So, in some way we are again at the beginning. Borghesia for us is not a musical form but state of mind and this band has the same spirit as the old Borghesia. We are happy to have in a band not only creative musicians, but also good friends: Irena Tomazin: voice, Jelena Rusjan: bass and voice, Jaka Berger: drums, Andraz Mazi: guitar and Vitja Balzalorsky: guitar. Our next album will be very different.
Your lyrics were often about social issues and also the new album doesn't neglect to criticise society. Pop music often used to do that, but nowadays popular musicians only seem to make music as entertainment, music without content: opium for the silly masses. Do you agree? And didn't we lose an important tool to make people aware of certain things?
Yes, we agree with you. "Hungry man, reach for the book: it is a weapon." - said Bertold Brecht. Corporative industry occupied all major media and is using music only as decorative element for consuming rituals. That's the reason why we make albums like "And man Created God".
Singing about taboo subjects as sexual freedom, using gay imagery in a communist country in the eighties … Did you have problems with censorship?
With censorship we just had problems in England. In Yugoslavia it was sometimes tough, but we had a great time and you could smell the changes in the air. Ljubljana was and still is a good place for interesting and innovative art. We have Radio Student since 1968 and the oldest Jazz Festival and gay organisation in Eastern Europe.
The EBM of the 80's evolved in a lot of ways: dark electro, future pop, aggrotech, etc., crossbreeding with a lot of styles. Are you happy with the direction of electronic music? Is there a style that you find particularly interesting?
Today we live in a smart world where every kid has a studio in his smart phone. More than 90% of top chart music is electronic. But there is still a place for innovative music. We have a lot of respect for NIN, Young Gods, James Blake, Flying Lotus and Massive Attack….
Looking back on your extensive discography, which album are you most proud of? Is there a quintessential Borghesia album?
Every album is like a child. Different and unique. The youngest is always the one for cuddling.
When talking about Borghesia, the comparison with Laibach is inevitable. Except for Sixth June, I don't know any other EBM/synthpop from Slovenia, Croatia or former Yugoslavia. Do you have any recommendations? Is there another band we have to keep an eye on?
Torul, New Wave Syria, Random Logic, DJ Umek, Wanda & Nova deViator… We also like Litošt, StrojMachine, dreDDup….
When banished to an island and you could take one album, which album would you take?
Dario: Jimi Hendrix – Band of Gypsys
Aldo is a nudist, so he doesn't need luggage with clothing and he will take few more records:Brian Eno and David Byrne : My Life in the Bush of Ghosts
Kraftwerk: All early albums
White Noise: An Electric Storm
Lee Scratch Perry : Arkology
This Heat: This Heat
David Bowie: Low
Benny CALUWE
18/12/2014
---