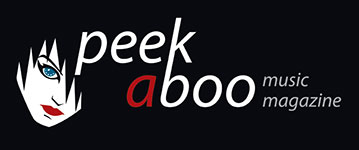 like this interview

---
CUÉLEBRE
We are very excited about Trolls et Légendes and the people we will meet!
12/12/2014, Filip VAN MUYLEM
---
I must say that this band was one of the unknown bands of Trolls et Légendes 2015, but once I was into their music, it became very interesting...
Cuélebre emerges as an Yhandros Huergo's idea from 2011, looking for an archaic sound in the Medieval-Folk. Can you tell us more about the whole idea?
Margaret: Yhandros comes from Asturias, which is in the northwest of the peninsula, where big green meadows are surrounded by snowy mountains (not the most typical landscape in most part of the country), where people often have a bagpipe in their stone-made homes. He is a lover of the fantasy and the unknown, a musician since he remembers, and the medieval-folk is a style that fits into him, but he wanted to create not so fine and domesticated music compositions. Something less "baroque", something more rudimentary, more primitive, maybe songs you could have listen to in the Iron Age more than in the XIVth century, but with the music instruments we have.
What does Cuélebre mean? What is the philosophy behind the name?
Yhandros: The Cuélebre is a mythological creature typical of the northwestern Iberian Peninsula, it is a big winged serpent guarding treasures and Xanas (equivalent to water nymphs). When they are near to their death, cuélebres go to the bottom of the earth and their bodies strengthen the roots of the world. It is a creature and a story I've always liked.
You seek inspiration in the roots of the Iberian Peninsula and its mythology. Can you tell us some nice stories about this mythology? I'm more used to Greek and Scandinavian mythology.
Margaret: Unfortunately, most of the legends we know or find, have been deeply Christianized, so even if ancient creatures appeared on them, the Church is profoundly present. Even so, you can find the main features of these mythological beings, like the Nuberu in the northwest, a divinity or genius that is related to the wind and storms and enjoys provoking them, people usually put an axe upside-down, so it can cut the clouds, preventing the storms and making the Nuberu fall form the clouds that carry him In Euskadi, it it's believed that giants called Jentiles were the builders of Dolmens and put the Menhirs where they stand.
In our song "Durbed" we work with the mythology of Durbed, a lustful genius of rivers and lakes. He rose against Vael, and the nymphs and spirits of the waters helped Durbed with the rebellion. Endoveliko was one of his top generals, but actually acting under the mandate of the wolf-god Vael. He offered Durbed to lie simultaneously with Frouida, freshly fallen to the earth, and Lida. Of course, he agreed and fell into the trap so he got caught. Vael then destroyed his body, with claws and fangs, and scattered them into very fine pieces, which were transported by Favonius to the heights. There, thanks to the heat of Lug and Baelisto, he fell back on the ground and searched his home between the streams and ponds.
I interviewed Arkane from Greece and it was pretty clear that right now it's hard for a band to survive during the economic crisis, how hard is it in Spain?
Yhandros: It is indeed really tough, but for everybody, not just for the musicians. Although, every gig we got to play, every cd we sell, it's another reason to go ahead and keep working with hope and excitement.
With a Celtiberian background universe, the music comes through a compendium of medieval instruments and atmospheric sounds, recreating pre-Christian rituals, converging life and death. How do we have to see that?
Margaret: Tales and myths often tell us about life choices, love, tragedy and fate. Many of our lyrics expose offerings to ancient gods, mostly for protection of themselves or something more material. Life and death are always entwined, especially in elder faiths where life itself is a ritual, and we all know how this ritual ends.
You released your first CD, how does that feel? How are the reactions, so far?
Yhandros: Working on this album has been a really beautiful experience and also tough, but it compensates. It's been a hard time since I started composing the first song until the first recording sessions with the team, mostly because of the few among musicians that are attracted to this kind of music here. The reaction has been really good, we've received great critics and those who listened to the album have been really supportive.
What does 'Oinos' mean?
Margaret: "Oinos" is the proto Celtic word for "one", which, even if you think at first side that it's just a fast and easy way to name the work, we thought it is a perfect name for our first album. This "one" it's the beginning of Cuélebre, the first step on a path we hope will be long and rewarding in many ways.
Can you say something about your record company, Artgates Records?
Yhandros: It's a small Spanish Label that usually works with rock and metal music bands, but did made an exception for Cuélebre.
You did something special with 'The Natives', can you tell us all about it and who came with the idea?
Margaret: "The Natives" is a filmmaker group of very enthusiastic people that Yhandros worked with. We made a collaboration with them in a short film for which Yhandros did the soundtrack, we all got along with each other so we made the video clip together. We wanted to bring a song to life, Fodder for the raven looked like the perfect song to begin with, it's one of the first songs Yhandros composed, and I had this image of an entity I really wanted to take forward. But Kike and Manu of "The Natives" were the expert eyes and the sensible ones here, they did a great job.
What is 'Fodder for the Raven' about?
Yhandros: The song evokes the curse of a sorceress spectre towards the enemy, wishing that his soul knows no rest and that his body shall be the crows' carrion in the battlefield. The music and the rhythm on the other hand, it's the celebration of the victory over the side that lost the battle, now tainting the field.
Can I say that your music would also fit into a soundtrack for a great series like The Vikings?
Margaret: The music is mainly composed with landscapes and scenes in mind, so it has a huge "movie soundtrack" nature in it.
I read that you are big fans of Corvus Corax, how does it feel to be part of a festival where they will headline?
Yhandros: It's something great and wonderful, I am a big admirer since many years, I can still remember when I bought the "Mille anni passi sunt" in the year 2000, the first Corvus Corax album I ever heard. I am very excited too to see Cesair and Rastaban on stage, I think it's going to be an amazing live concerts day.
Do you have a question for them?
Margaret: So many, especially in the percussion field! But something that amazes me of them it's their trajectory. How's it feels to be in a band with so much talent for 25 years? I mean, I am 25 years old, so imagine what a perspective I have about that!
Can you describe your finest gig and tell us where it was?
Yhandros: Each gig is unique, for the place where you go to, the people you get to know, the bands you share the night with. Honestly, I couldn't tell you just about one, there are too many good memories of each of them.
What can we expect from your gig at Trolls et Légendes? Will there be any special guests?
Margaret: You will see Cuélebre at its most. We will be performing with all our heart and soul, so I really hope people will like our sound. We are preparing some new tracks that you will be able to listen to at our show, so don't miss it! We are very excited about this date, the festival and the people we will meet. We are a new band, unknown until now and quite shy, so there are no guests, at least not for this year!
If you have time to walk around on the site, what will you do?
Yhandros: We are big literature, illustration and fantasy lovers, so we will definitely go and see whatever we are able to see at the festival.
Margaret: As illustrator I'll be especially curious and I'll be enjoying the gallery zone and looking into books. You will see us around the role games too!
What is your ultimate wish for 2015?
Margaret: 2015 is going to be the first year for Cuélebre outside the peninsula, and I can only hope more gigs at festivals like this one will come, and for people to enjoy our music and live shows.
Any last words? Is there something you want to talk about, something that we didn't dare to ask?
Yhandros: Thank you for this opportunity to express ourselves, we hope to see a lot of people that day and we will do whatever it takes to make the best gig we can.
Here you find an overview of what can be found on our website about The Trolls et Légendes-Festival 2015:
Friday:
Naheulband (f), Feuerschwanz (d), La Horde (b)
Saturday:
Eluveitie (ch), Tanzwut (d), Huldre (dk), Nook Karavan (b)
Promo links:
album review Tanzwut Freitag der 13.
album review Tanzwut (Eselmesse)
Sunday:
Corvus Corax (d), Rastaban (b), Cuélebre (sp), Cesair (nl)
Promo links:
These bands will play during daytime:
A great compilation:
La Guilde Folk - Wild Folk Pagan VOL III with Cesair, Rastaban, Cuèlebre … Click here
Filip VAN MUYLEM
12/12/2014
---