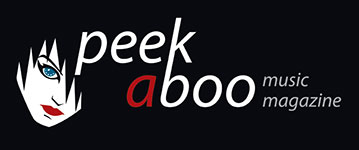 like this interview

---
NOOK KARAVAN FOLK
Our pleasure in playing together is great; it is an important point ! I think you can feel it when we are on stage…
30/07/2014, Filip VAN MUYLEM
photos: © Meli Vas
---
Nook will be one of the opening bands (there are 3 nights in a row) and as I missed them last time (LES ANTHINOISES), I was curious what they would tell me about themselves and the relationship with Rastaban and their own stories...
I'm always interested in the philosophy and meaning of the bands' name, so tell me …
Lucile Nook: The band's name, that's a stupid story! At the very beginning, I was on my own, wondering what could be the name of my new project. One morning as I woke up, the first thought was « Nook » as the "Shnookt" diminutive. "Shnookt" is the pretty little name that my beloved gives me, because I have a unique special language while I'm searching for my words (cause I'm tired or a busy mind) : I "Shnookt ".
Stefan : The band began as a duo. When other musicians joined us, we naturally developed the idea of being kind of a caravan, because each musician brought influences that belong to several parts of the world, even several periods of our History : Nunzio plays African and Latino music, Thibaut plays traditional folk, Irish folk and Gipsy music, Antoine is kind of a jazzman, Lucile and I are fans of Scandinavian pagan music, but have also a lot of other influences, like rock, progressive rock, gothic, indian traditional music, medieval music or folk psyche. The Karavan translates the idea of travellers collecting musicians and influences on their path all around the world…
Can you bring us a short intro about who you are, what instruments you play and what you do in real life, just for the people who to get to know you a bit better?
Lucile NK : I'm Lucile Nook. I'm the lead vocal in Nook Karavan. I play shruti, a kind of indian accordion, and several ethnic percussions, like bodran or gnawas… In my personal life, I'm also a full-time artist. Singing, acting, I coach and teach singing and vocal work too, technical from a shamanic way. And I work vocal in art therapy too. « Nook karavan » is the fourth musical group I'm working in. Previously I was singing (and composing a lot) in Iliana Tribal folk with Dom, Mich, Stephan and Luka of Rastaban.
Tone (Antoine Dethy) is my brother. He is a full-time artist too, coming from international circus school of Brussels. He juggles with instruments like flutes, didjeridoo, darbuka, cajon. He works on other musical and theatre projects and teaches diabolo technics.
Nunzio plays ethnic percussions and Ngoni. He is a pure Belgian Sicilian man! He teaches ethnic percussions and works with young people as an educator. He is leader of the musical project « Ritmo del Mondo » and also plays in other bands.
Stefan : Yes, and Thibaut is an impressive bassist and contrabassist in « Tissad » and « Ceili moss », gypsy and Celtic folks. He also works in archaeology.
And I am Stefan. I play guitar and vocals in Nook Karavan (and also guitar in other bands). In my "normal" life I'm a social worker, but have also others artistic activities...
One of your members just published a book, seems to be fitting in the Trolls et Legendes theme? Can you tell us more about it?
Stefan : Yes, it is a book called "Manesh". It is the first part of a trilogy named "Les sentiers des astres". It is published by one of the most famous french editors for fantasy and Science-fiction, Les Moutons électriques. I'm quite lucky to be there, because each time they print a book, it is a beautiful object, and their reputation in France and other French talking countries is great… The story of Manesh is set in an imaginary world, mixing Celtic, Nordic and Indian influences, just like our music… it is speaking about civil war and human passions, ancient myth and powers. It is a book for adult readers, most like George Martin's Game of Thrones. Like this one, my story can be quite cruel with characters, but there's a bit more poetry in it, and also a bit more faith in human nature than in GOT.
Lucile Nook : That's an amazing novel ! His universe joins perfectly the Karavan's universe !
What are the languages you are using? Isn't it hard to remember the lyrics if you sing in different languages?
Lucile NK : I'm passionate by ethnic songs and I'm always inspired by them. When I was younger, I lived in Reunion island, I love the very figurative language they use there. I have the amazing chance to have a Touareg "brother", who comes to France twice a year. He teaches me some original songs or translates my lyrics when I ask him. As I'm interested in people's origins and cultures, I often meet some of them, asking to translate my lyrics in native languages, like for example African, Touareg, English, Croatian, Polish, Walloon, Creoles, Dutch… and Shnookt of course, an imaginary one! Stefan likes this way of playing with words and sometimes creates lyrics too, in his own Nordic language.
It may seem strange but to us it is easier to remember lyrics by sounds than by words.
Stefan : Lucile and I, we both love the pleasure of creating a language pleasant to hear. It's kind of a game. Lucile has a gift in creating imaginary words, and giving imaginary names is also an important part of my work as a fantasy writer.
You are from Belgium, but the music you make has nothing to do with the Belgium roots or am I wrong?
Lucile NK : Nothing, really ? « Môssieu Baube » for example has its lyrics in Walloon, a dialect from French part of Belgium. By the way, in the history of Belgium, we can see that we're a little small place in the middle of lot of invasions. I like to believe that we have got a little part of all these countries in our own roots. Belgium, like France where I'm living, has lot of foreigners and refugees, living there for few generations. I personally grew up in a street where you could find Italian, Asian, Turkish, African, Spanish, Slavic, Moroccan people, like at school.
Stefan : I don't know anything about Belgian roots. I was born in India (laugh).
You drop these bands as influences: Irfan, Dead Can Dance, HEDNINGARNA, Wardruna, Faun Fables. I know the first 2, can you tell us more about the other bands?
Stefan : Hedningarna is one of the first band of the Scandinavian folk-rock wave, with bands like Garmarna, Gjallarhorn, Värttina, that could have been counted in our influences too. They were among the first to mix Nordic folk with rock and electro. Wardruna is a more recent band in this stream; it produces a music strongly influenced by Viking roots. It's one of the most interesting and powerful bands of this kind, featuring a member of metal band Gorgoroth. Last, Faun Fables is in a quite different mood. It has been defined as "freaks folk". It lays somewhere between folk psyche and progressive rock bands. It is also a kind of "folk theatre".
But our influences are more diverse, as we listen to a great variety of musical styles, including world music, rock, concrete music, classical, and electronic music.
To me you sound most of all like Rastaban, another great band from Belgium or don't you agree with it? Do you know each other?
Stefan: Some members of Rastaban are old mates. Steph (their violinist) and I have both been part in an attempt to experience the bardic art, by declaiming the verse of Kalevala (finnish epic) in the company of harpists and other medieval instruments, while listening to the stag belling in the neighbouring woods. A night to remember!…
And, just like Lucile said in the second question, she worked with most of Rastaban musicians in their previous band called « Iliana, tribal folk ».
Lucile NK: Yes, we have the same roots. I suppose that we both are marked by this common past. But it's exciting to see that each one evolves its own way, both interesting…
What are the biggest festivals and nicest places you played so far?
Lucile NK : We play on Mother Earth ! (Laughing). Nook Karavan is a recent project, so we were recently lucky to feature in festivals like « les Anthinoises"(Be), « le Printemps des legends» (Fr), « Chimères et légendaires" (Be) and some other places or events in Belgium and France.
I missed your gig at Les Anthinoises, so can you tell us how it was?
Lucile NK: We had an excellent feedback from people, fans and professionals, some promises for 2015… That's a good official starting!
You will play at the Trolls et Legendes 2015, a lot of bands want to play in your place, and so how is it that you got booked and not them?
Lucile NK : I previously performed at "Trolls et Légendes" festival with Iliana, so this is not a completely new experience for me (but still a really motivating one) ! Stefan, could you answer this question?
Stefan : I don't know why us, but I feel lucky to be there. It's gonna be quite a hard week-end for me, cause I will also be present as a writer. Days are gonna be tiring ! But I'm delighted at the idea of playing on the main stage there!
What is your musical goal?
Stefan : Create something that moves the soul to other countries or times, always with a kind of inner joy. Give people energy and a part of dream all at the same time. Mix our various influences in something new, or at least something really personal : not only a cross between India, Scandinavia, Celtic and Arabic roots, but a really new universe, a world of its own. Also, working to enhance what are (I think) the strengths of the band : powerful rhythmic section (with two percussionist) and a lot of vocal harmonies…
Lucile NK: Just playing in many places, to meet lot of people, make them dream, create positive emotions. And finish our first album, of course!
Do you have something to close this interview?
Lucile NK: Just thank you. Oh, and I would say we enjoy to play together; each musical meeting and rehearsal is pure pleasure to share.
Stefan : Yes, our pleasure in playing together is great; it is an important point ! I think you can feel it when we are on stage…
Here you find an overview of what can be found on our website about The Trolls et Légendes-Festival 2015:
Friday:
Naheulband (f), Feuerschwanz (d), La Horde (b)
Saturday:
Eluveitie (ch), Tanzwut (d), Huldre (dk), Nook Karavan (b)
Promo links:
album review Tanzwut Freitag der 13.
album review Tanzwut (Eselmesse)
Sunday:
Corvus Corax (d), Rastaban (b), Cuélebre (sp), Cesair (nl)
Promo links:
These bands will play during daytime:
A great compilation:
La Guilde Folk - Wild Folk Pagan VOL III with Cesair, Rastaban, Cuèlebre … Click here
Filip VAN MUYLEM
30/07/2014
---